The origins of Emilio Lustau S.A. date back to 1896, when José Ruiz-Berdejo, a secretary to the Court of Justice, started cultivating the vines of the family's estate,  Nuestra Señora de la Esperanza, in his spare time. In these modest beginnings he made wines which were then sold to larger sherry producers. This activity was known as being an almacenista or stockeeper.
In 1931, his daughter, María Ruiz-Berdejo Alberti, acquired a small winery closer to the center of Jerez de la Frontera, and moved all the preexisting solera there, gaining notoriety and visibility.
In the early '40s, Maria's husband, Emilio Lustau Ortega moved the winery to the old Santiago district, in the historic quarter of Jerez. There, in buildings that were part of the historic Moorish walls of the city, he slowly began to expand the business, still as an almacenista.
In 1945 Lustau began to focus on the  promotion of its own brands: Papirusa, Jarana, Escuadrilla, Emperatriz Eugenia, and Cinta de Oro were some of them. In 1950, the company began exporting its sherries.
The 1980s were a quite prosperous decade for the Lustau enterprise.  In 1981 Solera Familiar was introduced, as well as the first Almacenista bottlings. In 1988 Lustau adopted a new bottle design for its wines. This dark bottle with sloping shoulders is exclusive to the company, distinguishing Lustau from the other Jerez wineries.  Lustau started to age the Vintage Series  in 1989.
In 1990 Lustau's destiny changed when it merged with a Spanish family-owned company prominent within the wine and spirits business: Luis Caballero. This milestone in Lustau's history meant important financial support and the possibility of further expansion and development.
In 2000, Lustau acquired six 19th century bodega buildings in the center of Jerez. These picturesque buildings were restored to their original glory and today house the principal ageing bodegas of Lustau.
Lustau has two vineyards in the so-called Sherry Triangle, Viña Montegilillo, with white clay soils (albariza) that are very appropriate for the cultivation of Palomino. From this variety they produce manzanilla, fino, amontillado, and oloroso wines. Viña Las Cruces, near the coast, features sandy soils suitable for Muscatel and Pedro Ximénez, which they use for the production of sweet wines.
Lustau's awards include Best Spanish Winery in 2011, and Best Sherry Producer in 2014 and 2016 awarded by the International Wine & Spirit Competition. Lustau has also been awarded two consecutive times (first winery in history) the Len Evans Trophy to consistency in 2011 and 2016 by the International Wine Challenge.
Lustau Pedro Ximénez San Emilio Sherry
This wine is made from 100% Pedro Ximénez grapes instead of the usual Palomino used for sherry. They are sun-dried until they are practically raisins. After fermentation, the wine is aged for 12 years in American oak in the traditional solera system.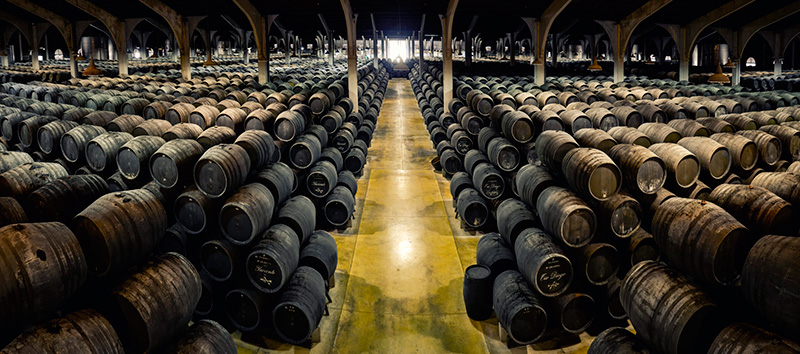 The word "unctious" could have been coined just to describe this sherry, which has an ultra-rich velvety mouthfeel.  This wine is as dark as Kahlua, and with even more viscosity.  Predictably, the taste is dominated by raisins, followed by dates, brown sugar, baking spices, and molasses.   It is extremely sweet, for sure, but very well balanced with just the right amount of acidity, and ends with a very long finish.
Enjoy this luxurious wine on its own, or pair it with blue cheese, nut-based desserts, chocolate, or sweet desserts