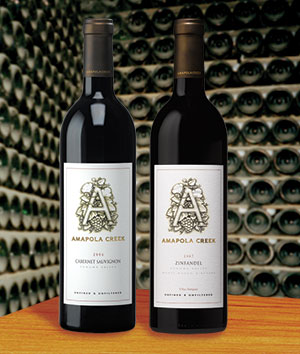 Born in San Francisco and raised in Santa Rosa, Richard Arrowood started his winemaking career in 1965 at Korbel Champagne Cellars, after earning a degree in organic chemistry at California State University, Sacramento, and completing graduate work in enology at California State University, Fresno.
From Korbel he moved on, first to United Vintners, then Sonoma Vineyards, and in 1974 was chosen by the founders of Chateau St. Jean Winery to become their first employee and winemaker.
Arrowood Winery opened in 1986 while he was still at Chateau St. Jean, and for the first three years his wife Alis ran the winery as Richard fulfilled his obligations at Chateau St. Jean. In April 1990 Richard joined Alis to devote himself full-time to Arrowood Winery.
The peripatetic Arrowood then moved on once again; he opened his newest winery, Amapola Creek, in June, 2010. The 120-acre ranch (purchased in 2001) that is home to Amapola Creek is situated on the western slope of the Mayacamas Mountains, which rise between and separate the Sonoma and Napa valleys. Although Alis envisioned the site as the place for a peaceful retirement, Richard had other ideas, and immediately set about selecting the best 20 acres of the property for use as the foundation for Amapola Creek Winery.
Arrowood claims he's "saved the best for last." Perhaps he's right; after making quality wine for over 45 years, he says his quest now is to make his greatest wines ever.
In early December 2019, Richard Arrowood announced his retirement.
https://www.northbaybusinessjournal.com/northbay/sonomacounty/10427340-181/richard-arrowood-sonoma-wine-business
Amapola Zinfandel 2007
The grapes for this Zinfandel were sourced from 'ancient' 115-year old vines of Sonoma's historic Monte Rosso vineyard. This high-elevation site features mineral-rich volcanic soils and cooling breezes from San Pablo Bay.
The gnarly old vines made for a truly distinctive Zinfandel. It is dark plum in color, befitting its nicely balanced flavors of dark stone fruits, black cherry, and blackberry. The taste is supported by supple tannins and good acid, as well as just a hint of sweetness. And, there is no pepper on the palate, which is just the way I like my Zins.
Serve this wine with Sweet Potatoes Topped With Black Bean Chili, Grilled Spareribs with Cherry Cola Glaze, or Apricot Glazed Chicken.
Amapola Cabernet Sauvignon 2006
The organically-farmed estate vineyard for this Cabernet borders the one from which comes the Zinfandel, so the soils and climate are nearly identical.
This is just the second Cabernet released by Amapola. The grapes were hand-picked, and pressed after fermentation. The wine was then aged for 26 months in new and seasoned French and American oak. It is neither fined nor filtered.
This elegant wine shows excellent harmony and structure. The taste features ripe blackberry, plum, and currant. The fruit is offset by a pleasing dustiness, and supported by restrained tannins.
This wine would pair nicely with Rib Roast with Thyme-Mustard Jus, Pork Sauté with Apples and Calvados Cream Sauce, or Herb Roasted Turkey with Shallot Pan Gravy.
Here's another look at Amapola Creek:
Top of page: https://winervana.com/blog/