Jean-Marc Burgaud was born into a family of generations of wine growers. After obtaining his diploma in oenology and wine-growing, he started his eponymous winery with his wife and partner Christine in 1989.  He owns all of the vineyards he farms, with the majority (32 acres / 13 hectares) being in Morgon's famed Cotes du Py, in the heart of the Beaujolais crus.  He also owns an even tinier amount of Regnie (2.5 acres / 1 hectare) and Beaujolais Villages (10.3 acres / 4.2 hectares), from which this wine comes.  Burgaud believes that the current total of his vineyards is the maximum area he can cultivate while still producing the quality he is after.
In the vineyards, Burgaud has been farming using organic principles for over 10 years (although without certification), and when nurturing the vines he follows his family's traditions which he grew up with. The gobelet-pruned* vines are an average of 60 years old, and are planted at a high density (10,000 per 2.5 acres/hectare). All vineyard work is done by hand, with help from two employees and a horse (The use of horses is becoming increasingly popular throughout Burgundy.  Although more labor intensive than mechanization, it leaves the soil much looser and less compacted.).  He believes, "To make a 'grand vin,' the vigneron has to know his terroirs and how to farm to obtain the most beautiful grapes as possible, and it is from this harmony that 'grandes bouteilles' are born."
In the cellar, Burgaud vinifies his wines with traditional Burgundian methods: whole cluster maceration in vats for variable durations according to the vintage and the appellation.  Only indigenous yeasts are used in the cellar, and with the exception of sulfur at bottling, nothing is added during the vinification process in order to obtain wines typical of the terroir. The wines are aged in either concrete or barrique (for the Reserve) for several months before bottling. To respect the balance of his vineyards, some cuvées before bottling are lightly filtered, while others are not.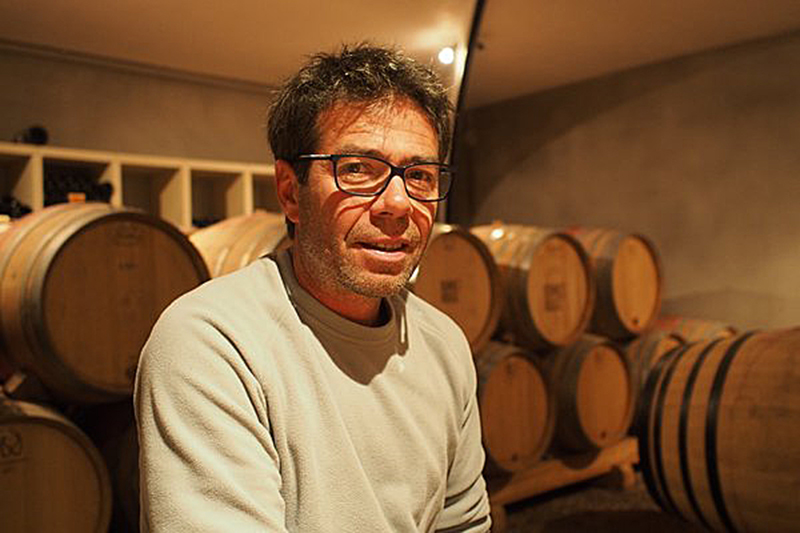 Jean-Marc Burgaud
Burgaud makes all of his wines with the stems. "I never destem," he says. Instead, the difference between the wines is the time on the skins, which ranges from seven days for the Villages, 10 days for the Morgon Charmes, and 15 days for the Côte du Py. He learned the importance of maceration time from this work with the Charmes. "In the past, my idea of Morgon was a rich wine with a lot of tannin to keep for a long time," he reflects. "In Les Charmes, if you have a long maceration you lose the fruit and get a green taste. It was a big problem for me for 10 to 15 years."  He has since worked to achieve as much balance in his wines as possible.
He is a hands-on winemaker, and spends 80% of his time in the vineyard and the cellar. "It's important that if you write your name on the label that you work in the vineyard," he says.
Jean-Marc Burgaud Les Vignes de Lantignié Beaujolais Villages 2017
This wine hails from a tiny village called Lantignié, known for its serious and fruity wines. The soil is sand over granite, typical of the region.  Burgaud's solely-owned vineyard is named Thulon.
After whole berry, semi-carbonic maceration (the grapes are not crushed, but allowed to ferment under their own weight), the wine is aged in concrete tank for six months prior to bottling. This occurred at the Château de Thulon, built in the 12th century, and owned by Burgaud's great aunt.
This Beaujolais is a bright transparent red. It has a fresh and fruity nose, predominantly dark cherry. There is tart cherry on the palate, with plenty of astringency and zippy acidity. The tannins are mild, and there is just a hint of bitterness on the focused finish. Like almost all Beaujolais, this wine is best drunk when young, within two to four years after release.
*Gobelet-pruning, also known as bush-vine pruning, originated as far back as the Roman Empire. With the "gobelet" pruning method, four branches are formed around a central base to distribute and aerate the clusters. This creates an open structure, allowing a slight air current to circulate through the leaves and clusters, thus ensuring a healthy environment.  In addition, the vegetation forms a canopy that protects the berries from too much sun.
Top of page: https://winervana.com/blog/