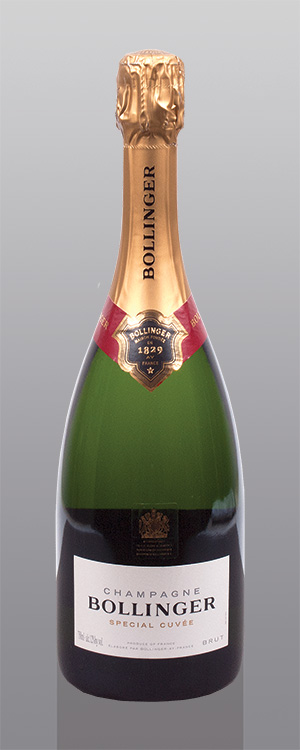 The story of Bollinger Champagne began with Athanase de Villermont, the youngest son of a noble family. He inherited an extensive estate from his family in the Aÿ area of France. He foresaw the potential of the wines of Champagne, but as an aristocrat he was forbidden to become involved in trade.
Happily, he met Joseph Bollinger, a German who had traveled widely to learn about the Champagne wine trade, as well as Paul Renaudin, a local man who was fascinated by the world of wine. The firm of Renaudin-Bollinger & Cie was founded on February 6th, 1829. Joseph took care of sales and Paul of the cellar.
Bollinger married Athanase's daughter, Louise-Charlotte, in 1837. In time their sons, Joseph and then Georges, took over the business. Under the guidance of the two brothers, Bollinger gained renown and extended its vineyards considerably. In 1920 Jacques Bollinger, son of Georges, started managing the family business, and was noted for increasing Bollinger's sales in  England, based on the popularity of their Special Cuvée Brut.
Sadly, Jacques died in the midst of World War II. He left a widow, Elisabeth, whom he had married in 1923. She was only 42 when she stepped in to supervise the business. "Madame Jacques," as she was known within the House, threw herself enthusiastically into her new role. Although cheerful and witty, she was nonetheless a formidable strategist, a dauntless businesswoman, and  a perfectionist. She left many bon mots, such as, "I drink it when I'm happy and when I'm sad. Sometimes I drink it when I'm alone. When I have company I consider it obligatory. I trifle with it if I'm not hungry and drink it when I am. Otherwise, I never touch it—unless I'm thirsty."
Madame Bollinger gathered around her those family members who were most aligned with her ambitions. Firstly she taught Claude d'Hautefeuille, her niece's husband, the ins and outs of the operation. In 1950 he became a Director and launched a comprehensive modernization program while respecting Bollinger's history. Madame Bollinger appointed him Chairman in 1971, but remained closely involved until her death six years later.
Madame Bollinger's nephew, Christian Bizot, took over from Claude in 1978. A great traveler, he made a point of meeting with sommeliers, restaurant owners, and wine merchants to promote the House's wines wherever he went.
In 1994, Ghislain de Montgolfier, the great-great-grandson of founder Joseph Bollinger, became head of the House. He continued to strive to increase quality, in part by limiting production. He ran the winery until 2008, when a new Chairman was appointed, Champagne native Jérôme Philipon. In a break with tradition, it was the first time in the history of the House that it would be run by someone outside the family.
In 2017, when Jérôme Philipon was appointed Deputy Chief Executive Officer of the family holding, Charles-Armand de Belenet became General Manager of Champagne Bollinger. He is tasked with preserving the  traditional craftsmanship while incorporating the latest technologies.
Bollinger's 178 hectares (440 acres) are planted with 85% of Grand Cru and Premier Cru vines, spread over seven main vineyards: Aÿ, Avenay, Tauxières, and Louvois et Verzenay are planted with Pinot Noir, Cuis with Chardonnay, and Champvoisy with Pinot Meunier. Bollinger is one of a very few champagne Houses to produce the majority of their own grapes for their blends. Pinot Noir represents 60% of the House's vineyard output, corresponding to the exact proportion of this demanding grape variety in the Special Cuvée blend.
Another of Bollinger's distinctive features are two plots, the Clos Saint-Jacques and Chaudes Terres, which have never succumbed to phylloxera, the disease which ravaged almost all of the champagne wine-growing area in the early 20th century. These ungrafted vines are entirely tended by hand and reproduced using a form of layering called provignage, thereby providing the means to preserve this unique heritage from which the very exclusive Vieilles Vignes Françaises cuvée is produced.
Bollinger also supports sustainable winegrowing by planting grass between the rows of vines, using biological pest control, significantly reducing the use of herbicides, and recycling pruning waste. Planting hedges and orchards helps to preserve biodiversity, while the four hectares (10 acres) of the Côte aux Enfants vineyard are managed organically. Bollinger is the first champagne House to obtain High Environmental Value certification.
Bollinger Special Cuvée Brut NV
In 1911, Georges Bollinger and Harry J. Newman, Bollinger's British sales agent, named the firm's new wine Special Cuvée, "special" written without a French accent. They thought the French expression "Brut sans année" was no match for such a subtle champagne
Special Cuvée is a blend of 60% Pinot Noir, 25% Chardonnay, and 15% Meunier. The mix includes grapes from each year's harvest blended with a majority of reserve wines, part of which have been aged in magnums for five to 15 years. Initial fermentation is partially carried out in oak casks. It is then aged for twice as long as is stipulated by the regulations for the non-vintage champagne appellation.
This elegant bubbly is pale gold, with a rich nose of cheese and spices, plus hints of roasted apples and peaches. The clean taste has only a suggestion of yeast. Mango, fleshy pear, and honey flavors show very good depth, picking up refreshing citrus pith, mineral nuances, and notes of fresh walnut after a bit of time in the glass. It features a full mouthfeel with very fine bubbles.
I suggest you serve this with any fish, especially sushi and sashimi. Seafood like shrimp, prawn, crayfish, or grilled lobster should be quite nice.  And consider all kinds of poultry and other white meat, or good cured ham. Serve at about 50°F.
Top of page: https://winervana.com/blog/