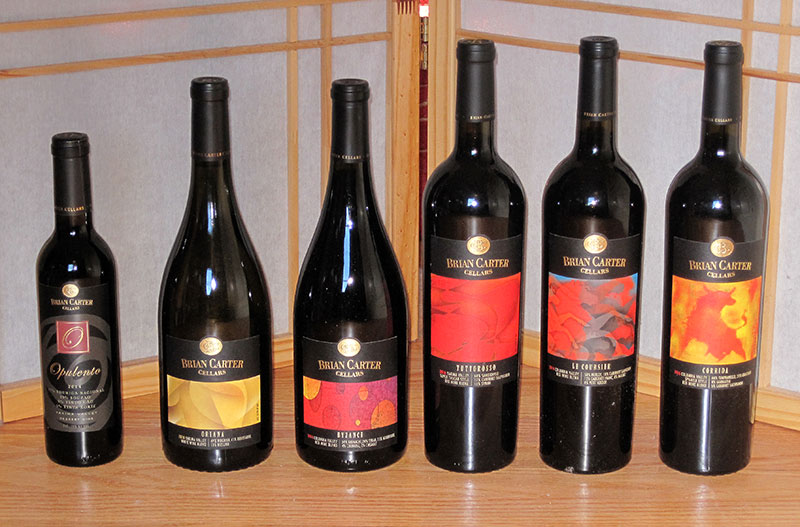 x
"I came into the field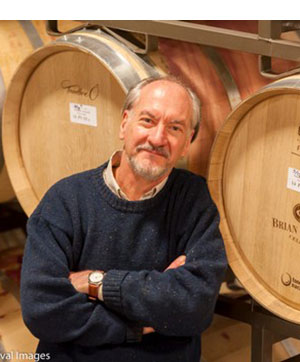 of wine [at a young age], not because my parents were wine drinkers, but because I was given a microscope when I was 12 years old. I heard about these things called yeast, and I wanted to see what they looked like under a microscope. I was told if you want to look at yeast you have to start a fermentation. So I picked some blackberries, fermented the wine, took a sample, and brought out my microscope — and there they were — the little yeast. I've been having those yeast work for me ever since."  — Brian Carter
A charming tale of a precocious young scientist, no?  There was just one small problem: before he got to actually inspect the yeast, during a robust fermentation that first blackberry wine exploded in his mother's kitchen.  "There was a big stain on the ceiling for a couple of years, until it finally got painted," Carter admitted.  History hasn't recorded whether that chore fell to Carter or someone else.
Born in New Mexico, Carter grew up in Corvallis, Oregon, where his father was a professor at Oregon State University.  Those initial studies with his microscope led to him taking an undergraduate degree in microbiology from that same Oregon State.  While there, he also took an independent study course on winemaking that involved visiting some of the Willamette Valley's first wineries.  "It was during that time, I decided I had to become a winemaker," he shared.
The next stop, as it is for many winemakers, was the University of California at Davis.  After completing his studies there, he spent 1978 at Mount Eden Vineyard in Saratoga, California and 1979 and '80 at the legendary Chateau Montelena in Calistoga, California.  That was followed by eight years toiling for the now-gone Paul Thomas Winery in Sunnyvale, Washington.  During that tenure, Carter made fruit wines (which he didn't enjoy doing) and classic European varietals (which he did enjoy) under the Paul Thomas label.  Carter's 1983 Cabernet Sauvignon beat a 1983 Chateau Lafite-Rothschild  at a 1986 blind tasting at Windows on the World restaurant in New York City.
That early move to Washington was decisive, as Carter would go on to become one of the leading lights of the state's nascent wine industry.  When he started at Paul Thomas, there were only 16 wineries; today there are over 1,000.
In 1988, Carter left Paul Thomas to become a consultant. He helped launch a number of wineries including Silver Lake, McCrea and Camaraderie. He was the first winemaker for Hedges Cellars. And he partnered with Harry Alhadaf to start Apex in 1990.  "At that time, I was really focused on becoming a better winemaker and learning as much as I could about grape growing at our estate vineyards," said Carter, who lived near Apex for eight years so he could be hands-on in the vineyards.
By 1997 it was finally time to start making wines under his own name, and he established Brian Carter Cellars in Woodinville, Washington.  He released his first wines in 2000 with a production of just 80 cases.  At Brian Carter Cellars, he has exclusively focused on classic European-style blends, taking inspiration from France, Italy, Spain, and Portugal.  Indeed, the vanity license plate on his Prius reads "BLENDS."  "I still love what I do," he said. "I'm a very lucky guy."
Carter's modest tasting room, about 150 miles northwest of the vineyards themselves.
Accolades (some of them, anyway)
Carter is the only three-time winner of Grand Prize at the (now defunct) Pacific Northwest Enological Society (aka Seattle Enological Society) Competition.  Carter was twice touted as "Winemaker of the Year" by Seattle Magazine. He was the Honored Vintner at the 2007 Auction of Washington Wines, and he received the prestigious Industry Service Award from the Washington Association of Wine Grape Growers.   In 2015, Wine Press Northwest selected Brian Carter Cellars as its Washington Winery of the Year,  In 2018, the Northwest Wine Summit named Brian Carter Cellars as the Winery of Distinction. The Washington Winegrowers Association honored Carter with the 2020 Grand Vin Award, recognizing him for "his significant impact and the contributions he has made to the Washington wine industry during the past 41 years."
The Vineyards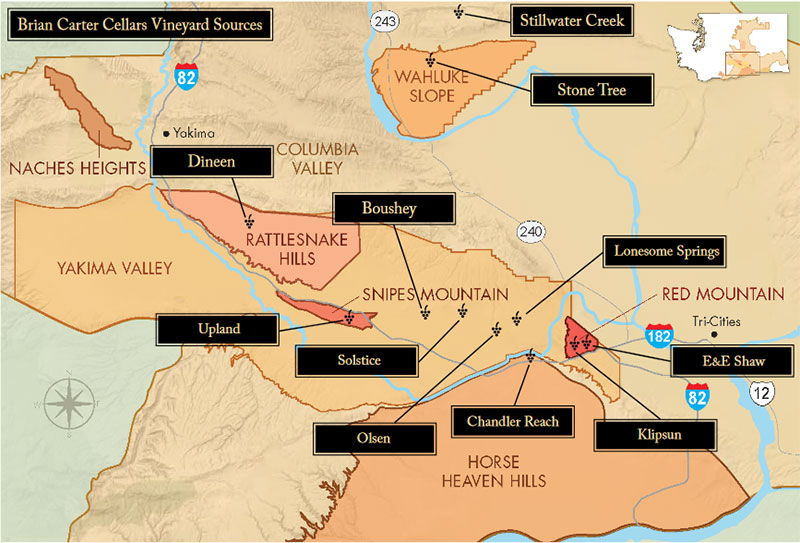 x
With his forty years of experience in Washington, Carter knows exactly what vineyards to draw on to help him achieve his vision of wines with balance, dimension, and depth.  These are the eleven most important vineyards and growers from which Brian Carter Cellars currently sources grapes.
Columbia Valley AVA
Stillwater Creek Vineyard  Here, the Alberg family grows Syrah and Mourvedre.
Horse Heaven Hills AVA
Chandler Reach Vineyard  Len Parris grows Merlot and Cabernet Franc with good concentration, balance, and color.
Red Mountain AVA
E & E Shaw Vineyard  Ed and Eve Shaw grow Cabernet Sauvignon and Merlot here. Similar to Klipsun, the wines made from these grapes have a lot of structure and are often a bit more fruit forward.
Klipsun Vineyard  This vineyard, farmed by David and Trisha Gelles, provides Cabernet Sauvignon. These grapes provide the strength and ability to age the blends.
Rattlesnake Hills AVA
Dineen Vineyard  Patrick Dineen farms Cabernet Franc, Viognier, and Roussanne on this moderate to warm site that features low yields that can make wine with balance and concentration.
Snipes Mountain AVA
Upland Vineyard  Viognier, Tempranillo, Graciano, Touriga Nacional, Souzao, and Tinto Cao are sourced from this vineyard, overseen by the Newhouse family.
Yakima Valley AVA
Boushey Vineyard  Growers Dick and Luanne Boushey provide Sangiovese, Grenache, and Cinsault.
Lonesome Spring Ranch  Colin Morrell grows Grenache, Sangiovese, Touriga Nacional, Mourvedre, and Petit Verdot that make wines with lively fruit, moderate structure, and good color.
Olsen Vineyard  The Olsen family provides Viognier, Roussanne, Merlot, Malbec, Syrah, and Counoise.
Solstice Vineyard  Owned by Jim and Carla Willard, this vineyard is Carter's coolest site.  He has been buying the Willard's grapes for over 25 years.
Wahluke Slope AVA



Stone Tree Vineyard  Cabernet Sauvignon, Merlot, Petit Verdot, Malbec, Grenache, Mourvedre, and Syrah are sourced from this  property, worked by Mark Wheeler and Tedd Wildman.
The Wines
Carter asserts that he didn't set out to be a blender, but rather, the approach came from his knowledge of science and agriculture, and one that grew into a true passion.  In fact, " A Passion for the Art of Blending" is a trademark of the winery.  He noted, "I find the blending process to be the most artistic part of the winemaking process, and the most fun!" In 2006, Carter released his full line of blended wines, and Brian Carter Cellars became the first winery in Washington dedicated exclusively to producing blends.  Carter enjoys giving his selections whimsical names, which are explained below.
Brian Carter Cellars Oriana 2018
Oriana is a given name, primarily of a female, that is widespread in Europe.  Or, according to the label, Latin for "golden lady."
This white wine is composed of 49% Viognier (Dineen, Solstice, Olsen), 41% Rousanne (Olsen), and 10% Riesling (Solstice).  A third of the blend was barrel fermented in neutral French oak barrels,  and two-thirds in stainless steel.  Both were kept on the lees and stirred monthly for six months to increase mouth feel and aromatic complexity. No malolactic fermentation (MLF) was conducted.
Oriana pours a pale straw color into the glass.  You are greeted with aromas of grapefruit and honeysuckle.  The silky-smooth mouthfeel carry these onto the palate, along with tangerine and pear.  There is pleasant acidity, and it all ends with a touch of lemon pith bitterness.  The ABV is 13.6%, and 808 cases were produced.
Brian Carter Cellars Byzance 2014
Byzance, aka Byzantium or Byzantion, was an ancient Greek city in classical antiquity that became known as Constantinople in late antiquity and Istanbul today.  Or, the label on the bottle says Byance is French for "luxurious."  Two translations on the interwebs came up with De Luxe and Luxeux instead.  I don't speak French, so I will leave it up to you to decide.
Inspired by the reds of France's southern Rhône Valley, this wine is composed of 54% Grenache (Lonesome Spring), 24% Syrah (Stone Tree), 15% Mourvedre (Stone Tree), 4% Counoise (Olsen), and 3% Cinsault (Boushey).  Both of the latter are often used in French blends.
The blend spent 22 months in large ( 500L) French oak barrels, of which 20% were new and 80% were neutral (used).  It is a semi-transparent garnet, with medium aromas of dark fruit.  The palate features blackberries, dark cherries, and a hint of herbes de Provence, complemented by plenty of acidity and tannins, but all is in excellent balance.  It wraps up with a medium finish.  The ABV is 14.5%, and 316 cases were produced.
Brian Carter Cellars Corrida 2016
Corrida is Spanish, meaning a bullfight.  Ole!
Made of 66% Tempranillo (Stone Tree, Upland), 21% Graciano (Upland), 8% Garnacha (Lonesome Spring), and 5% Cabernet Sauvignon (Stone Tree), this wine was inspired by the noble wines of Spain, and especially those of Rioja, where Tempranillo reigns supreme.   After fermentation, it was aged for 22 months in a mixture of French, Russian and American oaks; 30% new and 70% neutral (used).  It is opaque dark purple in the glass, and opens will a full nose of blackberry and cherry.  These continue on the silky-smooth palate, abetted by cedar, some dust, good acidity, and well-integrated tannins.  It ends in a nice long finish.  ABV is 14.1%, and Carter made 316 cases.
Brian Carter Cellars Le Coursier2014
In French, Le Coursier is "The Steed," or the messenger that rides one.  The mix of 58% Merlot (Stone Tree, Solstice, E&E Shaw), 18% Cabernet Sauvignon (Solstice, Stone Tree), 12% Cabernet Franc (Solstice), 8% Malbec (Olsen, Stone Tree), and  4% Petit Verdot (Stone Tree) was aged for 22 months in 100% French oak, 40% new & 60% used.   This wine is a semi-transparent but quite dark garnet.  The nose presents dust and recessive fruit, especially blackberry and plum.  This is the leanest, most "European" of the red blends here, with flavors of blackberry and dark cherry.  ABV is 14.3%, and 432 cases were produced.
Brian Carter Cellars Tuttorosso 2016
Tuttorosso is Italian for "all red."  This "Super Tuscan" style red is composed of  68% Sangiovese (Lonesome Spring, Solstice), 17% Cabernet Sauvignon (Solstice), and 15% Syrah (Solstice).  It spent 24 months in French (80%) and European oak (20%) barrels, of which 20%were new and 80% were neutral (used), before bottling.
This dark purple wine starts with juicy aromatics, particularly cherry and cranberry.  These continue on the palate, with the addition of blackberry and grippy tannins.  ABV is 14.3% and 448cases were made.
Brian Carter Cellars Opulento 2014
Opulento is Spanish and Portugese for opulent.
I'll admit right up front that I have been a big fan of Port for years.  Carter can't accurately label this dessert wine as Port, since it comes from Washington instead of Portugal, of course (although plenty of less scrupulous producers do).  Even so, he uses the traditional varietals: 57% Touriga Nacional (Upland, Lonesome Spring), 29% Souzao (Upland, Lonesome Spring), 9% Tinto Cão (Upland), and 5% Tinta Roriz (aka Tempranillo, Lonesome Spring).   Carter first produced this wine in 2008, and uses naturally-occurring yeasts only.  Aging was 20 months in French and American barriques,  15% new and 85% neutral.  This treat pours an inky dark purple in the glass.  The surprisingly subtle nose features currants and dark cherries.  That subtlety disappears on the palate, however, with big flavors of chocolate and plums.  The finish is pleasantly sweet rather than cloying, with nice balancing acidity.  ABV is 19% (fortified with 190 proof Washington brandy), and 842 cases were produced.
https://www.briancartercellars.com/
Top of page: https://winervana.com/blog/