In the tradition-bound world of wine, winemaking has, predictably, been dominated by men. For example, there are about 4,800 wineries in California, but only 10 percent have female lead winemakers. (When it comes to winery ownership, the number does jump up to about 19 percent, according to Woman Owned Wineries, a nationwide directory of female wine entrepreneurs.)
Encouragingly, however, greater educational opportunities (as opposed to the historically more usual inheriting a wine operation) have been opening the possibility of becoming a winemaker to more and more women. One of these is Nicole Walsh of Ser Winery in Aptos, California, due east of Santa Cruz.
The winemaker
Over the course of her 19-year career (so far), Walsh has held just about every position in the wine industry, including associate winemaker, winemaker, vineyard manager, grower-relations manager, and owner. She was born in Saginaw, Michigan, in 1975. An early interest in wine drew her to Michigan State University, graduating with honors in 1998. At the time, the undergraduate department of Viticulture and Enology there was, remarkably, comprised of just two students. This provided a highly unusual opportunity to be immersively mentored by Horticulture professors in grape growing and winemaking. As part of her last semester at MSU, she attended a sustainable agriculture university, EARTH, in Costa Rica. While there, Walsh became proficient in Spanish, and she solidified her commitment to sustainable agriculture.
Nicole Walsh    Photo: www.wildu.co
After graduation, she worked for four years on the Leelanau peninsula in northern Michigan. This small AVA (one of five in Michigan) is home to 27 wineries, and has diverse microclimates uniquely suited to cool-climate wine grapes, particularly Riesling, Chardonnay, Pinot Grigio, Pinot Noir, and Cabernet Franc. During her time there, she managed vineyards and honed her winemakeing skills.
In early 2001, she married Kevin Walsh, and together they moved to Santa Cruz, California. Shortly thereafter, in February, she started working with Randall Grahm at Bonny Doon Vineyard.
Walsh took a sabbatical from Bonny Doon in 2008, when she moved with her husband and young son to Marlborough, New Zealand. After a year, she returned to Santa Cruz to develop Bonny Doon's newest property in San Juan Bautista. She continues to manage that property as well as make wine at Bonny Doon's Santa Cruz winery.
In 2012, reflecting on her New Zealand experience, especially with Pinot Noir, Walsh decided to start her own wine brand as well, which she christened Ser, which is Spanish for "expressing identity or origin; having the intrinsic quality of."
"I was inspired for the name after reading an article by Andrew Jefford, 'Wine and Astonishment'. It was in that writing that the notion of the 'being' of wine truly resonated with me. Being is different than existing. It is true, wine exists; you can touch it, smell it, drink it. To quote Jefford, 'Being, by contrast, is the 'isness' inside.' In other words, the natural essence of the grapes unique to each specific growing area. I am dedicated to preserving the 'isness' of wine, to allow its true varietal expression and the place and time of its origins," shared Walsh. Clearly, this thinking closely aligns with the traditional concept of terroir.
She continued, "Jefford also talks of that first moment of insight, that moment when some people decide to devote their professional life to wine. He says,'It gives the lucky few who choose to 'grow wine' the chance to use craft to embody, reflect, and echo nature itself.' I am privileged to be one of those 'lucky few.'"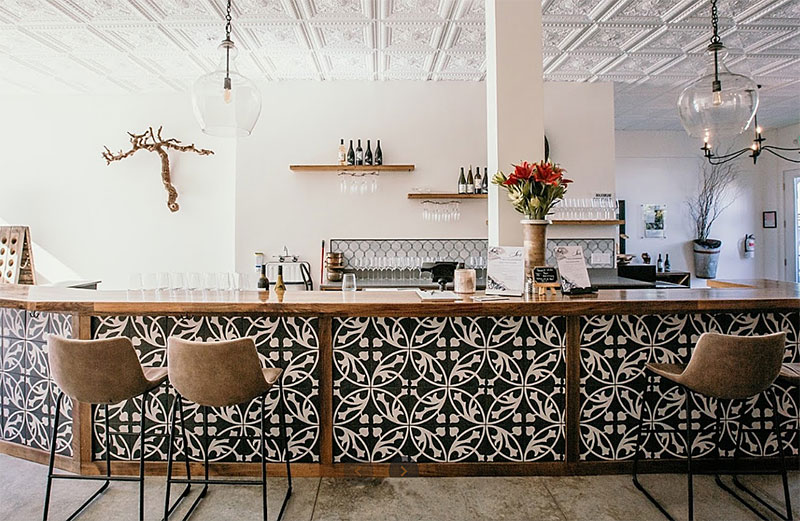 Ser Winery Tasting Room in Aptos, California
Once the winery was underway, she began working with local Santa Cruz Mountain growers to purchase fruit from a number of interesting vineyards with distinct microclimates in the appellation. In symbiotic partnership with those farmers, she started experimenting with several varieties, such as Riesling and Chardonnay (both of which she had worked with on Leelanau), Syrah, Mourvedre, and a much less-known variety, Cabernet Pfeffer. She is committed to preserving and enhancing the unique character of the varietals used in her wine.
Ser's label, designed by local artist and teacher Jenny Angelacos, was inspired by an ocean wave and Walsh's love of surfing. It is intended to convey the unifying thread that connects the diverse places from which she sources her grapes.
The wines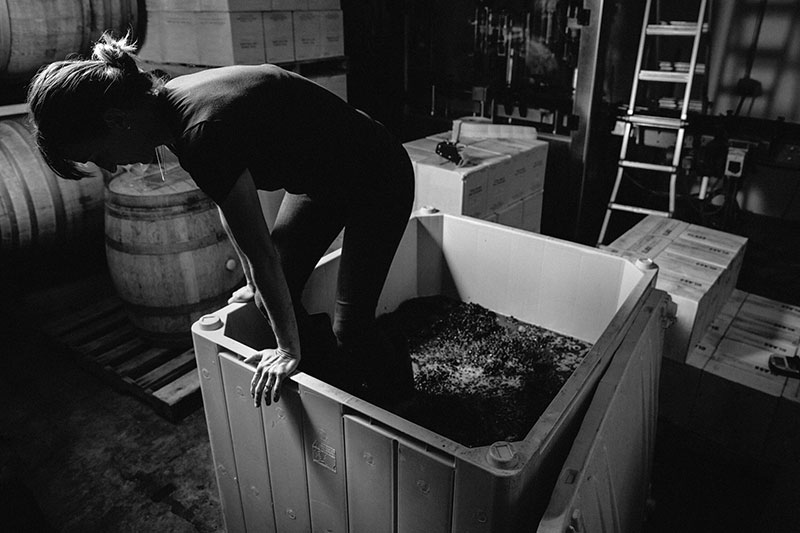 Nicole Walsh hard at work; winemaking doesn't get more hands-on than this.
Photo: www.wildu.co
Ser Dry Riesling Wirz Vineyard 2017
OK, I'm going to be honest about this up-front: although Riesling is, by all accounts, one of the world's greatest white-wine grapes, and makes classic food-friendly wines in a range of styles from quite dry to very sweet, I've never been much of a fan.  But I enjoyed this expression, so kudos to Ms Walsh.
The fruit came from the Wirz Vineyard, located in San Benito County's Cienega Valley, in the foothills of the Gabilan Mountain Range at about 1100 feet above sea level and 25 miles or so from the Pacific Ocean. It is composed of granite and limestone soil. Owner Pat Wirz employs head training, dry farming and organic techniques on the over 90-year-old Cabernet Pfeffer and 60-year-old Riesling vines.
In "head training," vines are tied to a wooden stake positioned at each one. The stake generally stands three to four feet above the soil surface. When used conservatively, this system is ideally suited to production of low to moderate quantities of high-quality grapes.
To make this wine, Walsh pressed whole grape clusters in stainless steel, which was also used for fermentation. She used an indigenous yeast, and the wine was bottled prior to malolactic fermentation to lend softness without stripping the acidity.  It is medium yellow in the glass, with a nose of olive oil and delicate floral notes.  These are followed by mostly tart citrus on the palate, particularly lime, with subtle hints of pear and apple. It's balanced out by that good acidity, and wraps up with a medium finish. The ABV is 13% and 160 cases were made.
Ser Vermentino Cedar Lake Vineyard 2019
Cedar Lane vineyard is located in the Arroyo Seco appellation of the Santa Lucia Highlands in Monterey County. Soils are well drained, river bed gravelly loam.
After arriving at the winery, the grapes were whole-cluster pressed into stainless steel tank to begin primary fermentation. The wine was transferred mid-way through fermentation to neutral French oak puncheons (500L). There was partial malolactic fermentation, followed by eight months of aging in barrel prior to bottling.
This very pale wine has almost no nose.  On the palate you will find delicate citrus, lychee, and a hint of honey.  It offers crisp acidity and a short finish.  The ABV is 13% and 175 cases were made.
Ser Dry Orange Muscat 2020
Before opening the bottle, I thought this might be an "orange" wine, that is, a white wine made by leaving the skins on white grapes during fermentation, also known as skin-contact wine.  This results in an amber or orange hue in the finished product.  But no.  Orange Muscat is a relatively obscure grape variety, a cross between two more widely-known parents: Muscat Blanc à Petit Grains and Chasselas.
There are many other subcategories of Muscat as well, and these are often vinified into sweet or fortified wines.  However, this one is bone dry and is pale gold, much like any other white.  Whole grape clusters were pressed to stainless steel, followed by a cool fermentation for 20 days.  The wine was bottled without malolactic fermentation after four months on the lees.  Unusual for a Muscat, it is only slightly aromatic, with apricot and mango on the nose.  These flavors continue in the mouth, but are masked somewhat by the bracing citrus-laced acidity.  There's even a hint of pepper.  ABV is 13%, and 87 cases were made.
Ser Ros
é

of Grenache Loma Del Rio Vineyard 2020

The Loma del Rio vineyard is located on the west side of the Salinas Valley at the foot of the Santa Lucia Highlands just south of King City. Walsh declares it, "one of my favorite sites for Grenache."

This wine was whole-cluster pressed to stainless steel. The juice was clarified with a centrifuge to help mitigate smoke taint due to the wildfires in the region at time of harvest.  Happily, none is evident. It was bottled without malolactic fermentation after four months on the lees.

This wine is a delicate pink salmon, with an unassuming aroma to match, one that is primarily rose petal.  The palate offers strawberry and guava. There is plenty of juicy grapefruit-laced acidity, and a medium finish.  This is a wine that benefits from not being numbed.  After being on the counter for a while, and it came up from the refrigerator temperature of 36° F to about 50° F, the nose didn't change much, but the flavors became much more apparent.  Walsh made 100 cases, and the ABV is 13%.
Ser Pinot Noir Tondre Grapefield 2016
This is the first time I have encountered a vineyard referred to as a "grapefield."  It was planted in 1997 on six and half acres in the heart of the Santa Lucia Highlands appellation. It now has seven blocks in 104 acres, 81 of which are planted with  Pinot Noir. Tondre Grapefield is SIP Certified.
Composition is 100% Pinot Noir, all from the Tondre Grapefield, and harvested from 10-year-old Pommard clone vines. (The Pommard clone was originally sourced from the Château de Pommard in Burgundy by Dr. Harold Olmo of the UC Davis' Department of Viticulture and Enology in the early 1970s.)
Walsh created this Pinot Noir by starting with five days of cold soak. Indigenous yeast was used for the eight days of primary fermentation. This was followed by four days of maceration before being pressed into neutral French puncheons (large oak barrels that usually hold 80 to 133 gallons) for 14 months of malolactic ageing.
This shows Pinot Noir's classic clear, bright red in the glass. The nose offers aromas of cherry, raspberry, blackberry, and roast plum.  The palate is dominated by tart cherry and zippy acidity.  The wine has excellent balance, and it all wraps up with a long finish.  ABV is 13.5%. Just 80 cases were produced.
Ser Cabernet Pfeffer Central Coast 2016
Cabernet Pfeffer is an extremely rare variety with less than 12 acres grown in California, most of them located in San Benito, a wine region at the southern end of the Santa Cruz mountains. It was once thought to be a crossing of Cabernet Sauvignon and another, unknown variety, and to have been bred in Los Altos Hills, California, in the late 19th century by farmer and winemaker William Pfeffer. However, a recent ampelography ( the field of botany concerned with the identification and classification of grapevines) study by UC Davis on the Wirz vines discovered they are are in fact Mourtaou, a  French variety from the Bordeaux region. Whether the variety was named after the farmer or for its spicy characteristics (Pfeffer is German for pepper) is a mystery.
Ser's Central Coast Cabernet Pffefer began with five days of cold soak with a small addition of sulphur . Indigenous yeast was used for the ten days of fermentation. This was followed by ten days of maceration before being pressed into barrels, of which 50% were neutral and 50% were new French oak. After three months, the wine was transferred  to neutral oak for 14 months of barrel ageing. The blend is 76% Cabernet Pfeffer and 24% Cabernet Franc.
The wine starts with a bright, clear red cherry color in the glass, much like the Pinot Noir.  But then we move on.  The nose shows plenty of juicy fruit, like cherry Starburst candy (seriously) and hints of violets.  Then come flavors of those same juicy cherries.  Also, since  Cab Pffefer is known for its spice and pepper, I was surprised on first trying it that those were subtle, at best.  But after about two hours of air, it's "Hello pepper!" settling on the back of the tongue.  It is supported by good acidity, fine tannins that resemble those of Cabernet Sauvignon, and a medium, slightly bitter finish. The alcohol is 13.3%, and  220 cases were produced.
Ser Wirtz and Silletto Vineyards Cabernet Pfeffer 2015
As noted above, this varietal is quite rare in California, so it is remarkable that Walsh makes a second expression.
This wine was sourced 64% from the Wirz Vineyard and 36% from the Siletto Vineyard, both in San Benito County.
The Wirz vineyard is located in the CIenega Valley of the Gabilan Mountain range. The 95-year old-vines are dry farmed using organic methods in decomposed granite and limestone soils. The Siletto vineyard is located just East of the Wirz vineyard near Paicines in San Benito County. These 25-year-old vines live on gravelly-loam soil.
After harvest, the grapes were cold soaked for four days prior to primary fermentation. They saw five days of maceration post fermentation, then were pressed to neutral French oak puncheons, where they aged for 14 months prior to bottling.
Like the Central Coast offering, the wine starts with a bright, clear red cherry color in the glass, with a hint of brick.  The moderate aroma is predominantly cola.  This is followed by flavors of dark fruit, baked plum, tart cherry, and some more of that cola.  Unlike the Central Coast wine, the pepper was quite subtle.  There is good acidity and delicate but well-integrated tannins . The alcohol is 14%, and  230 cases were produced.
Ser Graciano Bokisch Vineyard 2018
This wine is all Graciano (aka Morrestel in France), a red-wine grape traditionally hailing from the Rioja and Navarra regions of Spain.  The fruit was sourced from the Terra Alta vineyard farmed by Bokisch Vineyards, a winery and grape grower located in the Clement Hills subdistrict of the Lodi AVA.  Grown on Redding gravelly clay loam, the vines are roughly 19 years old.  Markus Bokisch named this property "Terra Alta" because it reminded him of  the wine region near his home town in the Catalunya region of Spain.  The vineyard is Certified Organic by CCOF and  Certified Green by the Lodi Rules Program. 
After fermentation  in one-ton bins, the wine was pressed to neutral French oak puncheons and aged for 16 months.  It pours a transparent purple, with mouth-watering aromas of red and black fruit.  On the palate, this is predominately cherries and red berries, with a bit of white pepper spice.  It has a medium body, not unlike a Pinot Noir.  It is supported by good tannins that offer up just a hint of bitterness.  Walsh made 70 cases, and the ABV is 13.4%.
Although I haven't tried them, in addition to these selections Ser Winery also offers Rosé of Cinsaut (a red-wine grape from Languedoc-Roussillon, usually characterized by a light body, high acidity, and low tannins), Sparkling Riesling, a second Pinot Noir from the Santa Cruz Mountains, and yet a third (!) Cabernet Pfeffer.  There is a wine club with three shipment options, the easiest and most reliable way to obtain these limited-production wines.

Top of page: https://winervana.com/blog/