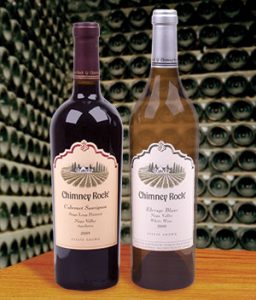 The Stags Leap District AVA is in the very heart of Napa Valley. It runs from north to south for about three miles along the Silverado Trail, and its 1,350 [very prized] acres were first planted with Cabernet Sauvignon in 1961, for which it would soon become renowned. The name comes from an outcropping of red rocks at the area's eastern boundary, where a stag supposedly escaped his pursuers by leaping across the treacherous gap.
The Stags Leap District's reputation was assured in 1976, when the 1973 Stag's Leap Wine Cellar's S.L.V. Cabernet Sauvignon won the famous (some would say infamous) "Judgement of Paris" International Wine Competition, besting the likes of First Growths Mouton-Rothschild and Haut-Brion. This now-legendary growing region received AVA [American Viticultural Area] status in 1989.
Situated at the far southern end of Stags Leap, the Chimney Rock estate was started on a 180-acre parcel (which originally included a golf course, but that was turned over to vines long ago). Initially, 59 acres were planted with a combination of red and white grapes, and the first vintage of Chimney Rock estate wines was produced in 1989. In the mid-1990s, after a phylloxera infestation necessitated the replanting of the entire property, only red Bordeaux-variety grapes were used in recognition of the unique characteristics and potential of the Stags Leap District.
In 2004, the Terlato Family empire acquired sole ownership of Chimney Rock, and they have diligently worked to steadily improve this already excellent winery.
Chimney Rock Elevage Blanc 2008
Seeing the very pale straw color of this wine in the glass you might think, "well, this is a lightweight." But, you would be wrong. There is much to like in this unusual blend of Sauvignon Blanc [70%] and the rarely used Sauvignon Gris [30%]. The nose shows aromas of mango, pineapple, and vanilla, and there is a hint of coconut on the finish. Even so, this wine is strictly dry, with a full, rich mouthfeel. The fruit is nicely balanced with the proper amount of acidity.
Pair Elevage Blanc with Quail Stuffed with Ricotta, Bacon, and Greens, or Soft-Shell Crabs with Vegetable Slaw.
Chimney Rock Cabernet Sauvignon 2009
I strive to be coolly unbiased in this blog, but I have to be honest: this is one of my all-time favorite wines. The color is deep garnet red. The bouquet features black currant and vanilla. Although a classic Big Cab (with support from Merlot and Cabernet Franc), this wine is completely approachable. The dark fruit flavors are supported by smooth tannins and just the right amount of acidity for balance and liveliness. Aging was 18 months in 50/50 new/used French oak. 100% sourced from the Stags Leap District, this wine will easily cellar for ten years; ten days is more like it in mine. And although expensive, this Chimney Rock will easily compete with Cabernet Sauvignons costing twice as much.
Serve with Filets of Beef Stuffed with Roast Garlic and Herbs, or Goat Cheese-Stuffed Roasted Chicken.
Top of page: https://winervana.com/blog/