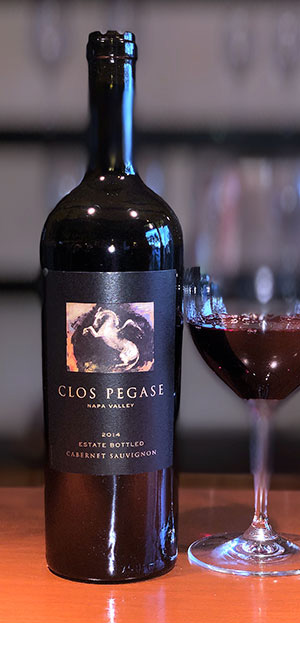 Disclaimer: I've been a member of the Clos Pegase wine club for years, so this post is hardly impartial.
Clos Pegase was founded by Jan Shrem in 1983 on a 50-acre vineyard near Calistoga in Napa Valley. He was born in Colombia in 1930 to Jewish-Lebanese parents, and spent his childhood in Jerusalem and his early adolescence back in Colombia. After he arrived in the United States at age 16, he attended the University of Utah and UCLA. While in college, he sold encyclopedias.
A romance with a Japanese woman named Mitsuko led him to Japan, where they were married in 1960. They stayed 13 years, and during that time Shrem established a book distribution company that sold English-language encyclopedias, and books on engineering and art. His company also published translations of books into Japanese. By the time Shrem sold this operation, it had 50 offices and 2,000 salespeople.
Shrem then moved with his wife and two sons to spend time in Italy and France, where he continued with publishing and book distribution ventures. While there, he began collecting art and learning about wine. He studied enology at the University of Bordeaux.
The Winery
After finally retiring from the publishing business, Shrem returned to the U.S., settling in Napa Valley, where he established Clos Pegase Winery. In cooperation with the San Francisco Museum of Modern Art, he held an architectural design competition for his new winery's building. Out of 96 entries the winner was the late Michael Graves. The building opened in 1987, and was designed in the Postmodern style with which Graves was closely associated at the time. Graves described the character of his creation as tending "to evoke memories of a European ancestry" and having a "timeless sensibility." The selection jury explained, "it embodies a celebration of the lifestyle that is unique to the Napa Valley."
In the Washington Post in 1988, James Conaway said that "Clos Pegase is our first monument to wine as art." It was later described by architecture critic Susan Dinkelspiel Cerny as "an interpretation of Classicism in ochre and burnt sienna, with a spare desert feeling."

The winery has since been painted a rather drab gray, not a particular improvement, I think.  As you can see, the original open lawns were replaced in the summer of 2015 with desert vegetation.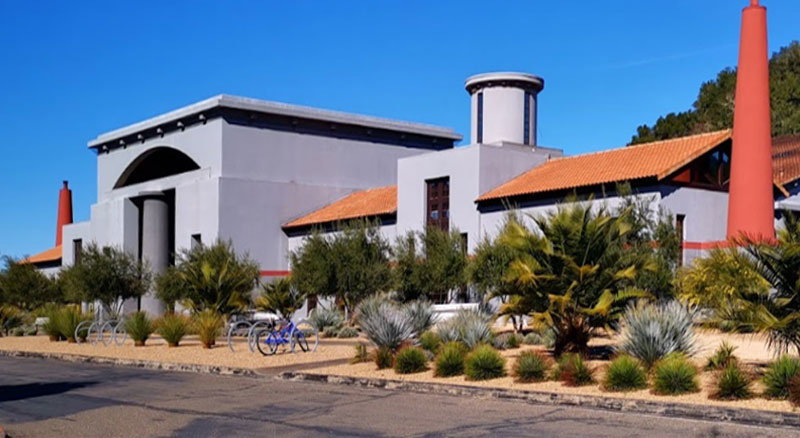 Photo: Francisco Vidal Mora
This "heritage garden" is a commitment to water conservation and landscape design. The project, in partnership with San Francisco garden design company Flora Grubb Gardens, replaced water-thirsty lawns with a special collection of rare, drought-tolerant plants and trees. The garden is anchored by 19 heritage Jubaea Chilenis "Wine Palms" — the largest West Coast collection north of Santa Barbara.
While he was proprietor, the winery housed a number of pieces of art from Shrem's private collection, particularly outdoor sculpture. When he was 83 years old, Shrem sold Clos Pegase to Leslie Rudd's Vintage Wine Estates in 2013. As of this writing, he is still with us at 90. While he was still active in the wine world, Shrem frequently delivered a humorous lecture on the history of wine as seen through art called "Bacchus the Rascal: A Bacchanalian History of Wine Seen Through 4000 Years of Art."
The winemaker
Robin Akhurst has handled the winemaking duties at Clos Pegase since 2016. A native of Scotland, he graduated from the University of Edinburgh with a degree in environmental sciences. Following graduation, he took a job as a sommelier in Edinburgh, then worked in London for one of the city's independent wine merchants.
Determined to make a life in wine, he moved to New Zealand and received a graduate degree in viticulture and enology from Lincoln University in Christchurch. He worked two harvests in Marlborough before moving on to Burgundy's famed Domaine Leflaive and Australia's Two Hands Winery.
A fortunate suggestion from Michael Twelftree of Two Hands led Akhurst to accept a harvest position in Napa valley with Thomas Rivers Brown in 2009, working with the team at Outpost Wines on Howell Mountain. Under Brown's guidance, he worked on  wines from Schrader Cellars, Maybach, and Rivers Marie. Following that harvest, he took a position that lasted four years directing the production team at Envy Wines, a winery and custom-crush project established by partners Nils Venge and Mark Carter.
The Vineyards
Clos Pegase has 410 acres in Napa Valley made up of three vineyards where 11 grape varieties are cultivated.
Mitsuko's Vineyard, named for Shrem's late wife, is 365 acres in the Los Carneros appellation within the Napa Valley.  Because of the size of this property, there is a wide range of soil types, elevations, slopes, and  microclimates.
Here, Chardonnay and Pinot Noir benefit from cooling breezes blowing in from San Pablo Bay which create the slow, balanced growing season these varieties need to build complexity. A section of the vineyard is Haire clay loam, similar to the soil of the Right Bank of Bordeux. It was planted with a blend of Merlot clones well suited for this climate. Next to it is a section known as Graveyard Hill with its own unique rocky, well-drained soil and plenty of sun exposure, making it ideal for Cabernet Sauvignon, rarely seen in Los Carneros.
The Tenma Vineyard is located in the foothills of Mount St. Helena northeast of the town of Calistoga. The 40-acre site is part of an alluvial fan spilling out from the Palisades Mountains in the northeast corner of the Napa Valley. The rocky terrain is well-drained with a very sparse topsoil. It is populated with old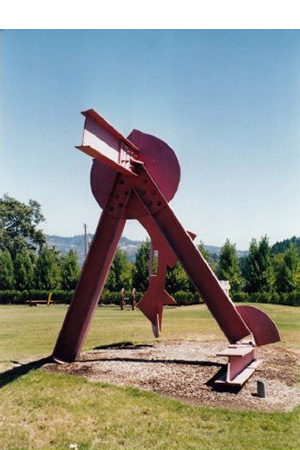 vines that produce low yields. These grapes are the backbone for Clos Pegase's  flagship Hommage Cabernet Sauvignon.
The Applebone Vineyard is the four acres of vines planted directly on the winery property, and  is devoted to Cabernet Sauvignon. The soil is gravely Bale loam. The name of the vineyard comes from the sculpture Applebone by Mark di Suvero, part of Shrem's modern art collection.
Photo: Michael S. Herzog
Clos Pegase Cabernet Sauvignon 2014
This silky wine is a clear dark purple. The nose offers plenty of dark fruit, like black cherry and plum. There are rich flavors of classic blackberry, cocoa, and black tea on the palate.  This Napa Cabernet Sauvignon is certainly not a fruit bomb, though, and the grippy tannins and lively acidity are in excellent balance. The ABV is 15.1%.
Return to blog posts: https://winervana.com/blog/