True Ports hail from the Douro valley in Northern Portugal, and have done so for over three hundred years. The region's predominant soil is schist, composed of various medium-grained to coarse-grained metamorphic rocks with laminated, often flaky parallel layers of micaceous minerals.  The low annual rainfall makes this probably one of the driest regions of the world where grapes are grown without irrigation. This terroir results in very low-yielding vineyards, with vines bearing only a very few small bunches of full-flavored grapes whose thick skins protect them from dehydration.
Cockburn's (CO-burns, not COCK-burns) is perhaps the best-known name in Port, thanks to Cockburn's Special Reserve.  Certainly, in the first half of the last century Cockburn vintage ports were widely regarded as the finest in the world.
Robert Cockburn was a Scottish soldier who served in Portugal during the Peninsular War, and thereby was exposed to Port wines. In 1815, Robert and his brother John, who originally were wine merchants in Leith, Scotland, decided to get into the Port business. Looking for better fruit than what was available at the traditional merchant's fair in Porto, they ventured up the Douro river and bought the  best grapes they could find directly from farmers there. Over time, the Cockburns were joined by the Wauchope, Smithes, Teage, and Cobb families as partners. Together, they built a reputation for fine Vintage Port.  For most of the 20th century, Cockburn's was the name in Port — famous (some would say infamous) for deferring on vintages that others declared, and fetching prices 10 to 15% above the going rate of their Oporto competitors.
Cockburn's was one of the first companies to plant vineyards in the remote Douro Superior,  a region once considered out of bounds for respectable producers, but which became known as Cockburn's Country.  It was also instrumental in resurrecting the now iconic Touriga Nacional grape variety from obscurity, largely due to the efforts of John Henry Smithes, Cockburn's winemaker and the "Cowboy of the Douro."
The Cockburn and Smithes families sold the business in 1963 to Showerings of England, producers of Babycham (a low-alcohol sparking cider made from fermented pear juice), who had at about the same time taken over Harveys of Bristol. Showerings decided they needed a Port to complement the branded Sherry that was then their cash cow, Harveys Bristol Cream. Christened "Special Reserve," it revolutionized the Port trade in 1969, creating a whole new category between Ruby Port and Vintage Port.  (It is more substantial than a Ruby, but less so than a Vintage.)
The brand has a tradition of humorous marketing, with many people still remembering the iconic print and TV ads from the '70s and '80s. That same spirit continues today, reflected in recent "Pronounce Responsibly" advertising.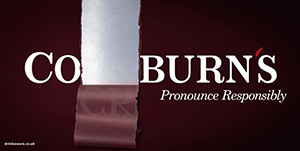 Over time, the Cockburn's portfolio passed through a number of owners. At some point, Showerings became part of Allied Domecq until that operation was taken over by Pernod Ricard in 2005, who promptly sold Cockburn's and some other brands to the Fortune Brands holding company, the parent company of Beam Global, the company best known for its bourbon. Predictably, Beam's knowledge of and interest in fortified wines was minimal at best, so Beam quickly (and wisely) contracted the winemaking itself to the Symington family, already responsible for Dow, Graham, and Warre Ports, in 2006. In 2010, the Symingtons purchased Cockburn's outright, acquiring the brand, the lodge (aka winery), the inventory, the vineyards, and Martinez, a port shipper that Showering had acquired before Cockburn. The Symingtons conducted an intensive overhaul of all of Cockburn's viticulture and winemaking practices, with the goal of restoring Cockburn's reputation and quality.
In addition to their Port holdings, Symington owns several brands of Madeira and Douro DOC wines. With their extensive vineyard holdings and many Port brands, the Symingtons are often described as ruling over a "Port empire."

The Douro
In 2016 the Portuguese Minister for Tourism opened the new visitor center at the Cockburn's Port Cellars in Vila Nova de Gaia, Porto. The cellars contain the most extensive collection of oak barrels in the Port trade. It is also the site of the last in-house cooperage in Portugal, where a skilled team of craftsmen carefully maintain and repair thousands of ancient casks.
Cockburn's owns two important vineyards in the Upper Douro Valley, the world's oldest demarcated wine region and a UNESCO-protected landscape. Both are in the rugged, remote Douro Superior, some 87 miles [140 kilometers] upriver from the city of Porto, a region with hot and dry climatic conditions. Quinta [estate] dos Canais is one of the major Douro properties, with a total area of 672 acres [272 hectares], of which close to 247 are under vine. Just five miles [eight kilometers] further upstream is the Quinta do Vale Coelho, a small 47-acre [19-hectare] property, of which two-thirds are planted to vines. Both quintas are situated on the north bank of the Douro river, and the vineyards are mostly south-facing, ideal for the ripening of  grapes.
Cockburn's Special Reserve Port
Special Reserve was created by blending fruit from vineyards in the Douro Superior, maturing it for up to five years in oak casks, and bottling the wine ready to drink. It rapidly became the world's best-selling Port. Its breakthrough success was evident in how other Port houses followed suit (Fronseca's Bin 27, Warre's Warrior, Graham's Six Grapes, and Sandeman's Founder's Reserve for instance).
This dark opaque purple wine has a surprisingly delicate nose of sweet plum.  It is much more lively in the mouth, with red berry flavors, a restrained sweetness, good acidity, and just slightly bitter and peppery tannins.
Pour this wine in a wine glass at room temperature, or slightly chilled in warm weather to make it more refreshing.  It works as both an aperitif and after-dinner drink. It does not need to be decanted, is ready to drink on release, and should be consumed within four to six weeks of opening. The ABV is: 20%.
Top of page: https://winervana.com/blog/