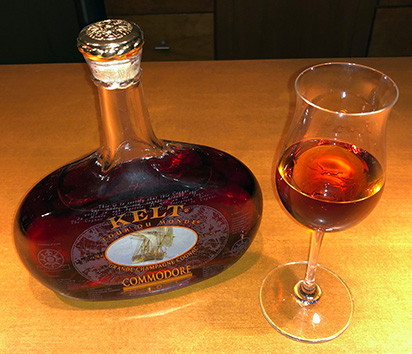 First, let's talk about brandy vs. cognac. Brandy is a liquor distilled from wine and aged in wood. (Brandy can be made from fruits other than grapes as well, but that's a story for another time.) Cognac is brandy that specifically comes from the town of Cognac and the delimited surrounding areas in western France. (The one which has the most favorable soil and geographical conditions is Grande Champagne.) So, all cognacs are brandy, but not all brandies are cognac. For more detail on cognac, click here.
Until the early 1900s cognac was shipped in barrels. The long sea voyages had a profound effect on the quality of the cognac. When cognac started to be shipped in bottles, many felt something had been was lost. Hoping to recapture that quality, Estonian-born Swedish entrepreneur Olev Keltes established the Kelt Cognac company in 1987. He began his career with the study of the distillation of cognacs as well as madeira, rum, and aquavit. It was this study that led him to rediscover the lost secret that quality improved in spirits that were aged in barrels on a long trip at sea . It is this maturation at sea that sets Kelt apart from other cognac houses.
Kelt continued to expand on this idea, and sent his cognac on its first sea voyage in 1990. The cognac world looked on, many with skeptical eyes. After the voyage, a tasting session was arranged with some of the top names in the cognac industry, and it was with some surprise that the experiment was hailed a great success.
Subsequently, an optimum route around the world was established, and one which all Kelt cognac now follows. The aim of this travel around the world (tour du monde) is to produce cognacs similar to those of the past, where many cognacs and eaux-de-vie were subjected to this epic oceanic journey.