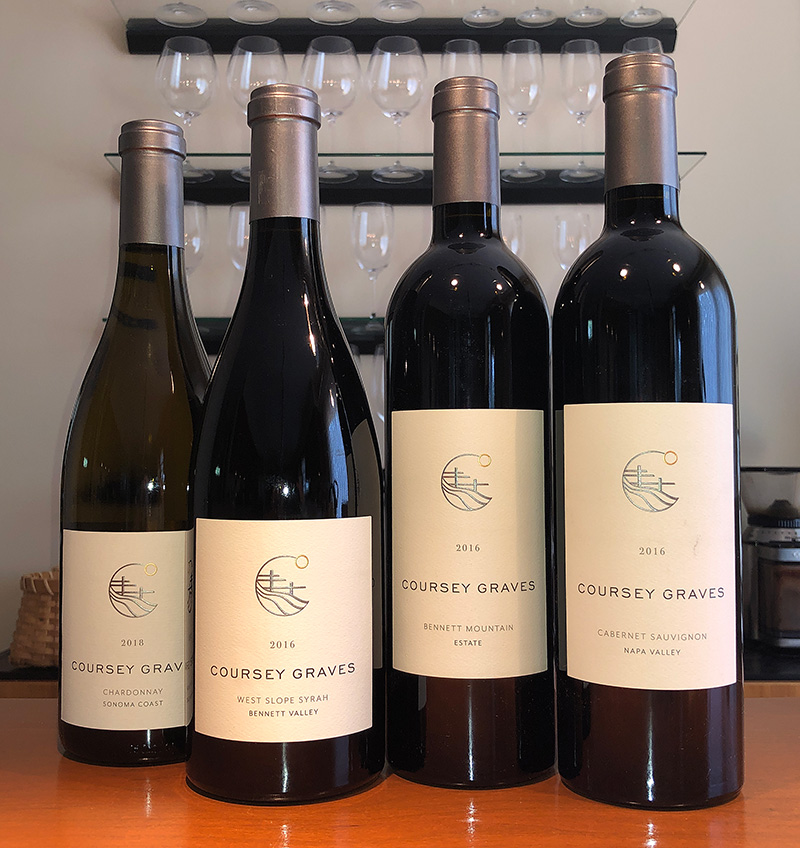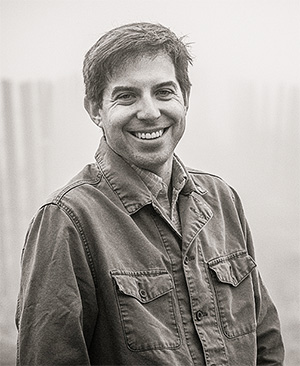 Cabell Coursey is a busy guy these days. In addition to being the winemaker at Lombardi Winery, he is also winemaker and co-owner at Coursey Graves Winery in Santa Rosa, California. He began his career in wine in Burgundy, where he worked his first harvest during an undergraduate semester abroad. After graduation, he returned to the States and pursued the menial but necessary chores of picking grapes, scrubbing tanks and barrels, and learning traditional winegrowing methods. He went on to toil in Oregon's Willamette Valley, and later traveled to Christchurch, New Zealand, where he earned graduate degrees in Enology and Viticulture from Lincoln University. It was there he developed the passion for cool climate wines that guides his style today. Before starting Coursey Graves in 2015 with partner John Graves, Coursey made wine for Alder Springs Vineyard, DuMol, Flanagan, and Kosta Browne.
He is committed to constantly improving the wines he makes from vintage to vintage by understanding his vineyards and maximizing their quality.  He also feels obligated to mentor young winegrowers by teaching parameters they can use to customize and improve grape farming for better produce.
Coursey stated,  "I am interested in making wines that show the place where they are grown, taste great young, but also age [well]. With most wines, aging means maintaining. I strive to make wines that evolve, not just maintain.
Except for a little bit of Chardonnay, I grow all the grapes I make to wine. It's important, because my team learns about the vineyard and can change how we grow the grapes to make better wines."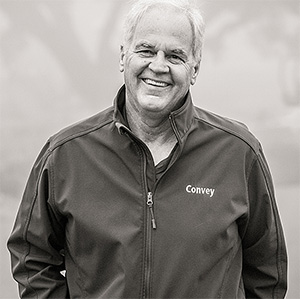 John Graves began his career in computer technology, and after a decade spent working for others, he left to strike out on his own. Thirty years later he sold a successful B-to-B software business. He and his wife Denise used a portion of the proceeds to establish the Graves Foundation, whose mission is to provide disadvantaged youth in greater Minneapolis with access to the resources, opportunities, and caring relationships that will propel them to a successful life. Specifically, the foundation focuses on K-12 education reform and providing foster kids with support during the transition to adulthood.
Grave's interest in wine began as a hobby, influenced by a good friend and by Robert Parker's reviews in the Wine Advocate. At length his interest expanded until the desire to learn became a desire to own a winery. Serendipitously, about the same time his winemaker friend Cabell Coursey began talking about starting a new venture of wines in a style they both loved to drink and share. Graves acquired the existing Bennett Valley Winery, and the first vintage of Coursey Graves was bottled in 2017.
Bennett Valley AVA
In 1862, Santa Rosa winemaker Isaac DeTurk planted a vineyard on land he purchased from valley namesake James Bennett. DeTurk called his winery, the valley's first, Belle Mount. However, the combination of phylloxera and Prohibition cleared the valley of vineyards. It wasn't until the late 1970s that vineyards returned to Bennett Valley in a meaningful way at the pioneering Matanzas Creek Winery.
The Bennett Valley AVA is located south of Santa Rosa, on high ground between the Sonoma Valley and Cotati Valley. The AVA begins where the city's suburban neighborhood known as Bennett Valley abruptly gives way to rolling oak woodland and horse pastures bordered by ancient stone walls.
This tiny appellation is one of the coolest AVAs in Sonoma County. This is because of  the Petaluma Gap, where a break in the higher coastal hills lets in cool winds and fog from the Pacific Ocean. Bennett Valley sits directly in the path of the initial incursion.   The fact that there is fog in all of the photos in this post is testament to that!
Although there are plenty of renowned wineries and vineyards throughout Sonoma, of course, the lesser-known vineyards of Bennett Valley quietly yield some of the area's most highly concentrated fruit. This is because the well-drained volcanic soils of the area ensure that the vines grow deep root systems in search of hydration. Ultimately this leads to concentrated, complex wines, as the water-stressed vines will focus their attention on grapes, rather than luxurious foliage. The rocky soils coupled with the cool weather mimic the austere conditions of Bordeaux.
There are now 650 vineyard acres and four wineries in Bennett Valley, which was awarded AVA status in 2003.
The Coursey Graves Vineyards
Coursey Graves is located on vineyard sites 800 to 1500 feet above sea level on Bennett Mountain overlooking Sonoma, on the western edge of the ancient, volcanic Mayacamas Range that separates Napa and Sonoma. The winery, estate vineyards, and caves are built into the slope overlooking the Bennett Valley below. Eighteen acres are planted to Cabernet Sauvignon, Malbec, Merlot, Petit Verdot, and Syrah.



In addition to the estate vineyard, Coursey Graves relies on two others as well. Nestled on the sloped edge of an ancient volcano, Coombsville Vineyard is home to sixteen acres of Bordeaux varieties growing between the red and black igneous basalt and the white, ashy volcanic tuff. At two thousand feet above sea level, Cabernet from Howell Mountain Vineyard benefits from much cooler daytime temperatures and slower ripening.
The wines
I have now had the opportunity to try eight of Cabell Coursey's wines.  They all have a smooth and silky mouthfeel.  Thinking this had to reflect the intervention of the winemaker, I asked him about how he achieves that, and he had this to say,  "First is vineyard work.  I get up-front and mid-palate concentration through diligent effort in the vineyard, by managing fruit load to the amount of vine canopy, and careful applications of irrigation. I have some control over berry size, and therefore juice to skin ratio, by controlling how much water-stress the vines have at various times during the growing season. Extra stress at flowering and fruit set limits berry size, while more water increases berry size. I don't have a standard plan each vintage, but rather change according to conditions.
"Second is tannin management during the winemaking process. Certain tannins (phenols) extract from grapes at different ranges in temperature. Also, they bind at different temperatures. I manage the temperatures during fermentation very closely and change to either extract, not extract, or bind, depending on taste and mouthfeel. I do use lab numbers to double check what I taste. However, it's mostly by taste. After working with these vineyards and my cellar for a few years, I've started to learn where the wines' tannins need to be at the end of fermentation to age properly upon the wines' release and subsequent aging."
Coursey Graves Chardonnay 2018
The fruit for this wine was sourced from the Durell and Heintz vineyards on the Sonoma coast. It was fermented in oak and stainless-steel barrels. It is light bright lemon yellow in the glass, which is appropriate as it opens with the smell of lemons, paired with a hint of melon and crushed stone. Those flavors continue on the palate, abetted by a zippy acidity and a suggestion of oak.  It wraps up in a brisk finish.  Only 91 cases were made.
Coursey Graves West Slope Syrah 2016
This 100% Syrah  hails from Coursey Graves' estate vineyard in Bennett Valley. It is an opaque but brilliant purple color. It features aromas of dark red fruits. The rather lean palate offers flavors of blackberry and olive, with a bit of pepper at the end.  It's all complemented by good  tannins and a moderately long finish. Production was limited to 268 cases.
Coursey Graves Cabernet Sauvignon 2016
This wine is 100% Cabernet Sauvignon (although in some years Coursey adds and just a bit of Merlot)
. The grapes were  mostly harvested from vineyards in Howell Mountain and Coombsville in Napa, as well as some from Bennett Valley in Sonoma.  The aromatics are of rich, complex dark fruit.
On the palate the wine offers tart cherry, black cherry, red licorice, and cocoa. The  oak tannins are well-integrated and bracing.  According to the winery, it will be at its peak performance around 2023 to 2024, by which time those tannins will inevitably round out, if you prefer them softer. .
192 cases were produced. 
Coursey Graves Bennett Mountain Estate Red Blend 2016
This elegant wine was my favorite of the quartet. The blend is 60% Cabernet Sauvignon and 40% Merlot, all from the e
state vineyard in Bennett Valley.  This deep-red selection displays a
romas of crushed rock and currant, with a hint of strawberry.  These are followed by flavors of dark plum, blueberries, crème de cassis, and a touch of vanilla, supported by fine tannins.  It offers an excellent example of Coursey's super smooth, lush mouthfeel.  There is just a bit of dried herbs on the long finish. 
234 cases were made.
Coursey Graves' tasting room is located in downtown Healdsburg, just off the historic Healdsburg Plaza.
https://www.courseygraves.com/
Top of page: https://winervana.com/blog/