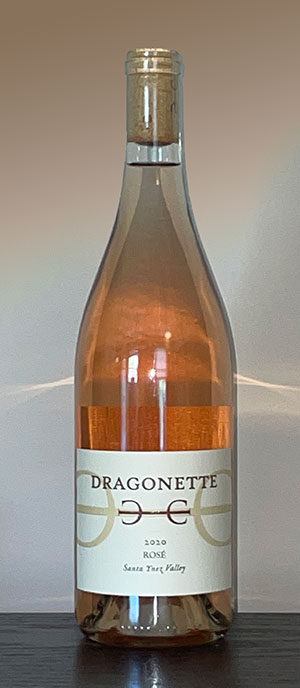 The brothers Dragonette (John, the elder, and Steve, the younger) and close friend Brandon Sparks-Gillis, after having met and worked together at Wally's, a renowned wine shop in Los Angeles, founded Dragonette Cellars in 2005. They did so in the climatic and soil diversity of the wild, windy, and remote northern Santa Barbara County.
"We all came from different business backgrounds," Sparks-Gillis recalled. "John was a lawyer taking a wine hiatus from his career, and Steve was working as a computer engineer. I was a geology major in college, but I had already turned to the wine business and had worked in various capacities for some significant wineries both in California and abroad."
The trio's plan was quite simple: Establish a winery that would use prime Santa Barbara County grapes and hand-produce the finest wines possible. They figured they had something of a leg up since they knew plenty about winemaking, albeit as an adjunct to their then primary careers. John had studied wine independently for ten years, and had apprenticed at renowned Fiddlehead Cellars. He had also worked for three years for one of the area's top vineyard management companies, and had developed relationships with a number of the leading growers in the area. Sparks-Gillis' experience included Manfred Krankl's cultish Sine Qua Non Winery and the highly-rated Torbreck Vintners of the Barossa Valley in Australia.
The proprietors. Two are related.  One is not. 
The designation 'Dragonette' was selected for the winery because the partners believed it carried a certain panache of mystery and uniqueness, and of course was the brothers' name, regardless. Their ancestors, the Dragonetti family, emigrated from Italy to the United States in the 1930s, and like many others promptly adopted a more Anglicized moniker.  (They missed the chance to go with Dragnet and get a jump on Jack Webb.)
The Dragonette logo is an old symbol used by alchemists for the 'elixir of life' or 'drinkable gold.' During medieval times, it was believed that gold contained certain medicinal properties, and the alchemists sought a process by which gold could be dissolved into a liquid that could then be ingested to obtain healing properties. And now, centuries later, the partners are turning a liquid into gold.  Neat trick.
Dragonette's first release was a mere 200 cases in 2006. But success came quickly, and the winery has prospered and will produce about 5,000 cases this year at their smallish winery in Buellton, California.  The tasting room is located nearby in Los Olivos.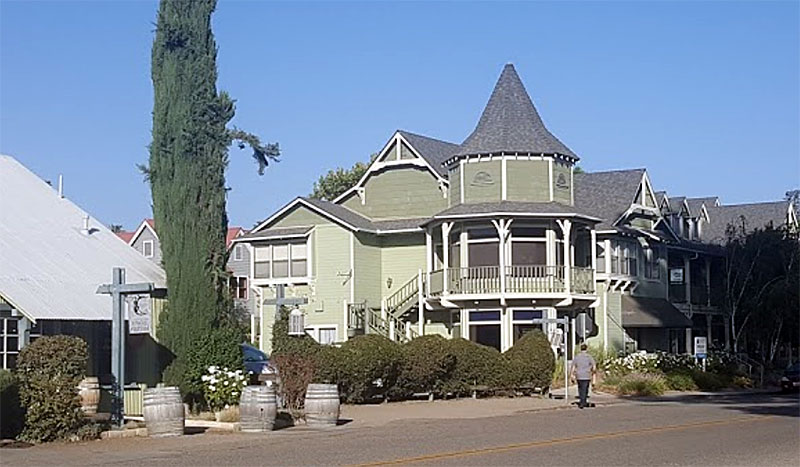 The Dragonette tasting room in Los Olivos, California.
Dragonette Rosé 2020
2020 marks Dragonette's 14th vintage of producing their highly sought-after Rosé, a wine that tends to sell out quickly each year.  This wine was sourced from Two Wolves Vineyard (56%) and Vogelzang Vineyard (44%), both in the Santa Ynez Valley AVA, located in Santa Barbara County.  The AVA covers over 76,000 acres, and is part of the larger Central Coast AVA. The Santa Ynez Valley also contains two smaller AVAs, Sta. Rita Hills (known for quality Pinot Noirs), and Happy Canyon (mostly home to Cabernet Sauvignon).
This wine is a blend of 91% Grenache and 9% Graciano, fermented using native yeasts in a variety of neutral oak and stainless steel vessels, and a concrete egg. It was aged for five months on the lees in neutral (used) barrels, and there was no malolactic fermentation.  It shows a lovely pink color, as so many Rosés do.  The nose offers up delicate aromas of strawberry and  raspberry.  This flows onto the palate, aided by melon and a bit of tart cherry.  It's all complemented by refreshing acidity and a smooth mouthfeel.  600 cases were produced, and the alcohol is 13%.
Top of page: https://winervana.com/blog/