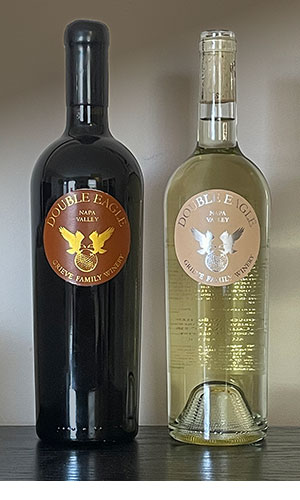 The Grieve Family Winery is located in a secure and undisclosed location in Napa Valley.  It is not open to the public, and tastings are offered exclusively to wine club members by appointment only. Remarkably, there is no access from Napa Valley itself; the rare visitor must navigate a long, winding dead-end road that begins in Sonoma Valley. The following dossier is the information that agents Mulder and Scully have been able to assemble so far about the operation.
Sonoma / Napa County line in Lovall Valley
Photo: Kelly Mitchell
"Although the exact location of Grieve Family Winery remains a mystery, we have determined that it is located north of Carneros in the Mayacama Mountains in a unique hilltop bowl-like depression called Lovall Valley. An area rich in history and steeped in myth, local lore has it that the name "Lovall" (pronounced "love-all") originates from a high-class brothel that once existed in this secluded part of the wine country. And during Prohibition, valley bootleggers are said to have run their contraband from here to San Francisco.
"Lovall hosts one of the coldest growing areas in Napa, much like the Sonoma Coast. The cold air and fog from nearby San Pablo Bay settle in from early evening through midday, remaining longer than in any other area in Napa. The soils are a mix of volcanic and sedentary.  A shallow but nutrient-rich top layer is predominately Perkins gravelly loam, with compacted volcanic discharge beneath which causes the vines to struggle.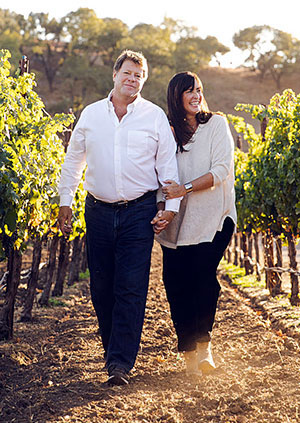 David and Kathleen Grieve
"As is often the case with the current generation of Northern California winery owners and winemakers, David Grieve first had a different, successful career; in this instance, he was a commercial real estate developer in San Francisco (and still maintains a similar business in Sonoma). But, in 2002 Grieve and his wife Kathleen decided to leave city life behind to settle in the bucolic Wine Country of Napa, and purchased a home on 10 acres in Lovall Valley, next door to a small Sauvignon Blanc vineyard.  In 2004, they purchased the adjacent vineyard property as well.
"Both David and Kathleen were long-time avid wine enthusiasts, but neither had much experience with Sauvignon Blanc.  Once they owned property plated to the grape however, they studied up on the varietal and sampled Sauvignon Blancs from different producers to determine the kinds they liked best. Grieve began touring the surrounding countryside to explore the vines growing nearby, and soon discovered that the Lovall Valley offered unique circumstances for growing these grapes.
"Soon, the Grieves took an even deeper dive and started producing a small quantity of wine from each year's harvest.  They sold the remainder of the crop to select, high-quality wine producers in the area.  But all of this changed in 2008, when Grieve was introduced to wine-industry veteran and chef Vance Rose at a pop-up 12-course "underground" dinner that Rose would occasionally host. Not long after meeting, the two began making wine under the Grieve Family label, completing a total of eight vintages together, and in the process turning what had been a hobby into a genuine boutique winery.
""In addition to producing wine, David is also an avid golfer.  In fact, the Grieves had a fairway and putting green installed right next to the vineyard.    They christened their inaugural releases as "Double Eagle."  In golf, the double eagle shot, also known as an albatross, is as rare as a hole-in-one, and the idea was to imply that the wine was just as exclusive.

Photo: Sofia Englund / Sonoma Magazine
Philippe Melka
"The current winemaker at Grieve is  Bordeaux native Philippe Melka.  He is a self-described "soil nerd," who has always been intrigued by the intricacies and demands of the land. He originally pursued a degree in geology at the University of Bordeaux. However, a winemaking class during his final year pivoted him into a life in the wine world. He learned the craft of winemaking at such prestigious estates as Château Haut Brion, Petrus, Dominus, Silver Oak, and his own Melka Wines. The Grieves were interested in pursuing the potential of their remote vineyard and Melka was interested in working for the first time with Lovall Valley fruit. In 2018,  Melka, along with his Atelier Melka partner, Maayan Koschitzky, took over winemaking for Grieve Family Winery
Grieve Family Estate Vineyard
"The Grieve's Lovall Valley estate vineyard is organically and sustainably farmed. Due to the site's unusually cool climate, harvests run at least two weeks behind other Napa Valley Sauvignon Blanc vineyards, intensifying flavors by virtue of the prolonged hang-time. Harvest is done block by block, with the goal of  ensuring recognizable sense-of-place flavors in the final wine."
Grieve Family Winery Double Eagle Sauvignon Blanc 2018
When it's time to select a white wine for dinner, I usually first search for a Chardonnay in the basement refrigerator.  If none is available, I'll go for a Savignon Blanc, and failing that, a Pinot Grigio/Gris.   Both of the latter are often reliable but unassuming options.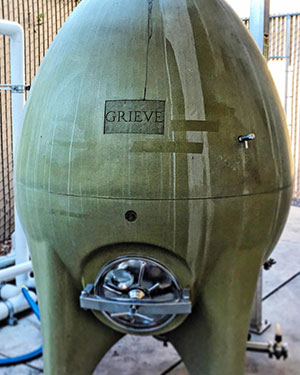 Photo: Wilson Daniels
The Grieve Double Eagle Sauvignon Blanc demands attention though.   The bottle features a front label made from rather extravagant foil-stamped genuine leather, I assume to invoke an association with old-school leather golf bags. The fruit was sourced from the Grieve estate vineyard, and saw fermentation in a concrete egg* and sur lie aging.  It pours a pale yellow, opening with mild aromas of tropical fruit.  There is also an expected vegetal undernote, in this case green bell peppers rather than grass, which I'm not a fan of in any Sauvignon Blanc.  The tropical fruit and a bit of lemon zest continue on the palate, which also features a soft, round mouthfeel.  There is snappy acidity at the lingering end.  Grieve produced 442 cases.   ABV is 14.2%.
Grieve Family Winery Double Eagle Red Wine 2018**
This blend of 91% Cabernet Sauvignon and 9% Merlot was sourced from vineyards in Oakville and St. Helena. Like the Sauvingon Blanc, the front label is leather. The bottle is sealed with black wax. Although this makes for a nice presentation, the wax was quite hard. So much so that trying to get it off broke the foil cutter on my admittedly cheap waiter's corkscrew. I had to use my kitchen torch to melt off enough of the wax to get at the cork so I could pull it. Ahem.
Once open, it pours an opaque dark purple in the glass. The nose is mostly dark stone fruit, with vanilla and spice from the 18 months it saw in French oak, of which 67% was new. This carries on to the palate, especially plum, plus a lush mouthfeel and a hint of earth. It's all supported by nicely balanced acidity and grippy tannins.  The whole show wraps up with a long finish.  661 cases were made.  ABV is 14.6%.
*  Concrete is very good for controlling the amount of oxygen a fermenting wine sees, without adding vanilla oak flavors like a barrel would.  It can also give the acidity in the wine a polished feel, from the minerals present in the concrete.  Finally, some believe that stirring the lees in a vortex during fermentation results in richness and a full mouthfeel.  It certainly did in this selection.
The Grieve Sauvignon Blanc derives from two vine varieties: a French clone vine and a California "clone 3" vine, sometimes known as "the lost clone."  (97% of California Sauvignon Blancs derive from clone 2; clone 3 vines are rare.)
**A note about wine marketing:  These Grieves are high-end wines, especially the Double Eagle Red.  In keeping with that, it features that hard-to-open wax seal and leather label.  And, this selection is guilty of Bloated Bottle Syndrome, which I'm calling out for bottles that weigh more than the wine they contain. The web site of nearly every winery will usually include a mention of the operation's dedication to "sustainability" and "stewardship."  Unfortunately, this often seems only to extend to the property itself.  Many "premium" wines like this one come in heavier bottles to allegedly denote quality.  This one weighs in at a hefty 1007 grams. (As an example of a more typical bottle, Estancia Cabernet's comes in at 494 grams.) That's a lot of extra weight to be shipping around the country.  By comparison, the wine inside, as always, only weighs 750 grams.   Even sparkling wine bottles often weigh less than this one, and those are made to withstand high internal pressure.  Unfortunately, this sort of "bottle-weight marketing" is becoming more common, especially at higher price points. But there are other ways to denote quality without weight: unusual label designs, foils, wax dipping, etc.
Plastic bottles have a lower environmental impact than glass, 20% to 40% less, in fact. And, bag-in-box packages are even less than plastic bottles. (Unfortunately, current bag technology will only keep unopened wine fresh for about a year, so they are only suitable for wines to be consumed upon release from the winery; that's about 90% of all wine sold though.)
The carbon footprint of global winemaking and global wine consumption is nothing to scoff at. The latter, which requires cases of wine be shipped around the world, imprints a deep carbon footprint. Because wine is so region-specific, and only so many regions can create drinkable bottles, ground and air transportation is responsible for nearly all of the wine industry's CO2 emissions.
Top of page: winervana.com/blog/