Mention the word "Niagara" and the first thing that occurs to most people is Niagara Falls, of course. But this region, which straddles both the United States and Canada, is becoming increasingly well known for the quality of its wines.
Founded in 1979 by teacher, engineer, grape farmer,  and amateur winemaker Joe Pohorly on his family farm, Newark was the third winery at the beginning of the industry on the Niagara peninsula (after Inniskillin [1974] and Chateau des Charmes [1978]).
In 1982, Pohorly sold a majority share of the winery to a German company which changed the name to Hillebrand Estate Winery.   In 1983, Hillebrand was the first Ontario winery to successfully make icewine.  As icewine originated in Germany, I assume this was what the buyers had in mind for the acquisition.
In 1989, Hillebrand released Trius Red for the first time.  Inspired by Bordeaux blends, it was made from the winery's best Cabernet Sauvignon, Cabernet Franc, and Merlot grapes.  Just two years later, in 1991, Trius Red was the first-ever Canadian wine named as the 'Best Red Wine in the World' at the International Wine and Spirits Competition in London, England.  The accolade marked an important step not only for the winery, but for the Canadian wine industry as a whole, sending a signal that the country's wines could stand on their own against Old World wines.
Trius Winery, as Hillebrand was renamed in 2012,  is located in Niagara-on-the-Lake, Ontario, in the Niagara Escarpment AVA.  Long a cherry-growing area, about 30 years ago grapes began being widely planted there. Because of its northern location, at first glance this region hardly seems suited to quality winemaking.  However, the climate is moderated by lake effect* from Lake Ontario.  Also, the Niagara Escarpment, an approximately 600-foot-high ridge that runs from east to west through the Great Lakes, retards winds coming off the lake. This makes for good air circulation and helps protect the local vineyards from frost and disease. (The escarpment is most famous as the cliff over which the Niagara River plunges at Niagara Falls.)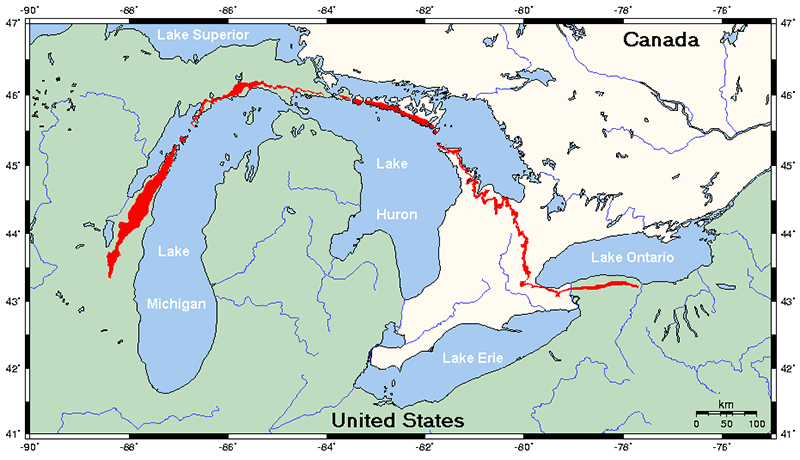 x
Nestled between the Niagara escarpment and Lake Ontario, Trius produces BC VQA** wines from grapes grown in the four appellations of Niagara-on-the-Lake, including Niagara River, Niagara Lakeshore, Four Mile Creek, and St. David's Bench.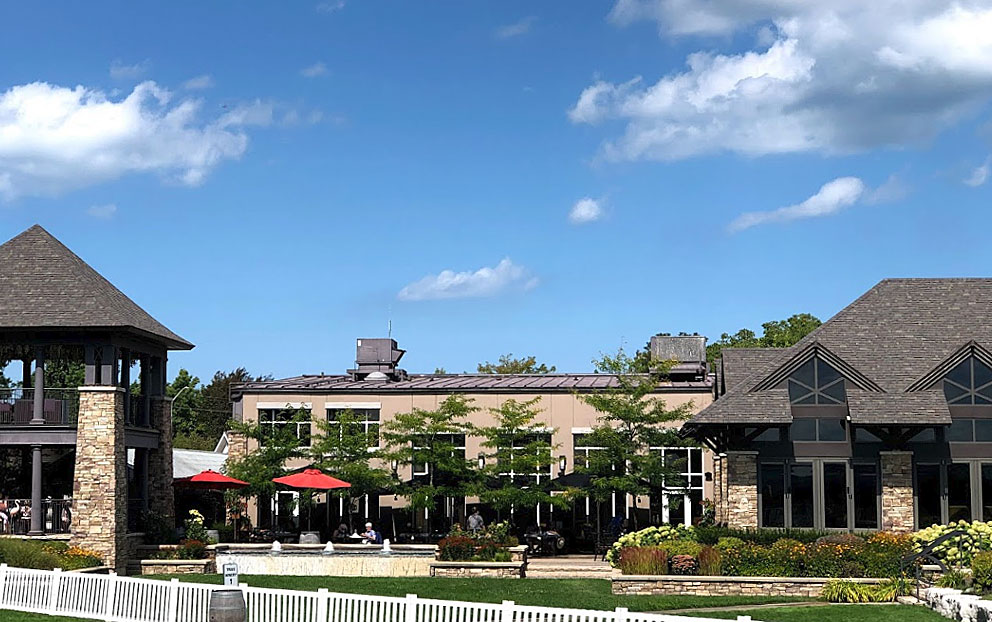 Photo: Emil Istrofor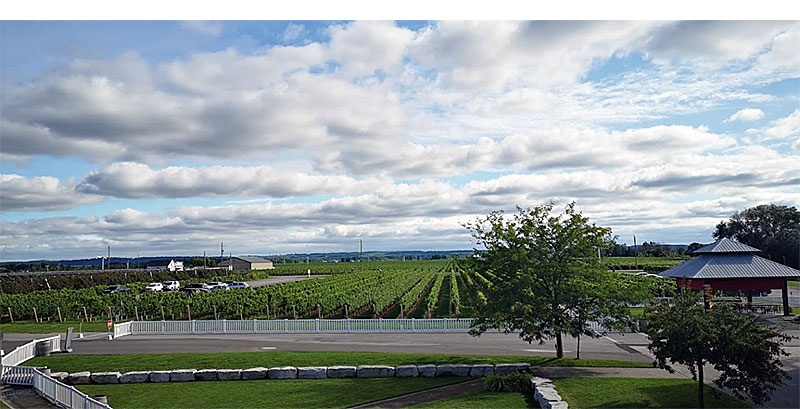 Photo: Chen Shen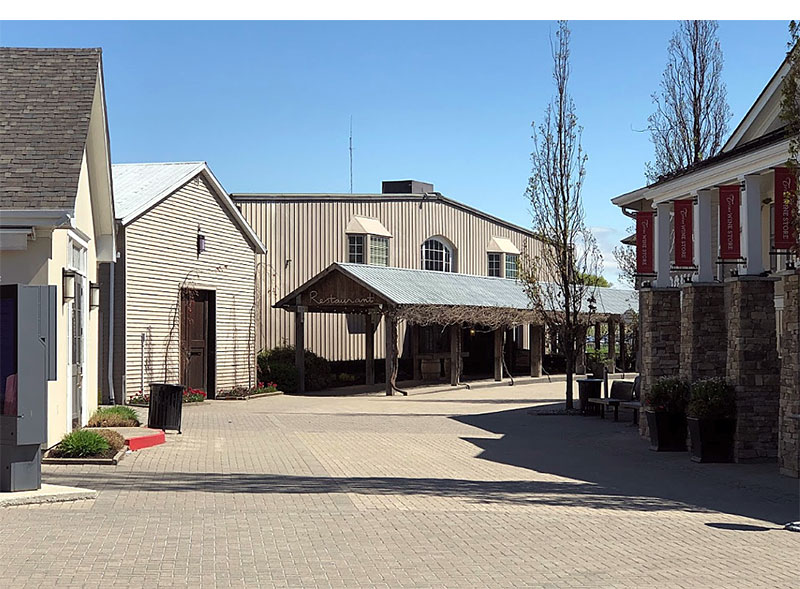 Photo: Emil Istrofor
The Winemaker
Australian Craig McDonald has worked at wineries in Australia, New Zealand, Spain, Oregon, and California. At one point on a trip to visit friends in Toronto, he made a quick detour to Niagara to check out the wine scene there. He was surprised by and impressed with what he saw and tasted. One of the wines he discovered on that trip was Trius Red.
McDonald became winemaker at Trius in 2010.  He noted, "I'm inspired by the fact that as a wine region we have so much untapped potential. Ontario wines keep getting better every year, despite the arduous conditions and challenges we constantly face. There is no sameness to our seasons, and we're constantly adjusting our approach from grape growing right through the winery to blending."
The Corporate Overlord
Trius is part of the Andrew Peller Ltd. conglomerate, which also controls Sandhill, Wayne Gretzky Estates, Red Rooster Winery, Calona Vineyards, Thirty Bench Wine Makers, Black Hills Estate, Gray Monk Estate Winery, and Tinhorn Creek Vineyards
Andrew Peller first arrived in Canada from Hungary in 1927 to pursue his dream that Canadians, like Europeans, could produce premium quality wines.  (How he came to that radical conclusion, I have no idea.) To that end, he finally established Andrés Wines Ltd. in 1961. In 1964, operations were established in Calgary, Alberta and in Truro, Nova Scotia. In 1970 Andrés purchased Beau Chatel Wines in Winona, Ontario. In 1974 Andrés moved into Quebec with the founding of Les Vins Andrés in St. Hyacinthe. In 1975 Andrés bought the Valley Rouge Winery located in Morris, Manitoba. In 1994 Andrés acquired Hillebrand Estates Winery, which eventually would become Trius.  2006 marked the 46th year of the company, and the name was changed from Andrés Wines Ltd. to Andrew Peller Ltd. in honor of the founder.
Trius Cabernet Franc 2017
Cabernet Franc is often used as a blending grape, but here it stands alone.  This medium-bodied wine was aged in a combination of French and American oak.  It pours a deep but transparent red.  The nose has bright cherry, a hint of spice (anise), and some subtle earthy notes.  It's quite dry and rather lean on the tongue, with flavors of blackberry, cherries, and pencil shavings.  There are robust black-tea tannins.  It ends in a medium finish with a bit of cranberry bitterness.  ABV is an approachable 13%.
For now, Trius' wines are unobtainable outside of Canada since the borders have been closed due to the Covid-19 pandemic.  Hopefully this restriction will be lifted by 2022 at the latest.
* As the spring growing season begins, the lake's cooling effect retards the vines from budding until the spring frost season is over. The lake stores daytime heat as the growing season continues. The effect of the warming water lessens the variation between day and night temperatures, which can lengthen the growing season by as much as four weeks. As summer draws to an end, the stored warmth of the lake water delays frost that might damage  the vines or fruit in the early fall. In winter, the lake also causes heavy, moist snowfall, which blankets the vineyards, insulating and protecting the vines from the frigid air.
** BC VQA (Vintners Quality Alliance) is the appellation of origin and quality standard for British Columbia wine, established in 1990.  It has since been expanded to cover wines from Ontario as well.  BC VQA certified wines must meet standards with respect to their origin, vintage, and varietals.
Top of page: https://winervana.com/blog/