Justin Baldwin founded his eponymous winery in Paso Robles, California, in 1981 on 160 acres.  His vision was to make world-class Bordeaux-style blends.   Befitting such ambition, The winery is invested in the French idea of terroir, that a wine must reflect its place, especially soil and climate.
Justin's soil is largely fossilized limestone from eons of marine deposit. The limestone stresses the vines, producing grapes that, ideally, completely express their varietal character.
Paso Robles' distinctive microclimate offers the widest day to night temperature swings of any grape-growing region in California. The hot days allow the grapes to develop intense flavor, while the cool nights create structure and balance.
Justin combines traditional Old World methods—like hand-harvesting and small-barrel aging in French oak—with New World technology.
Justin's offerings include Bordeaux-style blends, of course, and other red blends.  These are joined by single varietal (or nearly so) Cabernet Sauvignon, Malbec, Rosé, Sauvignon Blanc, Syrah, Tempranillo, and Viognier.   At the top of the range is the famous Isosceles, their flagship wine (and a registered trademark).  Reflecting Isosceles' prominence, much of Justin's branding, marketing, and naming play off the right-angle triangle theme.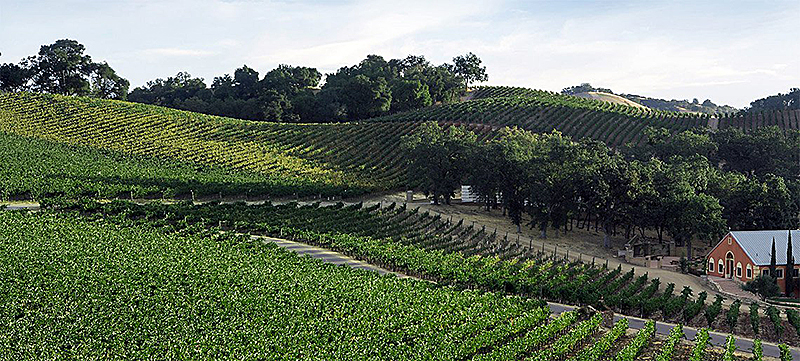 The Founder's Vineyard
In addition to the Founder's Vineyard, Justin also farms the Adelaida Road Vineyard, one of the highest in the Paso Robles
AVA
; the Creston Road Vineyard, located in the Templeton Gap that enjoys cooling breezes from the Pacific; and the steeply-sloped DeBro Vineyard that sits on a variety of soil types.
There is also an inn and restaurant on the property.
Billionaire Stewart Resnick bought Justin Vineyards and Winery in late 2010.  Resnick also controls Fiji Water, Pom Wonderful, and Teleflora.  Resnick also owns the Sonoma County wineries Landmark and Hop Kiln.
Justin Baldwin is still casually involved with the winery, but the winemaking falls to Napa Valley veteran Scott Shirley, who has maintained and even expanded Justin's quality and reputation.  Justin was named the 2015 American Winery of the Year by Wine Enthusiast Magazine.
Justin Cabernet Sauvignon 2017
This 100% Cabernet Sauvignon is purple-ruby in the glass.  It features aromas of ripe black and red cherry.  Flavors of black currant abound on the palate, with cocoa and a hint of dust.  The wine is full-bodied and dry, with a moderately long finish. There is a mild acidity and balanced tannins. It was barrel aged for 13 months in American oak (25% new) and has an ABV of 14.5%.
Enjoy this wine with Spencer Steaks with Red-wine Shiitake Sauce, Pork Chops in Balsamic Cherry Sauce, or East-West Barbecued Chicken.