As a reviewer and source of reliable information, I am supposed to be as objective and unbiased as possible. But not today.  Keenan wines have long been some of my favorites. If you need impartiality, please come back soon.  If not, read on.
Certain that mountain-side vineyards in Napa Valley could produce world class wines, in 1974 Robert Keenan purchased 180 acres in the Spring Mountain District at an elevation of 1700 feet. Located on the eastern slope of the Mayacamas mountain range, Spring Mountain District gained recognition as an American Vineyard Appellation (AVA) in 1993. The low vigor soils unique to the region were known to create a stressful environment for vine growth, setting up perfect conditions to encourage vineyards planted on the steep, rocky, mountainsides to produce wines of great concentration, structure, and pure varietal flavors.
The original acreage Keenan acquired included the crumbling Peter Conradi Winery, founded in the late 19th century and one of the first pioneering properties established on Spring Mountain. Peter Conradi had originally planted the vineyards to Zinfandel and Syrah, but they declined when the property was abandoned during Prohibition, and by the time Keenan arrived in 1974, none of the original vineyards were producing. Keenan cleared the estate of tree stumps and rocks, extended the original vineyard acreage, and replanted the property to Cabernet Sauvignon and Chardonnay. He built a new winery using the existing stone walls from the old Conradi building, and brought in Keenan Winery's first harvest there in 1977.
Like many such operations, the winery is a collaborative affair. Keenan's son, Michael, took over leadership of the estate in 1998. As a young boy, he was eager to learn about winemaking and began honing his winemaking skills "on the job" under the leadership of his father, as well as renowned winemaker Joe Cafaro. Michael Keenan works in concert with General Manager Matt Gardner, Cellar Master Aristeo Garcia Martinez, and Assistant Cellar Master Ricardo Segura. Matt has been with the estate since 1995. Together, they establish winemaking protocols, aging, and the finished style of Keenan wines.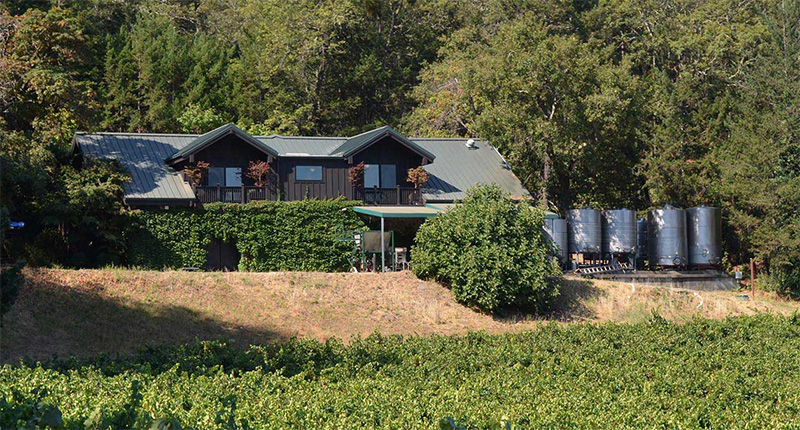 In the tasting room and winery itself, Michael's wife and Artistic Director Jennifer Keenan ensures that visitors enjoy the full experience of the winery through her creative and playful interior design and sumptuous event design. She is responsible for the classic Keenan image and created the unique label design for the brand.
The Keenan's son, Reilly, predictably has been immersed in wine culture from a very early age. He became a member of the team at age sixteen, and works during grape harvesting, hosts tastings for visitors on the estate, pours for wine events, and is the dedicated point person for many consumer and trade events.
Under Michael Keenan's supervision, the vineyards have been systematically replanted to increase grape quality. The program focused on increasing soil health throughout the vineyards, using superior farming methods combined with organic compost and cover crops. Matching each varietal clone to its optimum location, every acre is sustainably farmed and planted with specially selected rootstock. In addition, close attention has been given to row orientation on each site, combined with efficient irrigation. The winemaking team takes a conservative approach, to encourage the varietal flavors to stand out in each bottle of wine.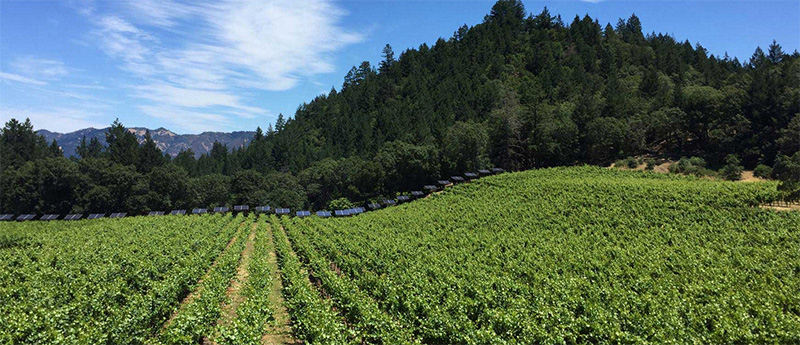 Keenan Winery produces four wines exclusively from grapes grown on the Spring Mountain Estate: Chardonnay, Cabernet Sauvignon Reserve, Cabernet Franc, and a Merlot Reserve from the Mailbox Vineyard. Keenan also offers wines produced from estate fruit blended with grapes grown in carefully selected Napa Valley vineyards: Cabernet Sauvignon, Zinfandel, and the Mernet Reserve, which is a proprietary blend of Cabernet Sauvignon, Merlot, and Cabernet Franc. The Summer Blend, an annual spring release, is composed of mostly Chardonnay and blended with small amounts of Viognier and Albarino.
Keenan Winery Cabernet Franc 2012
This wine was produced exclusively from grapes grown on the Keenan Estate located in Napa Valley's Spring Mountain District. The fruit was hand-picked then, after de-stemming, the must was inoculated with Montrachet yeast and fermented in stainless steel tanks. The wine aged in French and American oak barrels for twenty months.
A dark plum color in the glass, this Cabernet Franc has a nose of blackberries, black currant, and a hint of leather.  This is followed by tastes of bing cherries, and a bit of cedar, cocoa, and dust. There is snappy acidity and somewhat recessive tannins, all wrapped up in a medium to long finish.  Let this wine breath for two hours for maximum enjoyment.
Serve with Chicken Vesuvio, Rabbit with Mustard Sauce, or Beef Tenderloin with Bordelaise Sauce.
Top of page: https://winervana.com/blog/