Rod Bergland, with the assistance of some other partners, founded La Crema Viñera in 1979 in a Petaluma business park.   The name, which translates as the Best of the Vine, was an intentional boast: Bergland believed his vineyards produced the best grapes in Sonoma.
1n 1975, Bergland, then a biology student at Sonoma State University, worked a harvest without pay for Joseph Swan, even then an iconic California winemaker, who would become his mentor. In 1976 he worked the crush (for which it is believed that he was paid).  Swan was a perfectionist who would readily dispose of wines that did not meet his standards, and he willingly used marginal equipment, including a tiny press that was allegedly broken half the time.
Initially, La Crema focused efforts on developing Pinot Noir and Chardonnay from the Sonoma Coast, using Swan's techniques like gentle handling, precision sorting, whole-cluster pressing, and open-top fermentation. The early years were difficult however, and  Bergland later recounted to wine writer Dan Berger that he worked the night shift at Safeway to make ends meet.
In 1986 Bergland married Joseph Swan's stepdaughter, Lynn. The couple worked with Swan on the 1977 vintage but that would turn out to be Swan's last. He was ill with cancer and passed away in 1989.
In 1993, Jess Jackson and Barbara Banke purchased La Crema Viñera, shortened the name of the operation to La Crema, and produced the first wine under their team in 1994 (Bergland made the 1993 for them). Jackson had already decided that La Crema would become part of an expanding portfolio of wineries, each with its own specialty and identity.  La Crema would make wines from cool-climate regions on the Pacific coast states, mainly from the principal Burgundian varieties, Chardonnay and Pinot Noir, with which the winery was already well established. He started with the Russian River wines that Bergland had created, but soon moved into other regions. The winery began working extensively with fruit from appellations such as Sonoma Coast, Green Valley, Anderson Valley, and Los Carneros, extending its reach into Monterey in 2008, and then to Oregon's Willamette Valley in 2012. Though the growing regions are different, the vineyards themselves all fall within cool climates with well-drained soils.
In 1996, a new winery (not open to the public) was constructed in the Russian River Valley appellation, and a tasting room opened in the town of Healdsburg in 2006. During this decade, Jackson's daughters, Laura Jackson Giron and Jenny Jackson Hartford, along with his sons-in-law, Rick Giron and Don Hartford, began managing the day-to-day operations and representing the winery out in the market.
La Crema had been sourcing some of their Pinot Noir and Chardonnay from the renowned Saralee's Vineyard in Russian River Valley. The winery had developed a close relationship with Richard and Saralee McClelland Kunde, and eventually purchased the vineyard from them in 2013. The circa-1900 barn on the property was modernized and reopened as the La Crema Estate at Saralee's Vineyard in 2016, replacing the Healdsburg tasting room.
Saralee's Vineyard.  Photo: Deborah Beyes
The renovated barn.  Photo: Robert Lewis
The Winemakers
Head winemaker Craig McAllister has made wine in his native New Zealand, Australia, Chile, and Cyprus.  He joined La Crema in 2007 as the Harvest Enologist after studying at Lincoln University in New Zealand, where he received his Bachelor of Science degree in viticulture and enology. He has been a steward of La Crema's Monterey program and worked extensively on the Sonoma Coast Chardonnay. He also helped to further develop La Crema's collection of single vineyard Chardonnay and Pinot Noir wines. He was promoted to head winemaker in 2017.  "There's an authenticity to our wines; we allow the grapes to fully express themselves without manipulation in the winery and they're made in traditional ways," McAllister shared. "We barrel-ferment Chardonnay and punch it down by hand, as it was done in La Crema's early years."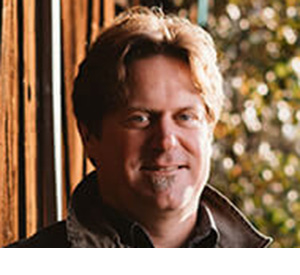 McAllister is assisted by winemaker Eric Johannsen, who received undergraduate degrees in Chemistry and Philosophy.  He pursued a Master of Science in Enology at the University of California, Davis.  Before joining La Crema in 2004, Johannsen spent his early career at such wineries as Mount Eden Vineyards in the Santa Cruz Mountains, Cuvaison Estate Wines in Napa, and Williams Selyem Winery in Healdsburg.  After 20 years in the industry, he counts being in the vineyard, soaking in its cyclical rhythms, as his favorite aspect of winemaking. "Even early in the growing season, your conception starts to develop about what the wines will eventually become."
Sustainability
Sustainability is a touch-stone at wineries everywhere, and La Crema is no different.  The winery itself is third-party certified under the Sustainable Winegrowing Alliance's program.  All of  La Crema's Estate Vineyards are third-party certified under the Sustainable Winegrowing Alliance's program and  the SIP program.
All facilities are managed by a central computer to manage and monitor the most efficient use of energy,  including lighting, boilers, and refrigeration systems.
Cover crops provide beneficial insect habitat and improve water holding.  Leaf pulling reduces disease and reduces road dust to control mite populations. Habitat conservation in and around the vineyards provides biodiversity.
Only drip irrigation is used to conserve water and the energy to pump it.  100% of winery water used is recycled for landscaping and vineyard irrigation.
La Crema Sonoma Coast Chardonnay 2019
One of Sonoma County's largest AVAs, the Sonoma Coast Appellation stretches from the San Pablo Bay in the south to Mendocino County line to the north, and runs primarily along the mountainous coastline of the Pacific Ocean.  The AVA is known for its strong maritime influence that provides a cool growing climate throughout the year, with fog-moderating warmer summer temperatures.  The fruit for this wine was sourced from several of La Crema's estate vineyards including Saralee's, Kelli Ann, and Durell. Soils across the vineyards are predominantly free draining and low vigor.
Once picked, the fruit is gently pressed and allowed to settle for 24 hours before being fermented.  This Chard spent seven months on the lees in barrels, which were a mix of 75% French and 25% American oak, of which just 17% was new.  It presents with a very pale yellow in the glass, followed by very delicate aromas, primarily citrus.  This continues on the palate as crisp grapefruit, orange, and lemon meringue, supported by moderate acidity.  The wine becomes richer and rather more balanced about an hour after opening, unusual for a white.  The ABV is 13.5%.
Top of page: https://winervana.com/blog/