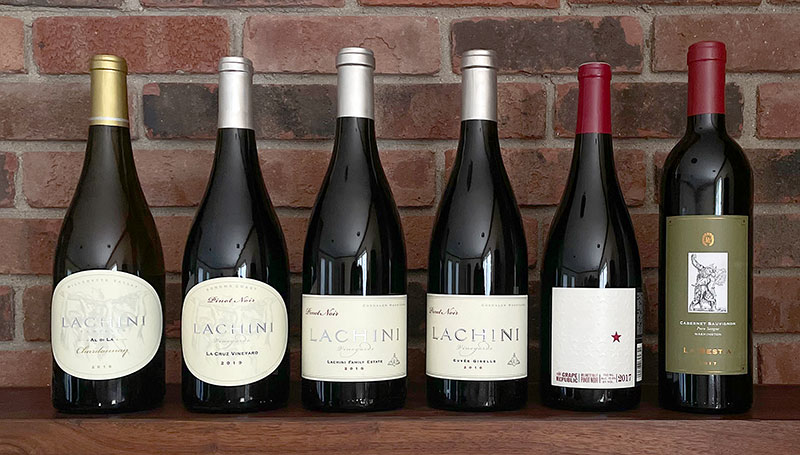 Proprietor Ron Lachini's family hails from the Tuscan town of Lucca.  At some point, his grandfather immigrated to the United States, settling in the large Italian community of San Francisco's North Beach.  He started making wine with his father and grandfather in their garages as a child.
He and his wife Marianne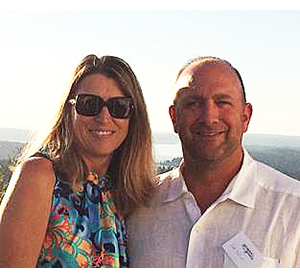 both attended U.C. Davis, where they were exposed to the world of viticulture and enology.  Travels to some of the world's esteemed wine regions and wineries cemented their love and collection of fine wines.  After college, Ron began a career in the financial industry in 1997, which he pursued until 2008.  Nearly simultaneously, in 1998, he and Marianne purchased a 45-acre property in Newberg, Oregon, approximately 30 miles southwest of Portland, with the intention of eventually owning a winery.  After clearing and natural site preparation, in June of 1999 they planted their first five acres of Pinot Noir. In the following seven years, additional blocks were planted that now entail just over 30.5 acres of Pinot Noir plus an additional one and a half acres of Chardonnay.  This land is now the Lachini Estate Vineyard.
In 2001, the dream of a winery was finally realized when Lachini Vineyards began producing limited single-vineyard Pinot Noirs.  They do not believe in recipes, and believe that true artisanal winemaking is based on intuition, sensitivity, and passion. They use 'old world' methods in concert with small yields, gentle handling, attentive sorting, native yeasts, and fastidious blending.
Sustainability and Biodynamics
The Lachinis are committed to a caring stewardship of the land, believing that great wine is born in the vineyard.  Their philosophy is "Respect the land and treat it well for generations to come." Farming is done by hand using sustainable agriculture and organic practices. Sustainable viticulture not only protects and renews soil fertility,  but also minimizes adverse impacts on natural biological cycles. Prior to transitioning to Biodynamic farming practices in 2008, the vineyard was L.I.V.E. certified annually.  Farming activities are aligned with the Stella Natura biodynamic planting calendar.  The grape vines are joined by lavender, olive trees, and native plants for diversity. A local beekeeper, Ryan Bringal, maintains up to ten hives on the property. Lachini shared, "Our emphasis is on the meticulous management of each vine through biodynamic farming, while combining state of the art winemaking and old world technique to handcraft wines of complexity, grace, and profoundness – each one, we believe, a reflection of its soul and unique place."
The Vineyards
Lachini Estate Vineyard
The south-facing gently-sloped estate vineyard is located in the Chehalem Mountains AVA in Oregon's northern Willamette Valley.   It is in a transition zone between the forests above to the ravines and open plains of the valley below.  On summer and fall evenings, the Coastal range funnels in its cool marine air, which settles along the valley floor as a dense fog.  The  vineyard is comprised of Willakenzie series soils-ranging from 18 to 48 inches in depth. Shallow, fine-silt loam sits over sedimentary rock. This soil's lower water capacity forces each vine to compete and develop deep root systems.  The vineyard is treated as a unified entity, emphasizing the interrelationship of soils, plants, and animals as integrated self-nourishing systems.
La Cruz Vineyard
Keller Estates began planting the La Cruz (The Cross) Vineyard in 1989. Lachini began sourcing fruit from La Cruz in 2010 with the goal of  producing a Sonoma Coast Pinot Noir.  The vineyard is located  on a knoll overlooking the Petaluma Gap in northern California. It receives cool morning air from the nearby San Francisco Bay to the south, and from the coastal range bordering Bodega Bay directly to the West.  The soils are multi-layered, mineral-ladened clays with a volcanic subsoil that were once San Pablo Bay sea beds.
The Winemakers
Matthieu Gille: Consulting Winemaker
Gille was born in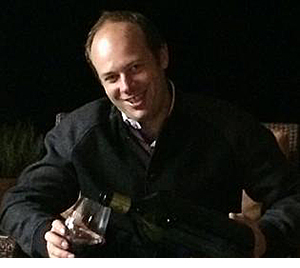 Burgundy's Nuits St Georges, where his family has been making wine at their estate since the 16th century.  After completing his degree in Estate Management in Beaune, Gille's love of Pinot Noir, biodynamic viticulture practices, and regional differences motivated him to explore other wine-making regions.  He arrived at  the International Pinot Noir Celebration in McMinnville, Oregon in 2013, where he fell in love with the area.  He began partnering with Lachini in 2014, and he still supervises the winemaking of his family's estate as well.
Liz Kelly-Campanale: Winemaker
Santa Barbara native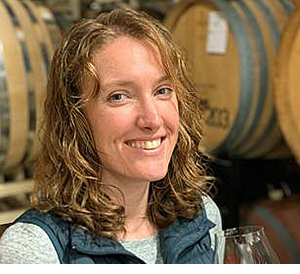 Liz Kelly-Campanale joined Lachini as winemaker in 2019.  She has a winemaking degree from the Northwest Wine Studies Center and a BA from Whitman College, followed by nearly a decade of winemaking experience in the Willamette Valley; her most recent previous position was  assistant winemaker for Edgefield Winery.
Ernesto Mendoza: Vineyard Manager
Mendoza came on board in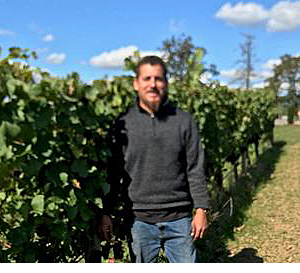 2018, and brings a wealth of experience spanning over 18 growing seasons in the Willamette Valley. Prior to Lachini, he was with Advanced Vineyard Systems vineyard management company.  He is committed to biodynamic farming practices, and continues to strive for a deeper understanding of long-term stewardship of farmlands and all facets of farm management.
The Wines
Lachini Family Estate Pinot Noir 2018
This wine was sourced from three blocs of the Lachini's estate vineyard.  Fermentation  was primarily with native yeasts.  It saw 18 months in French oak, 25% new.   It is dark purple, transparent on the edges but nearly opaque in the center.  The nose offers up blackberry and cherry.  These continue as you taste, plus some racy acidity expressed as cranberry.  There are plenty of big, black-tea tannins, and the round, full mouthfeel lingers for quite a while.  1543 cases were made.  ABV is 14%.
Lachini Vineyards La Cruz Pinot Noir 2019
The fruit this wine traveled all the way from the La Cruz Vineyard in a refrigerated truck.  Lachini's seventh vintage of this 100% Pinot, it saw 14 months in French oak, 50% of which was new.  It is a medium-transparent purple, with just a hint of cloudiness as it was neither fined nor filtered.  My bottle had a bit of sediment, so I recommend decanting.  There is a full aromatic nose, primarily dark cherries.  These continue on the finely textured palate, aided and abetted by raspberries and red currants.  The nice acidity and soft tannins are in excellent balance.   A mere 96 cases were made.  ABV is 14.2%.
Lachini Vineyards Cuvée Giselle 2018
The fruit for Giselle was drawn from three blocks in Lachini's estate vineyard. It was aged for fourteen months in roughly 50% new French oak prior to bottling.  It is transparent dark purple in the glass.  This wine features a nose of cherry, raspberry, and vanilla.  It is brooding on the rich palate, with flavors of dark fruit, especially sour cherry and more raspberry. (I know. "Brooding" is the kind of adjective you might expect to see in a pretentious wine review, but it is truly an apt descriptor here.)  The energetic acidity and structured tannins are in very good balance.   Lachini made 147 cases.  ABV is 14.3%.
The Grape Republic Pinot Noir 2017
The Grape Republic is Lachini's relatively new "value" label, with higher production quantities and lower per-bottle costs.  2017 is the fourth vintage of this wine.   The fruit is sourced from the estate vineyard and other selected vineyards within the Willamette Valley.
A worthy addition to the Lachini lineup, this 100% Pinot Noir is a transparent brick red.  It starts with full aromas of plum and cherry.  The bright palate is reminiscent of cherry cola, with hints of raspberry as well.  Although it is completely still, with no effervescence, it has a tingly acidity backed up by silky tannins.   1247 cases were made.  ABV is 13.9%.
Lachini Vineyards Al di La Chardonnay 2018
Al di La translates as "beyond the beyond."  It was also sourced from Lachini's estate vineyard.  It was fermented with natural yeast for 11 months in French oak puncheons, a concrete egg, and just a bit in stainless steel.  (A puncheon is equivalent to three regular barrels.  Egg-shaped fermenters, also known as "kvevri" or "qvevri," have been around for thousands of years, but are enjoying a renewed popularity among winemakers.)  Bâtonnage and sur lie aging was employed.
This 100% Chardonnay pours a pale yellow with an hint of pink on the edges.  I have no idea where that would come from in a white grape.  The aroma on the delicate nose is predominantly peach with a bit of honey.  Peaches continue on the palate, backed up by pears, honeydew, and a sneaky grapefruit-like acidity.  136 6-bottle cases were produced.  ABV is 13.8%.
Lachini Vineyards La Bestia Cabernet Sauvignon 2017
La Bestia is Italian for "The Beast."  A blend of 83% Cabernet Sauvignon and 17% Cabernet Franc, this wine saw 22 months in barrel, 75% new and 25% once-used French and American oak.  It is dark purple, and opens with subtle aromas of mint and cassis, plus plenty of jammy dark fruits.  These continue on the rich mouthfeel, especially figs, black plums, dates, and raspberries.  It is all supported by grippy tannins and good acidity.  296 cases were produced.  ABV is 14.9%
Top of page: https://winervana.com/blog/