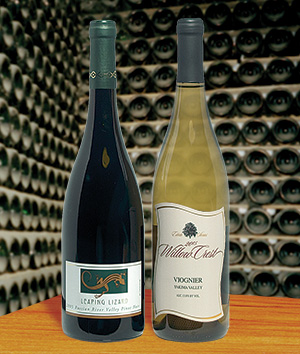 "This weekend is not about me. It is about you. I'm gonna show you a good time. We're gonna drink a lot of good wine. We're gonna play some golf. We're gonna eat some great food and enjoy the scenery and we are going to send you off in style, mon frere." And so Miles and Jack set off on their most excellent adventure in Sideways, the 2004 film that by some accounts was single-handedly responsible for a 10% increase in sales of pinot noir.
Leaping Lizard Pinot Noir 2005
This pinot noir hails from the cool and foggy Russian River Valley in Sonoma County, California. The Russian River has long been home to winemakers serious about pinot noir, and Leaping Lizard joined their ranks in 1996.
The winemaker is Harry Parducci Jr. He is yet another quality winemaker to come from a family better known for its jug wines, as some Gallos and Martinis are as well.
This wine is a lovely garnet color. There's plenty of fruit, dominated by bright cherry and rich strawberry. It's quite well balanced, though, and definitely dry with good supporting tannins and just a hint of oak.
Planked salmon is a classic pairing with pinot noir. (Yes, reds can be quite delicious with fish, especially richer species such as salmon, tuna, and swordfish.) Roast turkey or duck, fruit-glazed pork chops, and grilled barbeque ribs would work well also.
And now for something completely different: we head north to Washington state, and Willow Crest winery's Yakima-grown viognier (vee-ohn-yay).
This varietal originated in the Rhone area of France, and continues to be extensively cultivated there. In the '90s, California's so-called Rhone Rangers helped to bring it to attention here in the States.
Like Leaping Lizard, Willow Crest is a relative new-comer. After growing grapes for other winemakers in the Yakima Valley for more than a decade, David Minick realized a long-time dream of producing his own wine when he opened Willow Crest in 1995. Most of Minick's 185 acres of grapes are sold to other winemakers, but he now also retains a small amount of his annual harvest to craft about 3,000 cases of premium wines in his own style, primarily pinot gris and syrah.
Willow Crest Viognier 2005
Viogniers can range from the highly floral and fragrant to a lighter, more balanced aperitif-style, such as this one. It offers delicate aromas of citrus and pear, with a palate that adds melon and apple to the flavor mix. The wine should be only slightly chilled; otherwise its nuances will be masked. Like most viogniers, this is a limited-production wine.
Excellent with white seafood of all kinds. Try it with scallops, whitefish, or sole in a light butter sauce, or pair it with appetizers.
https://www.willowcrestwinery.com/tasting-rooms/
Top of page: https://winervana.com/blog/