In my over forty years of drinking wine, I've had excellent bottles, bottles I've poured down the drain after drinking half a glass, and, mostly, everything in between.  But over all of those years and thousands of wines, two have eluded me, my so-called "unicorn" wines.
I first learned of the Heitz Cellar Martha's Vineyard Cabernet Sauvignon in the mid-'70s when a normally generous acquaintance was showing off an unopened bottle, with obviously no intention of sharing.  Martha's Vineyard was selling for about $30 at release then, far more than I could afford, so I wasn't going to be enjoying it any time soon.  But the desire was established.
On a winery tour through Napa valley in the mid-1990s, I stopped at Heitz's "tasting room," at least on that visit  literally a windowless construction trailer parked by the side of the road.  I was about halfway through the tasting when I heard a car grind to a halt outside on the gravel.  The door burst open, and the driver demanded, "I want to try the Martha's Vineyard!"  The bartender calmly responded, "We don't pour the Martha's Vineyard here."  (A fact I, sadly, already knew.)  The door slammed shut, and he was off.  Denied.
Many of the wines here on Winervana are graciously supplied by producers in exchange for the review (although I am always free to write what I want without constraint).   But, sometimes I buy the wine myself, which was the case here.  Martha's Vineyard is now selling for $250 on release, and, really, I still can't afford it.  And it is certainly not a "wine for the casual wine drinker."  But during these uncertain times, I thought, "What the hell.  I may never get a chance to drink this wine I've been lusting after for so long." So here it is.
Born in Princeton, Illinois, Joe Heitz served in the Army Air Force during World War II, and moonlighted during off hours at a winery near Fresno.  After the war ended, Heitz began taking classes at UC Davis, achieving a bachelor's and then a master's degree in viticulture and enology in 1951. in the first graduating class of just seven people.  Heitz found employment at two wine industry extremes, first at Gallo, and then with the famous André Tchelistcheff at Beaulieu Vineyard as an assistant winemaker, where he worked for nearly ten years.
Heitz Cellar was established in 1961, when, after serving his "apprenticeship," in 1961 Heitz and his wife Alice bought a small 8.5 acre (3.4 ha) vineyard from Leon Brendel in St. Helena, California, named "The One & Only," for $5,000, and went into business for himself.  At the time, there were only about two dozen Napa Valley wineries, the lowest number since Prohibition.  (Today there are over 1,700 registered wineries in Napa, but "only" about 500 have tasting rooms.)  This pioneering winery even preceeded Robert Mondavi's 1966 start in nearby Oakville.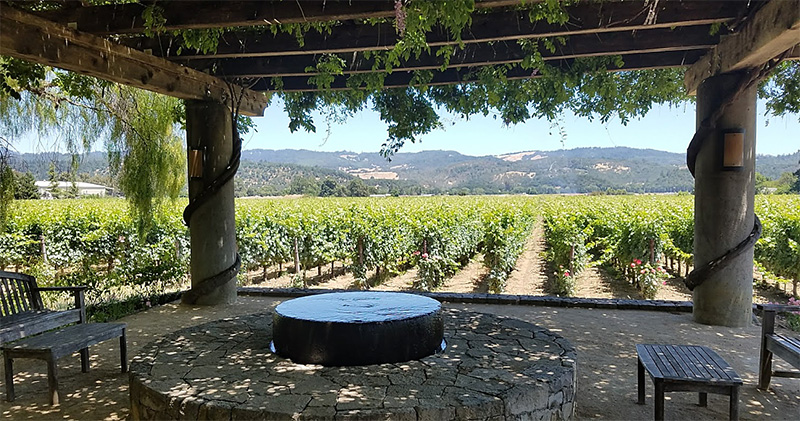 Photo: Jeremy Baines
In 1963, Heitz bought several barrels of Chardonnay and Pinot Noir from Hanzell Vineyards in Sonoma, the last vintages of James D. Zellerbach's pursuit of Burgundian excellence and auctioned off by his widow. Heitz blended and sold the wines to lucrative acclaim.
One of his stated strategies for ongoing success was to pay growers, "what their grapes were worth," in turn increasing the standard of the product he was receiving. In 1964, Heitz acquired an 1898 stone winery with its 160 acre (65 ha) ranch property, which became the Heitz winery and home.
Photo: Darcy K.
Since 1965, Heitz has held an exclusive agreement with Tom and Martha May,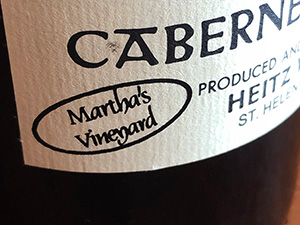 owners of the 34 acre (14 ha) Martha's Vineyard in the Oakville AVA.  He immediately recognized the quality of the grapes, and the very next year Heitz vinified the fruit separately from his other production, and designated the vineyard on the label.  (Rather subtly, though.  Many of Heitz's red-wine labels, unchanged for decades, look almost identical.  "Martha's Vineyard" only appears in a small oval in the lower left corner.)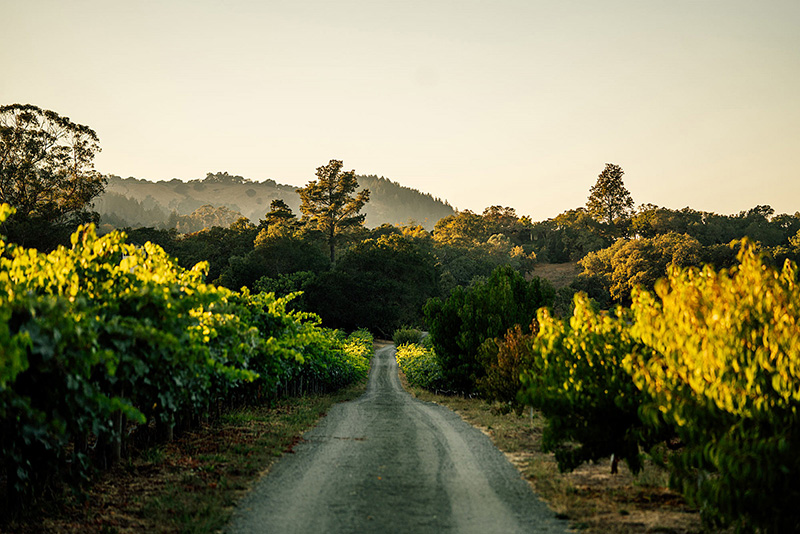 Martha's Vineyard
"Standing in Martha's Vineyard, you quickly realize why this site consistently produces a remarkable Cabernet Sauvignon. The vineyard receives gentle morning and early afternoon sunlight and is sheltered from the heat of the late afternoon sun by the mountains. This allows for longer hang time and Martha's Vineyard is, historically, one of the last vineyards we pick. This ability to leave the fruit on the vine longer than other sites allows for concentration of flavor and softening of tannin to produce a wine so pure in its expression of place. The consistency in showcasing Martha's Vineyard's unique mint, bay leaf, dark berry and chocolate notes year after year is a reminder of why this vineyard has commanded a faithful following since the 1966 vintage."
–Brittany Sherwood, Winemaker
Heitz is considered the first to champion the single vineyard designation in the U.S.  The 1968 vintage received attention for its quality, widely considered the greatest wine made in America up to that time. It was fermented in 1,000-US-gallon (38 hL) American oak vats, and then transferred to Limousin oak barrels where it aged for an additional two years.  Frank J. Prial, the wine columnist for The New York Times from 1972 until 2004, contended the wine remained "the benchmark by which California Cabernets were judged" for more than two decades.  (The 1970 vintage placed seventh at the Paris Wine Tasting of 1976, also known as the Judgment of Paris.)
Following a review by Robert Parker where he wrote that Martha's Vineyard Cabernet Sauvignon "lacked aroma, " Heitz sent Parker a box of linen handkerchiefs, insinuating to the critic that he ought to clear his nose.
Joe Heitz suffered a stroke in 1996 which left him frail though lucid.  He died on December 16, 2000, aged 81. He was described by Warren Winiarski, founder and former proprietor of Stag's Leap Wine Cellars, as the first of the Napa Valley artisans and the first to grasp the single vineyard concept.
David Heitz succeeded his father as winemaker in the late 1970s, having worked at the estate for many years. In 1984, the estate purchased the Trailside Vineyard in Rutherford, having previously purchased fruit from the site, and introduced a single vineyard bottling in 1989.
In the early '90s, phylloxera afflicted Martha's Vineyard, and no vintages were made in the mid-1990s.
Heitz Cellar annually produces approximately 40,000 cases (3,600 hL) of wine.  The estate's vines are grown certified CCOF organic, with a move towards biodynamic farming planned eventually.  In addition to several vineyard-designated Cabernet Sauvignon bottlings that are often aged in oak for three and half years, Heitz also produces varietal-labeled wines from Chardonnay, Sauvignon Blanc, Zinfandel, and Grignolino.  (This is a rare variety in California, but was  the dominant planting of the original estate vineyard.  Heitz is still considered the premier producer.)
In April, 2018, Heitz Cellar was sold to Gaylon Lawrence Jr., whose Arkansas-based family owns one of the country's largest agricultural businesses.
Heitz Cellar Martha's Vineyard Cabernet Sauvignon 2014
This aged wine spent three years in 100% new French oak, one in neutral oak, and an additional year in bottle.  It is medium ruby to purple in the glass.  While I disagree that it "lacks aroma," the nose is subtle, and predominantly of cherries.  It is incredibly smooth on the palate, with flavors of classic black currant, cocoa, tart cherry, and a hint of dust.  The tannins and acid are in perfect balance, and it al ends in a medium-long finish.  One thing I didn't get: Heitz Martha's Vineyard is famous for a minty overlay, especially when it's this young.  While I wouldn't find that a problem, I just wasn't tasting it.  Regardless, Joe Heitz went to great pains to consistently deny that the minty notes had anything to do with the eucalyptus tress planted on the edge of the vineyard.
So, was the forty-five year wait worth it?  Well … yes … but.  This is an excellent wine, worthy of its iconic status.  But for me, it was simply too elegant, especially for the price.  At this stratosphere, I'm looking for something more boisterous,  like a Louis Martini Monte Rosso, a Palmaz, or a Kathryn Hall.
And the other wine of my fantasy?  That would be Penfold's Grange, the legendary Australian Shiraz.  That one is selling for about $850 on release these days, so it may elude me forever.
https://www.heitzcellar.com/#1961
Top of page: https://winervana.com/blog/