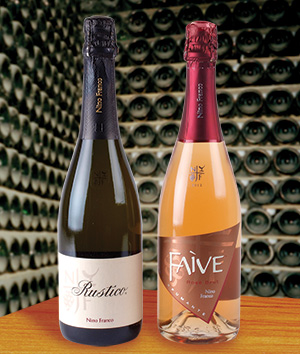 Tiny bubbles, in the wine
Make me happy (make me happy)
Make me feel fine (make me feel fine)
Tiny bubbles (tiny bubbles)
Make me warm all over.
Don Ho certainly appreciated sparkling wine, and I'm here to encourage you to do the same. There are plenty of reasonably priced bubblies available, so there is no need to save them for a special occasion (although that works too).
First, some clarification. Legally, only those sparkling wines produced in France's Champagne region, a viticultural area 90 miles northeast of Paris, can be called Champagne. All other sparkling wines, i.e. spumante, prosecco, crémant, sparklers from California, are well…sparkling wine.
And that's what Nino Franco Winery makes in Valdobbiadene in Italy's Veneto region. Vines are grown only on the most sunny parts of the hills, at altitudes varying between 150 and 1500 feet above sea level, while the north-facing slopes are covered mainly in woodland.
The climate throughout the area is mild, with not excessively cold winters and warm summers, which is when the nobility of Venice likes to visit.
The Franco winery was founded here in 1919 by Antonio Franco. Under his son Nino the winery expanded its operations and markets. Primo, the third generation proprietor, currently oversees operations with his daughter Silvia.
Primo Franco took his diploma of oenology at the Scuola di Enologia in Conegliano (Veneto). He then decided to develop his own approach to the growth of the vines and the production of prosecco at this modern winery. Since October 1990 Primo has utilized non-traditional cultivation techniques combined with the use of old varietal clones. He also invested in the production process in order to eliminate all those wines that were atypical for the area.
Nino Franco Rustico Valdobbiadene Prosecco Superiore DOCG NV
This is a brut, or quite dry, prosecco. It is very pale yellow in the flute, with rather coarse bubbles that quickly dissipate. It features flavors of traditional green apple and a hint of ginger ale. With a medium body and a clean finish, this would be excellent as an apertivo. Drink this young and lively prosecco soon after purchase.
This wine wants to be served with appetizers, such as a classic Bruschetta, Tomatoes Stuffed with Shrimp, or Grilled Mussels and Clams on the Half Shell.
Nino Franco Faìve Rosè Brut Spumante NV
Faìve [fieEEve] is Italian for those sparks and tongues whipping about at the top of a fire, which gives this copper-hued wine its name. Another product of Primo Franco's restlessness, Faìve is an untraditional blend of Merlot and Cabernet Franc, both cold soaked on the skins.
The nose appropriately recalls dried red rose petals, with a bit of vanilla and honey. The taste is nicely balanced: dry, with lively acidity, black cherry fruit, a hint of tannic bitterness, and plenty of bubbles, of course.
Despite its color, this is a wine for savory dishes, like Risotto with Clams, Fricasseed Chicken with Egg and Lemon, or Frittata with Tomato, Onion, and Basil.
Top of page: https://winervana.com/blog/