Perry and Carolyn Butler emigrated from England to California sometime during the mid-1980s. Butler was a trained  chef in England, and dabbled with his wife in the emerging high-tech business there as well. It was their growing interest in technology that drew them to Silicon Valley.  Once there, they  purchased Global Dynamics, a struggling IT company that provided IT staffing for American Airlines in San Francisco's Bay Area.
Once their company was well-established, the Butler's were able to indulge in weekend trips to nearby Napa Valley. It was there that they soon developed a passion for wine and the wine country lifestyle that Napa Valley offered.
In 1997, the couple sold their quite profitable IT business and relocated to Spring Mountain. They bought a picturesque 42-acre property that was once a small parcel of the 540 acres that California wine pioneer Charles Krug originally acquired as the dowry of Caroline Bale, who he married in 1860.  The Butlers set about having a villa and gardens built, along with a winery facility, which Butler named Juslyn, for daughter Justine and wife Carolyn.
The vineyard on the property was replanted to a field blend of 90% Cabernet Sauvignon plus small amounts of Merlot, Cabernet Franc and Petit Verdot, reflecting the English preference for those Bordeaux blends they call
Claret.
Early on, the Butlers became friends with legendary wine critic Robert Parker, who utilized their villa for many of his Napa Valley wine tasting and rating sessions. Parker was a big fan of Juslyn Vineyards' early wines, and  awarded them high ratings on several occasions.  I'm sure having access to the villa didn't influence his assessments in any way.
Without any real experience in the wine industry, the Butlers have relied on the work of their grape and wine specialists.
For the vines, Juslyn takes advice from the Renteria Vineyard management team, led by Salvador and Oscar Renteria. This father-son duo has produced grapes for many prestigious Napa Valley wineries.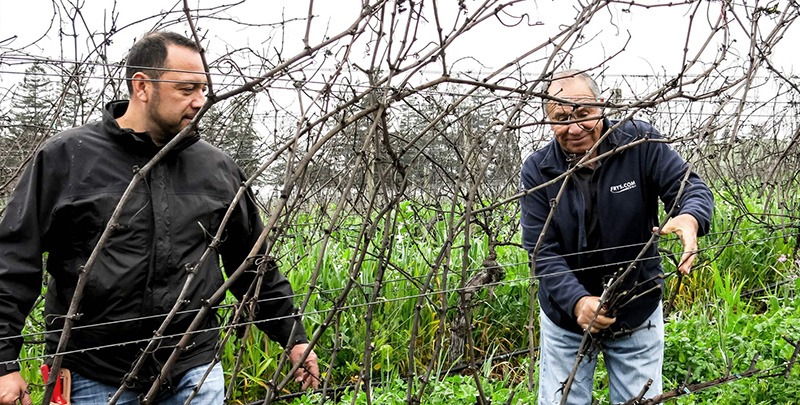 x
The winemaker is Angelina
Mondavi.  She began her career at the age of 10 by assisting the lab manager at Charles Krug.  (She had an in.  Her grandfather Peter Mondavi (who was Robert Mondavi's brother) owned the place.)  After graduating from Villanova University, majoring in chemistry, she worked lab and harvest positions in Napa Valley and Barossa Valley. While in Australia, she earned a Master's Degree in Oenology from the University of Adelaide.  Following graduation, she gained experience with stints at Pine Ridge Vineyards and One True Vine where she was responsible for Hundred Acre, Cherry Pie, and Layer Cake to name a few.
Juslyn's estate vineyard consists of some eight acres on rocky hillside soils with excellent drainage, where the vines are now over 20 years old.  The winery is able to annually extract some three tons of fruit per acre.
Juslyn Vineyards Perry's Blend 2016
The name "Perry's Blend" (the wine was originally called Proprietary Red) was conferred by Robert Parker during one of his tasting sessions, and the Butlers took to the designation.
Perry's is a blend of 66% Cabernet Sauvignon, 22% Cabernet Franc, 7% Merlot, and 5% Petit Verdot, entirely from the Juslyn Spring Mountain Estate.  The wine was aged for 24 months in French oak, 85% of which was new.
It is a fairly transparent but nonetheless dark purple  The nose offers plenty of dark fruit aromas with a bit of cedar.  These continue on the palate, especially black cherry, black currant, and black raspberry, with the addition of cocoa.  There is medium acidity, paired with zoomin' and boomin' tannins.  To be clear, I like my reds young, and I'm not afraid of tannins.  But to temper those here, the wine should be decanted for a couple of hours.  And really, another three to five years of bottle aging would be worthwhile.  If you have the patience, the wine should drink well at least through 2030.  As another reviewer noted, "An odd but awesome juxtaposition of a young California Cab mated with a first production old-world Bordeaux."   ABV is 14.5% and 480 cases were produced.
Top of page: https://winervana.com/blog/