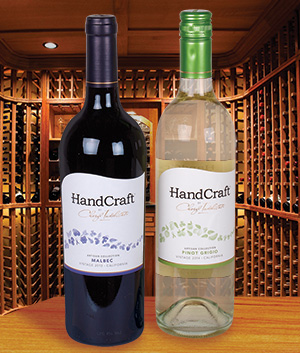 Cheryl Indelicato is part of the third generation of the family that owns Delicato Family Vineyards. Delicato offers wines under such brands as Black Stallion, Bota Box, Gnarly Head, La Merika, Massimo, and others.
Although born into the wine business, doing odd jobs at the winery as a little girl, her parents insisted that their children graduate from college and gather outside experience
by working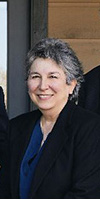 elsewhere for at least three years before coming back to the family business, if they wished to do so.
Accordingly, Cheryl earned a Registered Nursing degree in 1985 and a Bachelor of Science Degree in Business in 1989. However, the family wine-making enterprise kept its hold on her, and she returned to the fold in 1990, working in various facets of the business.
All the while, she dreamed of creating her own wine brand. "I have always wanted to create my own wine with a style and flavor profile that appealed directly to women," says Cheryl.
Cheryl began the project, called HandCraft Artisan Collection, in early 2010 when she teamed up with veteran winemaker Alicia Ysais to develop a wine that would be fruit-forward, distinct, and easy to enjoy—similar to the field-blend wines that Cheryl recalled from her family's dinner table. The line includes Chardonnay, Pinot Noir, Cabernet Sauvingnon, and Petite Syrah, as well as the more rarely seen (for California, at least) Pinot Grigio and Malbec, featured below.
As part of her passion to make a positive difference in people's lives, Cheryl created "HandCraft Cares" to support important causes with financial and in-kind donations. She is involved in a number of initiatives at the community level to increase awareness and early detection of breast cancer. Since 2012, HandCraft has contributed $235,000 to support breast cancer research, prevention, and awareness.
HandCraft Pinot Grigio 2014
This Pinot gGigio underwent a cold-temperature fermentation and was aged entirely in stainless steel, for those of you put off by any oak. It is nearly colorless in the glass. But, no worries. The nose offers aromas of peaches and tropical fruit, with a floral background. In the mouth, the wine is medium bodied, with flavors of melon and key lime. It offers a nicely balanced, crisp acidity, and the finish is relatively short.
Enjoy this easy-going wine with Swordfish with Tarraogn Beurre Blanc, Tomatoes, and Black Olives; Chicken Marsala Burgers; or Crab with Bok Choy and Egg Stir Fry.
HandCraft Malbec 2013
Deep purple in the glass, this Malbec delivers aromas of plums and blackberries on the nose. The ripe plum continues as you begin to taste, complemented by a hint of dusty cocoa. The wine has a medium body and a medium finish, accompanied by a fair amount of tannins, but nothing excessive. A good value for the price.
This wine would go nicely with Guiness Pub Burgers, Oaxacan Black Mole with Braised Chicken, or Slathered Mesquite-Smoked Ribs.
http://www.handcraftwines.com/
Top of page: https://winervana.com/blog/