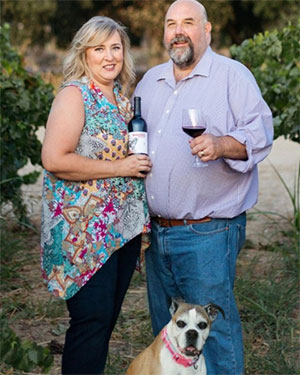 Founded in 2017 by Blair and Laura Lott, Rescue Dog Wines has an unusual and commendable mission: a generous 50% of their profits go to rescue dog organizations across the country. The Lotts explained that they started planning a new life in wine country around 2015. "We knew that we wanted to embrace sustainable growing practices and create a new, more rewarding lifestyle for ourselves. In addition, we knew that we wanted enough land to grow wine grapes and foster dogs. In addition, we knew that we wanted to create high quality, premium wines. During this period of exploration throughout many of California's wine regions it dawned on us that we could combine our two passions and Rescue Dog Wines was born," they reminisced.
As Rescue Dog Wines have been presented at rescue dog charity events around the country, the Lotts have felt an enormous wave of enthusiasm and interest. "The feedback we receive is phenomenal and heart-warming. We love meeting our customers and future customers and discussing our combined love of dogs and wine," Blair explained. "People are initially drawn in by our mission, but end up leaving impressed with the wines," he added. Blair and Laura also are ardent supporters of the Lodi growing region.
Laura Lott was born in Wiesbaden, Germany, and she grew up across the U.S. as part of an Air Force family. In the summers she visited her family in Brittany, on the northwest coast of France. Her grandfather was a pastry chef in St. Malo, and Laura has fond memories of spending time in the bakery. She would also visit cousins who were farmers; she remembers dinners being interrupted by having to run outside to take care of squealing pigs. She'd garden with her grandmother, and she would help her make jam from the raspberries she grew. She graduated from Trinity University in Texas with a degree in French literature, and also completed a master's degree from the Thunderbird  School of Global Management, a part of Arizona State. Her first career path was as an HR specialist for large organizations, including Motorola, Los Alamos National Laboratory, and Sears.
As a young adult, Laura adopted her first rescue dog, a boxer, Daisy, from an animal rescue operation in Atlanta. The experience of visiting the animal shelter made an enormous impression on her; she determined after that visit to make rescue dogs a cause in her life.
Georgia native Blair Lott worked with his father on their 20-acre farm during his upbringing, continuing a tradition passed down by several generations. The family grew vegetables and raised livestock. There were lots of dogs in his life, mostly boxers and Boston terriers. At 17, Lott embarked on a musical career when he formed an alternative rock band. He continued working in the music world, writing and performing in Athens, Georgia, Nashville, and as far afield as Melbourne, Australia. Eventually he transitioned into working as a digital media consultant. During his three years in Australia, he became immersed in the wine and food scene there, and became intrigued with the idea of making wine his vocation. After returning to the U.S. and marrying Laura, they moved to northern California with the intention of pursuing a life in wine.
The couple traveled to wine regions regularly, including a trip they took for a landmark birthday. They spent three weeks traveling through vineyards in France and Spain, further cementing the idea of owning their own vineyard and producing wine.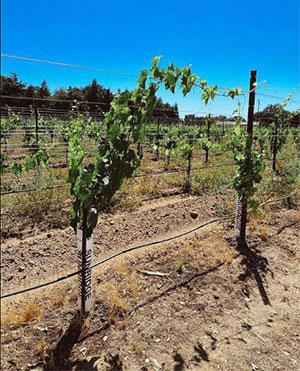 "We looked everywhere from Paso Robles to Napa Valley for vineyard and winery properties to buy," said Blair, "and someone suggested, have you considered Lodi?  Check it out, it's fantastic." That tip lead them to buy a 19.5-acre property in 2016, complete with a house and old vines (since pulled out and replaced with new, trellised vines planted to to Grenache, Sangiovese, and Mourvedre) on Acampo Road. The winery also sources grapes from around the Lodi growing region which are grown according to Lodi Rules and California Sustainable Winegrowing Alliance sustainability protocols.
The Winemakers
Susana Vasquez

The winemakers are Susana Rodriguez Vasquez and Eric Donaldson. "We started with about a barrel of red wine (adding up to just 25 cases)," Blair recalled, "and then we had 10,000 people asking for it. So we asked Susy (Peltier Winery winemaker Susana Vasquez) to help us duplicate the quality with two pallets (over 100 cases), which also flew out the window." Vasquez next created Rescue Dog Sauvignon Blanc, and then added a dry rosé made from Pinot Noir.  Vasquez got her wine education at the Universidad Mayor de San Simón in Bolivia and UC Davis.   This was followed by about five years each at beverage giants E&J Gallo and Constellation Brands,
Eric Donaldson

"Laura likes sparkling rosé," said Blair, "and we got Eric (LVVR Sparkling Cellars owner/winemaker Eric Donaldson) to produce a demi-sec [sweet] style sparkler for people who don't like dry."  After graduting from Miami University, in Oxford, Ohio. Eric began his wine career in Cincinnati and Cleveland.  Next came jobs in Sonoma County and for Gruet in New Mexico.  He worked on a lot of sparkling wine there, and the experience offered insight into warmer climates and how they impact sparkling wines.  Unfortunately, none of Donaldson's wines were available for this review.  Maybe next time.
"Both Susy and Eric are great to work with," continued Blair. "Susy especially will spend any amount of time with you, making sure you get exactly what you want. When she says, 'I'm your winemaker,' she really means that."
Rescue Dog Wines is still very much a boutique operation. "We sold over 200 cases last year [2019]," noted Blair, "and we'll double that this year. If our roll-out in markets in other states goes according to plan, I'm projecting 8,000 cases in a few more years. Truth be told, we're not yet profitable, but we're still keeping our commitment by donating half our revenue to several animal organizations. We're doing it by not paying ourselves. Someday, though, I hope we'll be able to donate 100%."  There are plans for a tasting room in Lodi sometime in the future.
Rescue Dog Predominantly Poodle Lodi Sauvignon Blanc NV
This ""Poodle" pours a very pale, indeed nearly colorless, yellow into the glass.  The nose greets you with aromas of mangoes and coconut.  These flavors continue on the dry palate, aided by green apple, brioche, a good mouthfeel, and well-structured acidity. There is only a touch of grassiness, which is fine with me because I think it mars too many Sauvignon Blancs. Adds winemaker Susana Vasquez, "Stainless steel fermented, skin contact before fermentation, blended with Vermentino."  ABV is 12.50%.
Rescue Dog Lodi Rosé 2018
This pretty pale pink Rosé features aromas of rose petals and melons.  There is zippy citrus on the palate, especially lemon. and a suggestion of mango, all supported by good acidity.  According to Vasquez, this wine was made entirely from Pinot Noir, and pressed specifically to become a Rosé.  There was no saignée [say-NAY], i.e., it was not made by a partial draw-off of pigmented juice from the ferment, but rather allowed to complete fermentation on its own.  ABV is an approachable 11%.
Rescue Dog Beloved Mixed Red Wine Blend NV
This easy-drinking red is a surprisingly inky, dark purple.  It displays a delicate nose of cherry and strawberry, followed by flavors of blueberry, sweet plum,  and a hint of pepper, The tannins are nicely supportive, paired with well-balanced acidity on the medium body.  From Susana Vasquez's notes: "Jammy fruit qualities with not too much oak (10% of the blend saw no oak), blending Zinfandel, Teroldego, Petite Sirah, and Cabernet Sauvignon."  ABV is 14.3%.
Top of page: https://winervana.com/blog/