Georgia, oh Georgia
No, no, no, no, no peace I find
Just an old sweet song
Keeps Georgia on my mind
Of course, that old Hoagy Carmichael tune was about the US state of Georgia.   But this selection is from Georgia the country, in the Caucasus region of Eurasia.  Specifically, Lost Eden is produced at the Vaziani Winery, located in Telavi, Georgia
Little known to most Americans, Georgia is one of the oldest wine regions in the world. The fertile valleys and protective slopes of the Transcaucasia, which spans the southern portion of the Caucasus Mountains and their lowlands, straddles the border between the continents of Europe and Asia.  Here grapevine cultivation and neolithic wine production began at least 8000 years ago. The very word "wine" is believed to have been derived from the ancient Georgian word "Gvino" which means something that "rises, boils or ferments." Due to these many millennia of wine history in Georgia, and its prominent economic role, the traditions of wine are considered entwined with and inseparable from the national identity.
When Christianity and the Eucharist came to Georgia in the 4th century AD, wine gained further importance in the nation's culture.  According to tradition, Saint Nino, who preached Christianity in Kartli, bore a cross made from vine wood.  Another old legend tells of how soldiers prepared for battle by weaving a piece of grapevine into the breastplate of their armor. If they fell in battle, a vine would rise not just from their bodies but from their very hearts.

In 1950, vineyards in Georgia occupied 143,000 acres, but in 1985 that had grown to 316,000 acres, primarily due to increasing demand in what was then the USSR.  However, following the dissolution of that alliance and the end of the Cold War, the relationship between Georgia and Russia has often been rocky, if not outright hostile (including a war with Russia in 2008), and production saw  a subsequent decline. Even so, a recent trade agreement with the European Union has brought renewed optimism to Georgian producers.
According to the Ministry of Agriculture, in 2009 Georgia exported about .9 million cases of wine to 45 countries.  By 2019, production and  exports had increased significantly, with total exports of 7.8 million cases to 53 countries.   During those ten years, exports to the US, although still modest,  increased 48%, to 56,512 cases.  The wine is produced by thousands of small farmers (using primarily traditional techniques of winemaking), as well as some monasteries and modern wineries.  In 2006 there were roughly 80 registered wineries, but by 2018, the number had ballooned to 961.
Growing conditions
Extremes of weather in Georgia are unusual: summers tend to be mild and sunny, and winters frost-free. Natural springs abound, and the many streams of the Caucasian Mountains drain mineral-rich water into the valleys. The moist, moderate climate, influenced by the Black Sea, provides excellent conditions for vine cultivating. In many regions of the country the grapevines are trained to grow up the trunks of fruit trees in terraced orchards, a method of cultivation called maglari.
Georgian grape varieties
Perhaps not surprisingly, traditional Georgian grape varieties have been little known in the New World. However, with increasing international awareness of the wines of Eastern and Central Europe, grapes from this region are gaining a higher profile. Although somewhere between 400 and 500 exist, only 38 varieties are officially grown for commercial viticulture, in 21 distinct wine-producing regions (a.k.a. PDO – Protected Designation of Origin).
Traditionally, much like French regional wines such as Bordeaux or Burgundy, Georgian wines carry the name of the source region, district, or village.  They are usually a blend of two or more grapes, and are classified as sweet, semi-sweet, semi-dry, dry, fortified, and sparkling. The semi-sweet varieties are the most popular in the domestic market.
The Winemaker
Lado
Uzunashvili is an
11th generation winemaker.  He was raised in Mukuzani, in the largest wine-producing region in Georgia.  He learned oenology in Moscow, France, and Australia.

"When making the Lost Eden Red Blend, it was important to showcase Georgia as the birthplace of wine. To do this I found the perfect balance between modern and traditional Georgian winemaking practices to illustrate the quality and evolution of wine produced in my country. We believe wine is better with less human intervention," Uzunashvili
explained.
Lost Eden Saperavi Red Blend
Lost Eden is a new product, launched in September of 2020.  The producer states, "In partnership with the Georgian Ministry of Agriculture and Partnership Fund, Lost Eden was crafted to build ties with the West and forever pivot Georgia, the birthplace of wine, away from Russian dominance."
"The Georgian people have suffered many years of Russian oppression and a number of crippling embargoes that have negatively impacted both our current wine industry and our 8,000 year winemaking tradition. To break free from Russia's grasp, we partnered with an incredible team to create Lost Eden for the United States wine market. This visionary wine project will not only introduce Americans to an exquisite Georgian wine, but also will help us build back a strong, free wine market in Georgia," said Irakli Cholobargia, of the National Wine Agency, Ministry of Environmental Protection and Agriculture of Georgia.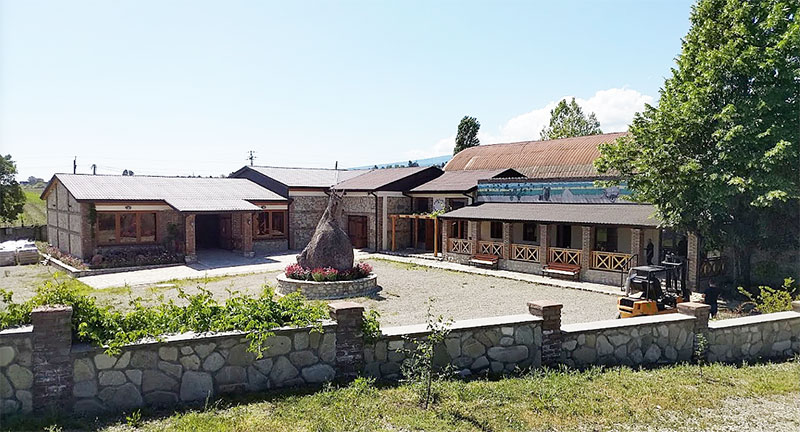 The Vaziani Winery
Lost Eden harvests grapes

from arguably the oldest vines on earth.  They use the ancient clay pots called qvevris (pronounced kwevr-ees for fermentation and aging.  They are always buried in the ground, and are usually coated on the inside with beeswax, a natural sealant designed to keep undesirable bacteria from seeping through the walls.
The qvevris are buried in the winery floor.

Saperavi, grown in some areas of the Kakheti region, is one of Georgia's most important indigenous varietals.  It produces substantial, deep-red wines that are suitable for extended aging of up to fifty years.  It has the potential to produce high alcohol levels, and is used extensively for blending with other, lesser varieties.
The bottle of this unoaked blend features a glass stopper, which is rather stubborn to remove, instead of a cork, and the "veins" molded into it invoke the maglari cultivation method.  Although 100% Saperavi, it is considered a blend because a portion of the wine came from the traditional qvevris and a portion from stainless steel.   And, grapes were sourced from several vineyards.
Lost Eden pours a crystal-clear ruby in the glass.  The nose offers light to medium aromas of red and black cherries and mulberries.  These continue on the smooth palate, joined by cassis and some cocoa.  This is a semi-dry wine, with moderate but pleasant acidity, low tannins, and a somewhat short finish.  ABV is 13%, and 4,500 cases were made.
Top of page: https://winervana.com/blog/