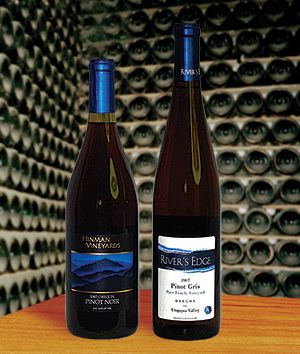 River's Edge Winery is located in the northern-most part of the Umpqua Valley. River's Edge, founded in 1998, specializes in the production of cool weather varieties such as pinot noir and gewürztraminer. The ocean is only 36 miles away from the winery, and morning fog frequently shrouds the vineyards even in the summer, reflecting the strong marine influence on the climate.
Their two estate vineyards, Black Oak and Elkton, are the primary sources for the wines. These two vineyards were planted in 1972 and are among the oldest in the state.
The River's Edge wine making style emphasizes a low-tech, hands-on approach utilizing small batch fermentation, exclusively barrel aging, and bottling without fining.
River's Edge Pinot Gris 2007
Let me announce my bias up front: I'm not that big a fan of Pinot Gris (pee-no gree) and Pinot Grigio (pee-no gree-joe). They are often watery and lacking a distinct character. Not so this one from River's Edge.
This pinot gris was vinified in the traditional Alsatian manner in older oak barrels, with seven months of aging. The resulting wine has the pale yellow color, citrus/lemon flavor, and ripe pear bouquet typical of this varietal. The boldness of the flavors make it unique, with plenty of structure.
Enjoy this wine with grilled whole red snapper, broiled halibut steaks with tarragon butter, or raw oysters.
https://www.riversedgewinery.com/
Doyle Hinman and David Smith opened Hinman Vineyards in 1979. By 1988, the winery had become Oregon's top selling winery. In 1993, Hinman started releasing their premium line of reserve wines under the Silvan Ridge label, relegating Hinman to second-tier status.
Silvan Ridge | Hinman Vineyards produces approximately 25,000 cases of wine annually, including Pinot Noir, Pinot Gris, Muscat, Syrah, Grenache Rosé, Chardonnay, Cabernet, Merlot, and Riesling.
The Hinman winemaking style strives to express classic European technique, while applying new-world innovation.
The fruit for this pinot noir was sourced from the Willamette Valley, which begins just south of Eugene and runs north to Portland. It is Oregon's coolest growing region and the source for most of the state's wine grapes. Vineyards are typically located on bench-land hillsides at the western edge of the valley.
Hinman Vineyards Pinot Noir 2007
The color of this pinot noir is like that of cherry juice, and while color is not necessarily a predictor of taste or complexity, this time it's fairly accurate. This is a simple, fruity wine, with plenty of cherry and berry on the palate. A tad on the sweet side, but with enough acidity to keep things in balance.
Pair this wine with salmon gravlax, risotto with artichokes, or pan-fried soft shell crabs.
https://www.hinmanvineyards.com/
Top of page: https://winervana.com/blog/