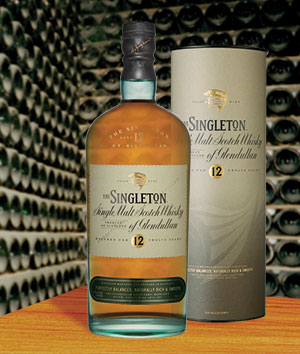 Every once in awhile I like to take a a wee nip of Scotch whiskey just as variety from the grape. So when I received word of this single malt, it seemed like an opportune time to tickle the taste buds. The Singleton of Glendullan is the object of interest here, and a fine example of Scotland's most famous region for single malts, Speyside.
The Glendullan distillery was founded in Dufftown, Speyside in 1897, and the distillery receives its pure waters from the River Dullian, a tributary of the Spey River. The whiskey is matured for 12 years in used oak casks from both American bourbon and European sherry. The combination creates a well-balanced, rich tasting malt that can be enjoyed as a cocktail before dinner or as an after dinner treat. It has a semi-crisp taste that is refreshing and even zingy without being overpowering, an excellent choice for those not yet ready to try some of the heavier Scotch offerings.
Although I'm not much interested in numerical ratings here at Winervana, they certainly do exist elsewhere.  In a blind tasting conducted by the Beverage Tasting Institute, The Singleton scored a 92-point rating. They rank that as "exceptional," and The Singleton outscored traditional category leaders such as Macallan 12 (90 rating), Glenlivet 12( 88), and Glenfiddich 12 (86), for what it's worth.
https://www.thesingleton.com/?ds_e=GOOGLE&ds_c=B:+Singleton+Of+Glendullan_Exact_EN_US&ds_k=the+singleton+of+Glendullan&gclid=Cj0KCQiA5dPuBRCrARIsAJL7oegsuzrNuj1zmBDCeqPwZqu2nTQrk1yxrpiTVFdflBVF3uHUt7VBtR8aAjb-EALw_wcB&gclsrc=aw.ds
Top of page: https://winervana.com/blog/