In 1870 the Carbone family purchased a large parcel on Coombsville Road in Napa, California. They opened a winery, which is long gone, and that was about it for winemaking in the area for the next hundred years.
Around 1970, dozens of wineries started  appearing along Highway 29 in Oakville, Rutherford, and St. Helena, but Coombsville remained largely uninvolved in the burgeoning wine scene. By the 1990s, however, a number of up-valley wineries, looking to expand their production, came looking for additional sources of fruit. They were impressed by the rolling benchlands, moderate temperatures, and volcanic soils of Coombsville.
In 1995, the winery that would eventually become Italics was founded in Coombsville by commercial pilot turned vintner Bill Frazier. Frazier sold the winery in 2011 to a China-based company that renamed it Zhang Winery. The Chinese owners expanded the existing small cave system into what is now 16,000 square feet carved into a hill, and made a number of practical and visual improvements. In 2014, the operation was purchased by Mike Martin of Texas, who once again renamed it, this time to Italics. (The name Italics was chosen because "words in italics are used to emphasize something or to make something stand out.") He was president of Rio Queen Citrus, Inc., his family produce business, until selling it in 2012. Rio Queen began with a small 20-acre grapefruit orchard in the south part of the state, but grew to become one of the largest distributors of produce in Texas (including citrus, onions, and melons).
Italics' founding winemaker
was Steve Reynolds, who Martin met by chance at a wine dinner in McAllen, Texas.  Martin was particularly interested in one of Reynold's many ongoing projects, Thirteen Appellations, which began in 2002 when 100 cases were made.  The idea behind the label was to create a wine with fruit from all of Napa's then extant sub-appellations. The thinking was that, "each wine taken individually has its own unique colors, aromas, and flavors, and blending them results in an arguably richer, perhaps more complex wine." The wines from each sub-appellation are fermented and aged separately – all coming together when the final blend is made.  Ultimately Martin acquired Thirteen Appellations, a brand that evolved into Sixteen Appellations. As additional sub-appellations were approved in Napa, further vintages were called Fourteen and then Fifteen Appellations. With the Coombsville sub-appellation finally being added in 2011, the wine is now Sixteen Appellations
In 2019, Marbue Marke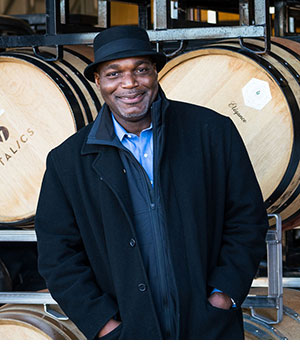 became Italics' winemaker. He was born in Sierra Leone, West Africa, and originally studied to become a doctor, enrolling in UC Davis' Pre-Med program at just 15 years old.  However,  he soon realized that he tended to get woozy at the sight of blood, a definite handicap for a doctor.  Abandoning that career path, he transferred to the UC Davis wine program, and graduated with a degree in Viticulture and Enology. He later earned an M.B.A. from Sonoma State University.  Prior to Italics, he toiled at Caldwell Vineyard, Marston Family Vineyard, J Winery, Cosentino, Benziger Family Winery, and industry giant EJ Gallo Winery. In 2018 he was named U.S. Winemaker of the Year by Bonfort's Wine and Spirits Journal.
The entire Italics operation resides in caves carved into the hillside.
In addition to the Sixteen Appellations offering, Italics Winegrowers focuses on wines made from traditional red Bordeaux varietals, with a total current production of about 5,000 cases annually.  The fruit for these wines thrives in vineyards not far from the San Pablo Bay.  Breezes that blow in from the bay bring fog by day and cool air at night, moderating extreme temperatures.  Coombsville is surrounded by a partially collapsed caldera, the remnant of a fractured volcanic vent. The caldera's half-bowl reaches some 1,800 feet in elevation, and acts as a collector for the cool marine air from the Bay.  The grapes grown here can hang longer without dehydrating while retaining their natural acidity.
The film Decanted premiered at the 2016 Napa Valley Film Festival. It depicts what it takes to open a winery in the Napa Valley, and it follows Italics Winegrowers from the inception. Winemaker Steve Reynolds and owner Mike Martin were included in the cast.
Italics Winegrowers Sixteen Appellations Red Wine 2013
This red is composed of 45% Cabernet Sauvignon, 35% Merlot, 15% Cabernet Franc, and 5% Petit Verdot.  Some of the vineyards sourced are owned by Robert Keenan, Blackbird, Annapurna, and Constant, as well as Italics' estate vineyard (these change every vintage).  After fermentation in 25% new French oak and 75% stainless steel, it was aged for 22 months in French oak barrels, 60% new and 40% used.
This quite dry, dark garnet wine greets you with a heady nose of mouthwatering rich dark fruits.  These are most evident on the palate as somewhat restrained blueberry and blackberry, plus dust and a hint of clove.  The flavors tend to fade as the bottom of the bottle approaches.  The acid and tannins are in excellent balance, complemented by a medium-long finish.  ABV is 14.5% and 1,337 cases were made.
https://www.italicswinegrowers.com
Top of page: https://winervana.com/blog/