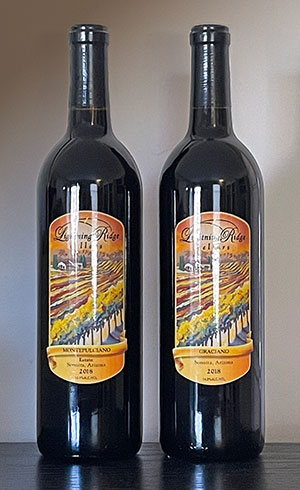 Can you make wine in Arizona, of all places?  You sure can.  In fact, wine is made in every single one of these United States, but that's a story for another day.
In the 1600s, missionaries brought grapevines to the deserts south of Tucson to make communion wine (surprise!). Henry Schuerman established the state's first known commercial winery near Sedona in the late 1880s.
A draft dodger avoiding the Kaiser's army, Schuerman had made his way to Arizona during its earliest days, where he opened the first hotel in the newly created territorial capital of Prescott.
Although he had never been a farmer, he eventually planted an orchard on 160 acres that he had acquired. In addition to apples, peaches, apricots, pears, and quinces, in recognition of his Germanic roots he planted a vineyard.  76 acres of Zinfandel to be exact.
The Schuerman Winery was located near to what is now Red Rock State Park in Sedona. Photo courtesy of Sedona Historical Society.
For 25 years, the Schuerman Winery sold Zinfandel throughout Arizona.  Then came New Year's Day 1915, when, by popular vote, the good citizens of the infant state of Arizona instituted a total ban on alcohol (predating national Prohibition by five years).  And that was the end of that.
At least for a while.  In the 1970s, as Americans' interest in wine was beginning to grow, a soil scientist named Gordon Dutt got a grant to study water retention in southern Arizona, and happened to learn that grapes might grow well in the Sonoita area. Dutt founded Vina Sonoita Vineyards, then advocated to change state laws to allow vintners to sell on a large scale once again.  Today, Arizona's 110 licensed wineries gross over $56 million per year.
One of those wineries is Lightning Ridge Cellars, founded by husband-and-wife team Ann and Ron Roncone in 2004.  Both began with engineering careers in San Francisco in the early 1980s; optical for Ron, and mechanical for Ann.  At the time, it was quite unusual for a woman to be in such a male-dominated field.  It's not all that common even today.
They also both shared an Italian heritage, and growing up in Italian families there was always wine on the table as a matter of course.   Even during her work as an engineer, Ann was drawn to winemaking as a hobby.  "Wine was just a drive, and I wanted to try my hand at making some," she said. "So, I got a kit. A five-gallon bucket, a can of concentrate, and parts."
Rather than relying on that concentrate, an easy intro for novices, she bought 200 pounds of Zinfandel grapes and handcrafted her first wine from that fruit. She soon planted vines on the property that she owned with Ron, and continued to make wine while working as an engineer. Her growing thirst for knowledge led her to the  University of California – Davis, the renowned college for viticulture. "I took every single course that I could," said Ann.
For two weeks every September for the next four years, Ann took a "vacation" and worked as a cellar rat at various wineries in the Bay area. "I would show up for work and semi flatbeds filled with grapes that needed processing would show up," she recalled. "It was a rag-tag little group but it was really fun, and it was amazing to get that hands-on experience."
By 2002, Ann told her husband that that she wanted to be a winemaker full time.  He was cautious about the decision, but agreeable.  The idea of doing so in northern California was quickly squashed, due to the high prices they encountered for land .  But, at the beginning of his career Ron had completed his graduate work at the University of Arizona in Tucson, and knew the area well. They learned that the Sonoita-Elgin region was designated as an American Viticultural Area (AVA) which gave it credibility, although at the time there were just three wineries in the area.
In 2004, Ron was able to secure a job at Raytheon in Tucson.  Once relocated, Ann and Ron purchased a 20-acre property at 5,100 ft. elevation in Sonoita. They spent a year drilling wells (six tries until getting one right), installing electricity, building a fence, creating irrigation infrastructure, and building trellises.  They then planted their first grapes: Montepulciano, Primitivo (aka Zinfandel), Malvasia Bianca, Muscat Cannelli, and Aglianico. "It was a little unnerving because no one in Sonoita-Elgin had these grapes growing at the time," said Ann.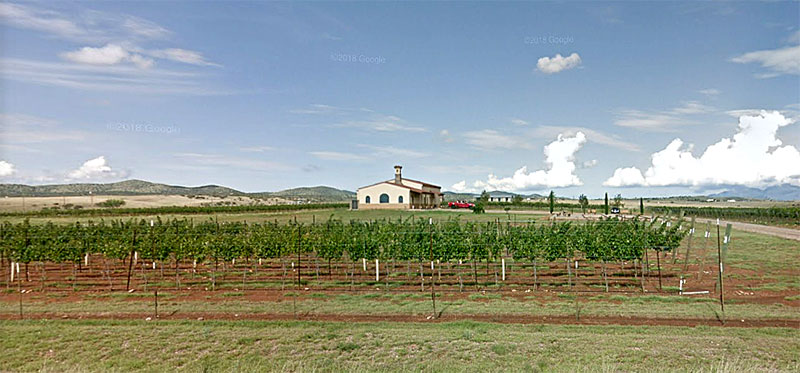 The Lightning Ridge winery and estate vineyard.
Rather than beginning production immediately, Ann wanted to open Lightning Ridge Cellars with estate wines (not a particularly cost-effective plan). So, they patiently waited. On Halloween 2009, they finally opened their tasting room. "And, it just was so fun!," said Ann. "It took time to find us, but once people did, they really enjoyed our wines."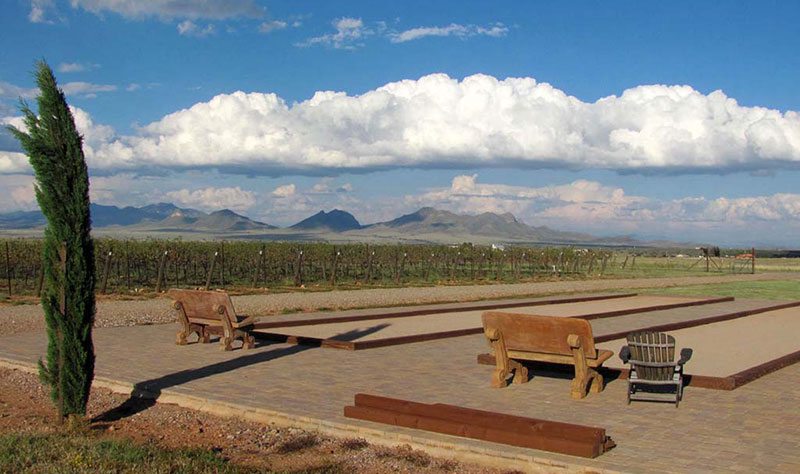 The very-Italian bocce ball court.
One of the first varietals Ann had planted in her vineyard was Primitivo, but it didn't thrive.  After seven years, just half of the original vines remained.  In 2012 they were removed entirely.  The 9-1/2 acre estate vineyard is now composed of:
2-1/2 acres of Montepulciano
1 acre of Sagrantino
2 acres of Aglianico
1/2 acre of Muscat Cannelli
1 acre of Malvasia Bianca
1 acre of Cabernet Sauvignon (specifically for blending with Sangiovese to make a Super Tuscan)
1/2 acre of Nebbiolo
1 acre of Sangiovese
The vineyard only sees about 18 inches of rain each year, most of which falls from July to August during Arizona's monsoon season, so the need to draw water from a well is imperative.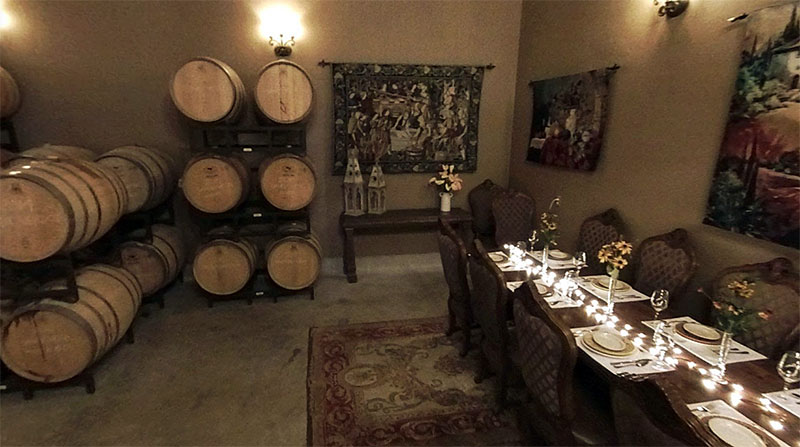 The banquet hall and barrel room.
Ann's preference is for single varietal wines, such as the following two. "Because you can then taste and experience specifically what the varietal can do," said Ann. "It's fun to have people try a varietal they wouldn't otherwise try or know."
Lightning Ridge Cellars Montepulciano 2018
Montepulciano is widely planted throughout Italy, especially in the southeastern regions. This 100% Montpulciano was sourced from the Lightning Ridge estate vineyard in Sonoita, and is Lightning Ridge's flagship varietal.  "A lot of Italian [grapes] are warm-weather varietals, and man, they love it here," Ann shared.  She added that Sonoita's 5,000-foot elevation can bring April frosts, so late-budding Montepulciano fares well in  the area.
This wine was aged for 30 months in 50% new European and American oak barrels.  A dark opaque brick red, it is moderately aromatic, featuring bright red fruit and cola notes. The smooth palate offers raspberry, red plum, cranberry, and spice, especially white pepper.  There is a little bit of Madiera-like raisin flavor as well.  There is good supporting acidity.  Because the tannins are quite moderate, drink this young, as its aging potential is limited.  Production was 190 cases.  ABV is 14.4%.
Lightning Ridge Cellars Graciano 2018
Graciano [grah-see-YAH-no  Sp. grah-THYAH-no] hails from the Rioja and Navarra regions of Spain.  This selection is an outlier in the Lightning Ridge portfolio, as the varietal is not Italian, and, although sourced from Sonoita, the fruit comes from a third-party grower.  (Ann did do some research to see if Graciano is produced in Italy.  As it turns out, it is, where it is pronounced grah-CHI-ah-no.  That's how she decided to go for a non-Italian varietal.)
It follows Ann's 100% varietal credo, however.  The wine spent two years in 30% new European and 60% neutral oak barrels.  It is a semi-transparent garnet, and is lightly aromatic.  Those aromas include boysenberries and leather.  The palate features rather recessive fruit, some cocoa, zippy acidity, and well-balanced tannins.  Ann made 90 cases.  ABV is 14.9%.
(In keeping with the Italian theme, Ann thought the vines would like to be joined by some olive trees, from which Lightning Ridge now produces a line of olive oils.)
http://lightningridgecellars.com/
Top of page: https://winervana.com/blog/