As a wine enthusiast and blogger, I'm always looking for delicious wines at attractive prices, and I bet you are too or you wouldn't be reading this.
I belong to a handful of winery membership clubs, such as Cline, Clos Pegase, Keenan, and Truchard, all of which I recommend.  I also get alerts from wine flash sale sites, including Wine 'Til Sold Out, Last Bottle, and Invino.  And I've tried a number of online wine clubs, like First Leaf, Wine Insiders, Vinesse, Naked Wines, Laithwaites, and WSJWine (the latter two being the same operation under different names.)  They all feature appealing loss-leader introductory offers, so trying a few is worthwhile.  First Leaf is the one I've stayed with, for their good selections and attentive service.
A wine site with a twist is Underground Cellar.  The wines aren't the cheapest; prices start at about $25 a bottle, and increase from there.  Every day a new featured offer goes up, and you can buy any number of bottles, with free shipping on a case.  Standard stuff.  But here's where things get interesting.  When you buy three or more bottles, they promise to upgrade all but one of them to a wine worth more than the offer price.  For example, on a recent Cabernet Sauvignon deal you could buy, say, six bottles for $180.  There is one "buy-in" selection that retails for $30 that you know you will get, and then UC selects five more for you from a range of, in this example, 20 to be upgraded.  You can't pick the selections, but there is a list of what's available. (On some offers, all bottles in the order are upgraded.)  There's even a very slim chance the upgrade would be huge, like to a Stag's Leap magnum worth $524.  And if you buy only a bottle or two at a time, UC will store them at no charge until you have accumulated a full case to get the free shipping.
If you're looking for higher-end wines at reasonable prices, I suggest you give Underground Cellar a try. I am a satisfied customer myself.  Visit the homepage and enter your e-mail address, or sign in with Facebook to get started. Joining Underground Cellar is free, and there are no monthly fees or purchase obligations.
When you enroll, please use referral code AMBSTEPHEN.  As a bonus, if you use that code you will get $50 OFF YOUR FIRST ORDER OF $100 OR MORE. Yes, I will receive a small compensation if you sign up.  But hey, I've got to buy wine too, right?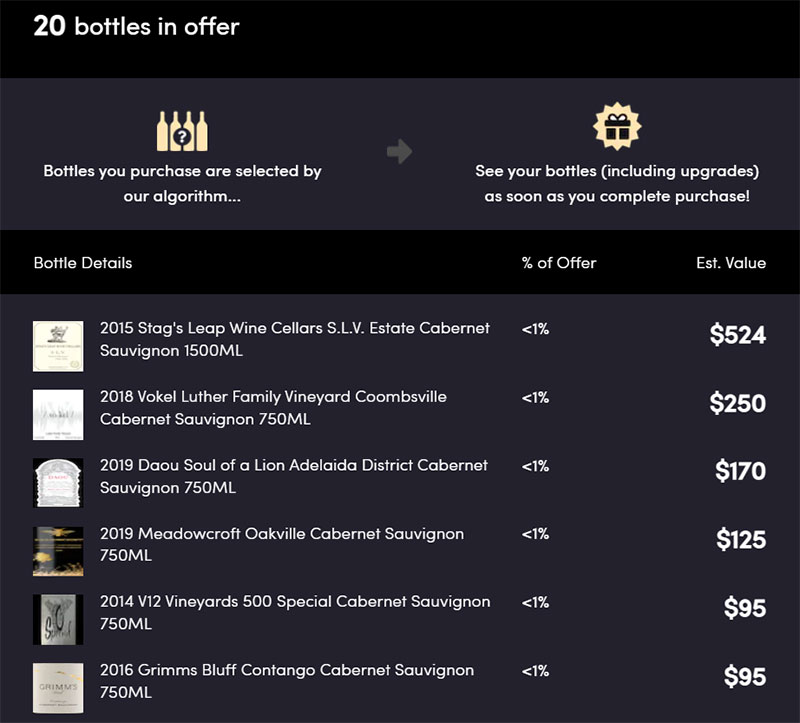 Top of page: https://winervana.com/blog/