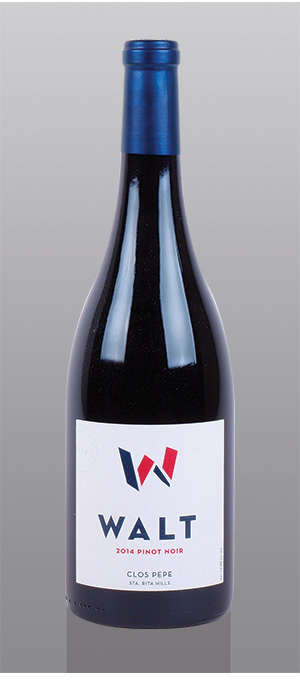 WALT Wines, owned by Kathryn Hall and Craig Hall, is dedicated to the production of Pinot Noir and Chardonnay from the Pacific Coast, spanning nearly 1000 miles and including Sta. Rita Hills, Sonoma County, Anderson Valley, Napa Valley, and the Willamette Valley. They strive to source top fruit from the most distinctive vineyards; practice precise, non-interventionist winemaking; and focus on limited production. The goal is to allow the wines to naturally and honestly express the character of the sites where the wines are grown.
WALT Wines are named after Kathryn Hall's parents, Bob and Dolores Walt. They were dedicated wine-grape growers who produced six different varietals that were sold to several well-known wineries. For the Walts, growing grapes was the satisfaction of a hard day's work and the feeling of peace walking through the vineyard before sunset. Kathryn Hall managed the vineyard operations herself from 1982 until 1992.
In 2010 WALT expanded from grape farming to wine production. Today, the winemaking team is led by Vice President, Winemaking Steve Leveque (who also crafts the HALL Napa Valley Cabernet Sauvignon wines), and Winemaker Megan Gunderson Paredes. who work in a state-of-the-art winemaking facility aided by a passionate winery staff, and strong vineyard partners.
WALT's methodology includes: night harvesting; hand sorting every berry; whole cluster pressing of Chardonnay; native yeast fermentation; barrel aging on lees to create more texture, richness, and complexity; and weekly batonnage and topping during the decidedly long malolactic fermentation. The wines are neither fined nor filtered. This can result in a bit of haze, but it is in keeping with the idea that the wine was made with the least intervention and with the highest-quality intentions. By sourcing fruit from quality growers and by utilizing the state-of-the-art winemaking facilities at HALL Wines, they strive to make the best wine possible, while keeping extremely limited production levels.
WALT's estate vineyard, Bob's Ranch, was purchased by the Halls in 2014 and is located in the heart of the Petaluma Wind Gap on highway 116 just south of Sebastapol.
WALT Clos Pepe Pinot Noir 2014
This Pinot Noir hails from Clos Pepe, an estate vineyard located in the Santa Rita Hills in the Central Coast region. This bottling is 100% Pinot Noir, and was barrel aged for 10 months. The dark red color is paired with a nose of strawberries, cherries, and cranberries. The smooth flavor features red berry, cocoa, and black pepper, with supporting warm oak and firm tannins. Although this wine is medium-bodied, it has a surprisingly long finish.
Top of page: https://winervana.com/blog/