Kewanee, nestled in the heart of Wisconsin beer country, is 40 miles east of Green Bay and on the western shore of Lake Michigan. This is where Parallel 44 Winery calls home.  (They also market their wines under the Door 44 label, where they are offered in a tasting facility in Door County farther north.
The story of Parallel 44 Vineyard & Winery began in 2005, when husband and wife team Steve Johnson and Maria Milano planted their first grape vines. Steve grew up in Green Bay, where his father Carl experimented early on with growing grapes. Maria grew up in Stevens Point, Wisconsin, where her Italian-born father continued his tradition of making wine for friends and family celebrations. Steve and Maria met while in school at the University of Wisconsin in Madison, and then attended law school together. While working as attorneys, they attended seminars on grape growing in Wisconsin, with an eye towards getting into the wine business.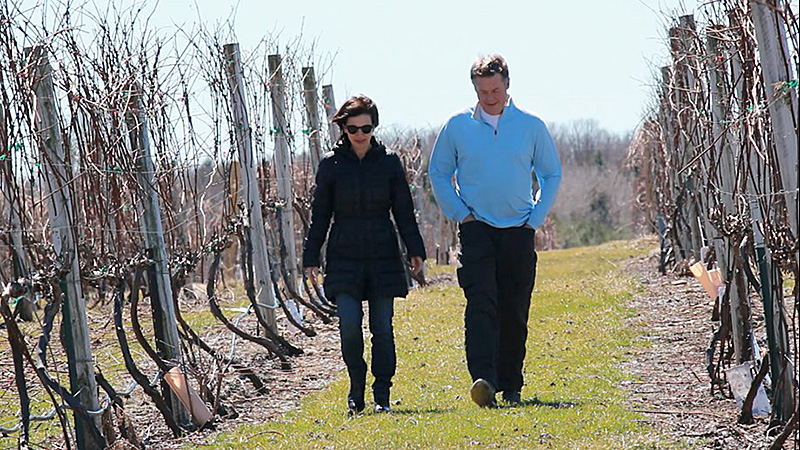 Maria and Steve
After years of searching for a location with the soil, sun exposure, and temperatures for growing grapes, they found the location that Parallel 44 now sits on. Originally, it was a simple corn field and former gravel pit. As soon as they purchased the land, they began to plant vines, a novel idea at the time.
A year after the vineyard was planted, in 2006 construction was started on the winery and tasting room. Since opening on Memorial Day weekend in 2007, Parallel 44 has continued to grow and expand. Today, all of the wines produced by Parallel 44 are either made with grapes grown in their own vineyards, or at one of the vineyards that the winery contracts with throughout the state of Wisconsin and the Upper Midwest.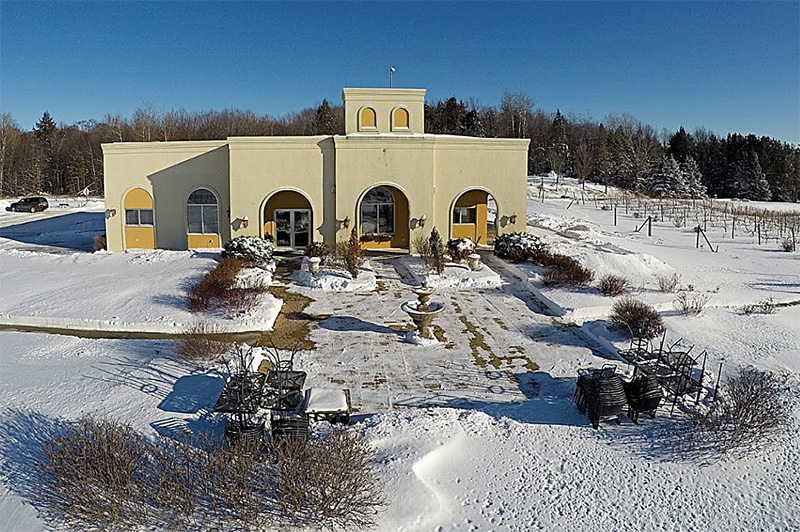 Cold weather grape growing, for sure.
The winery itself has undergone several remodels. The first major expansion of the winery occurred in 2009, which nearly doubled the size of the original. A second, smaller expansion and remodeling was completed in 2011. To capitalize on the resort trade, Steve and Maria decided in 2013 to open a second location, located in Door County forty miles due north, where tens of thousands of tourists flock each summer. (They like to promote this as a second winery, but it's really just a tasting room and storage facility.)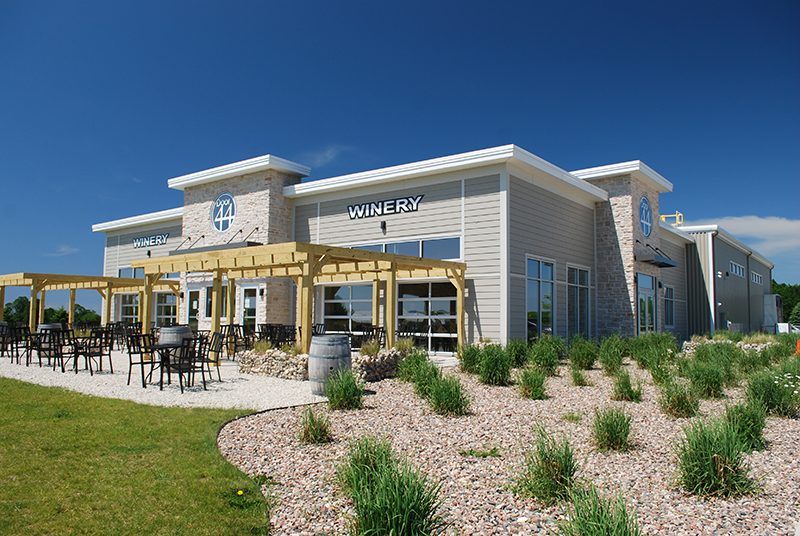 The Door County tasting facility. Photo: Mike Stanford
The vineyard and winery are situated on 44° north latitude (hence the name), which is renowned for the world's finest grape growing and winemaking regions, such as Bordeaux in France, and Tuscany in Italy. Parallel 44 shares many similarities with these regions, such as seasonal growing period, annual rainfall, and length of daylight. But, a big difference from their European counterparts is that Parallel 44 suffers through winters of subzero temperatures, adding the challenge of growing grapes on the "frozen tundra" of Wisconsin.
The estate vineyard in Kewanee. Photo: Dave Bloedum
Johnson and Milano decided to forgo the classic European varietals we are all familiar with, knowing that the vines would struggle to even survive the harsh northern Wisconsin winters, much less thrive.
So, they turned their attention to cold-climate grape varietals available for commercial planting, of which there were only a few. Most of the varietals were quite new to the world of wine and were less than 20 years old. Undetered, Steve and Maria carried on with their dream and today, 15 years later, there are approximately 7000 vines on 10 acres planted at Parallel 44.
The grape varietals they grow are known as "cool climate grapes." This means that some of the vines can withstand temperatures as low as -36° F in winter, but as summer approaches they spring back to life!
These cool-climate varietals have the hallmark qualities of bright acidity, fruit forward aromas, and flavors that are unique to the region. Some of these varietals are Marechal Foch, Frontenac, Louise Swenson, St. Pepin, and Petite Pearl. These are the genetic cousins of such well-known varietals such as Cabernet Sauvignon, Pinot Noir, Moscato, and Riesling.
Parallel 44 La Crescent NV
The La Crescent white grape varietal was invented by University of Minnesota researchers James Luby and Peter Hemstad as part of the university's cold hardy-grape breeding program. Since its release to the market in 2002, La Crescent has been planted with success in Iowa, Minnesota, Missouri, Montana, Nebraska, New Hampshire, New York, Ohio, Oregon, Vermont, and, of course, Wisconsin. The variety can survive temperatures to −36° F (−38° C). Those wishing to propagate La Crescent must obtain a license from the university, as they hold a patent on the grape, awarded in 2004. It has parentage in the Moscato family.
This semi-dry white wine shows pale yellow in the glass. The nose has pleasant orange blossom aromas. Next come flavors of a summer fruit basket, including peach, apricot, and citrus, with a full mouthfeel. It all ends with a refreshing, crisp finish.
Pair this selection with Lobster Bisque, Swordfish Steaks with Mango and Avocado Salsa, or Cornish Hens with Cranberry Sauce.
Parallel 44 Vintner's Reserve NV
This dry red wine is a blend of 60% Marquette and 40% Petite Pearl.
Marquette is another University of Minnesota offering, introduced in 2006. It is a complex hybrid, one that involves vitis vinifera as well as American species. It is named after Pere Marquette, a Jesuit missionary and 17th century explorer of North America, and has been said by the university to be a cousin of Frontenac and a grandson of Pinot Noir.
Petite Pearl was bred by Tom Plocher, a well-respected northern climate viticulturist and grape breeder; currently, Parallel 44's is the largest planting.
Winemaker Steve Johnson sees Petite Pearl as "the holy grail, so far" and "to date, the one with the most promise" when it comes to northern red grapes such as Marechal Foch and Marquette that are transforming the quality of wine from the Upper Midwest. As he explains it, compared with other cold-hardy red grapes, Petite Pearl has a more balanced chemical makeup with lower acidity and higher tannin levels.
This medium-bodied red has a nose of bright fruit, especially strawberry and blueberry. Those are complemented on the palate by plum and black cherry, balanced acidity, and light but firm tannins. There is a bit of spice and pepper, as well. The mouth-feel is somewhere between Pinot Noir and Merlot.
Try it with Peppered Salmon with Snow Peas and Ginger, Spinach and Bacon Souffle, or Boned Pork Loin with Apple Cream Sauce.
Parallel 44 Salve NV
Salve is a traditional Italian greeting that comes from the word "to be well." This unassuming red wine is fresh and easily approachable.
The source grape is primarily Petite Pearl, with a small amount of a white varietal called Prairie Star, bred by Elmer Swenson. It produces a neutral white wine with good mouth feel, and is perhaps even hardier than Frontenac, a widely-planted cool-climate varietal. It can have a strong floral nose. Prairie Star is also consumed as a table grape. The addition of a white varietal during fermentation is a traditional practice in some other countries, including Italy, and is more common than you might expect.
This light red wine has a quite transparent ruby color. The nose shows strawberry and red cherry. That light cherry follows through on the palate, joined by a hint of cola. The finish is short, and without much tannins.
This simple but food-friendly wine would play well with Grilled Butterflied Salmon, Spinach and Bacon Souffle, or Veal Escalopes with Tomato Sauce.
Door 44 F2 Red Blend 2018
This is a 50/50 blend of Frontenac, yet another  hybrid developed at the University of Minnesota, and Marechal Foch, a French-American hybrid created in the late 19th century.  Hence, F2, or perhaps F squared. It is dark ruby-red in the glass, with aromas of red cherry and plum.  This continues on the palate, which offers a slight sweetness as well as an effervescent acidity, typical of these grapes (although no actual bubbles are present). Steve Johnson noted, "While many California winemakers would feel intimidated by the high acidities that result from our cold-climate varietals, they would yearn for the structure our acidities can provide. As F2 matures, the toast of oak will add an expression of dark chocolate, a common characteristic of an aged wine made with the Frontenac grape."
Here's a post on another northern Wisconsin winery, but this one brings in juice from California rather than growing locally: https://winervana.com/?s=simon+creek
Top of page: https://winervana.com/blog/