When it comes to a martini, I roll hard-core old style.  Pimento stuffed olive.  Just a few drops of vermouth.  Shaken, not stirred.  Gin and glass straight out of the freezer.  And, that gin is almost always Bombay Sapphire.
But I will sometimes wander, on the gin itself at least.  I recently got an email from liquor.com touting "The 14 Best Gins to Drink in 2021."  Who doesn't like The Best?  One of their recommendations was Barr Hill Gin, and they had this to say about it:
Best to Drink Neat:
Barr Hill
Barr Hill Gin is made by Vermont's Caledonia Spirits, and this gin incorporates a unique ingredient that makes it sip extraordinarily well on its own: raw honey. The honey provides a subtle sweetness that complements the juniper flavor—the only botanical used in this gin—and gives this spirit its uniqueness. The creamy mouthfeel and slightly sweet, slightly floral flavor make this a great sipping gin, whether you like it neat or with a large ice cube to dilute it a bit.
And on the bottle, Caledonia proclaims, "Ryan and Todd perfected the use of raw honey in their distillery, capturing the countless botanicals a honey bee forages into their spirits."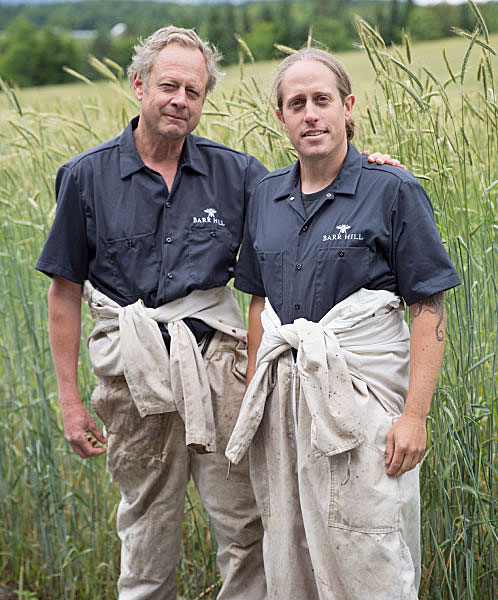 Todd Hardie, left, and Ryan Christiansen, right
Barr Hill  was founded in 2011 by a beekeeper, Todd Hardie, and a distiller, Ryan Christiansen, in Vermont.  Hardie is a lifelong beekeeper who had been caring for bee hives across the state.  Christiansen had previously operated a home-brewing supply store in his hometown of Plainfield, Vermont.  Their partnership began with a single 15-gallon direct-fire copper still inside of a 6,000 square foot distillery located in Hardwick, near the town of Greensboro and the Barr Hill Nature Preserve.
The original distillery, top and the current one, bottom.
Quickly finding success, by the end of 2012 production increased from one to three distillations per day.  In June 2019 a new, larger distillery was opened in Montpelier.  In addition to Barr Hill Gin, Caledonia also produces Barr Hill Vodka and Tom Cat Gin.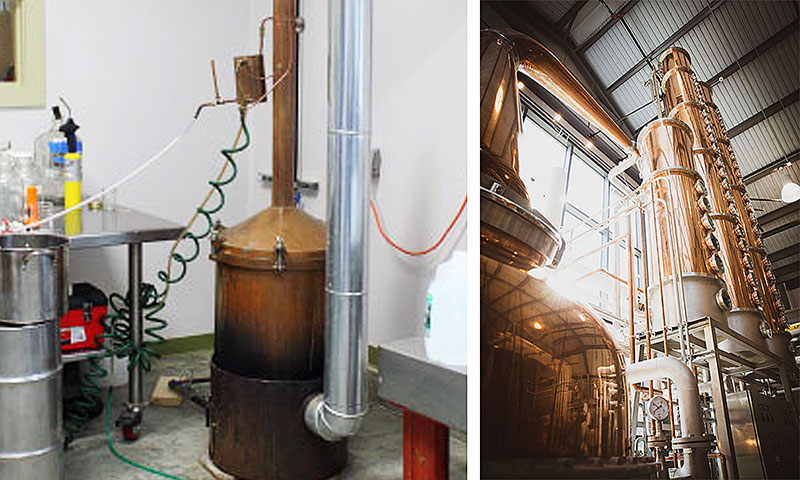 The original still, left, and the current one, right.
Barr Hill Gin
This gin technically falls under the Old Tom category, and with apologies (barely) to Hardie and Christiansen, it is ghastly.  There are plenty of rave reviews on the interwebs about this horrible potion, and all of those, including the one on  liquor.com, baffle me.  The very last thing to do with this gin is to drink it neat.  From the producers, "It is distilled with juniper in a custom-built botanical extraction still and is finished with raw honey – the delivery vessel for countless other botanicals and a hint of sweetness – to perfectly balance the juniper."  O … M … G.  There is more than a "hint" of sweetness, and I don't want any sweetness in my martini.  Plus, the juniper is way out of balance.  I like a strong juniper presence in my gin, but with nothing but the honey to offset it, this is JUNIPER, with a taste much more like needles than berries.  (And to be clear, I'm not afraid of pine notes.  I'm the only person I know that enjoys Retsina.)  My wife and I got through two sips, and down the drain our martinis went.  The following day, it did make a barely serviceable Negroni, but hell, Campari will mask just about anything.  Unfortunately, that weird pine flavor still came through.  Finally, this gin ain't cheap, coming in at about $40 per bottle.  Buy one at your own risk.
Top of page: https://winervana.com/blog/