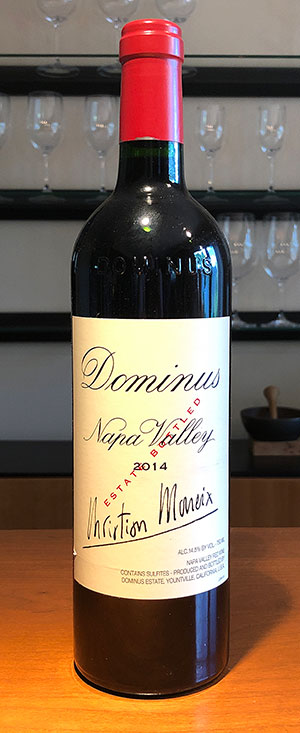 OK, let me be clear up front: with an MSRP of $250, this is definitely not a bottle for the casual wine drinker.  But my well-healed and generous step-daughter bought it for me, so here it is.
Dominus Estate is owned by Christian Moueix, one of the few winemakers to produce classic wines in both the old and new worlds, and he is also one of the most well-known. The son of Jean-Pierre Moueix, a Bordeaux wine merchant, he  was born in Libourne, France in 1946. After completing his agricultural engineering studies in Paris and graduate studies in viticulture and enology at the University of California at Davis in 1968-69, he joined his father's company in 1970 to manage the family vineyards, and in 1991 became its president. He oversaw the legendary Chateau Petrus for 38 years, ending with the 2008 vintage.
He remained drawn to Napa Valley as well, and in 1981 he was made aware of the historic Napanook vineyard, a 124-acre site west of Yountville that had been the source of fruit for some of the finest Napa Valley wines of the 1940s and 1950s.
In 1836, George C. Yount, the founder of Yountville, planted the first vines in Napa in this vineyard.  Owners since have included Hugh La Rue, a pioneer in the development of rootstock, and John Daniel Jr., the owner of Inglenook Winery who bought the estate in 1946.
Following Daniel's death in 1970, Napanook passed to his daughters Robin Lail and Marcia Smith.  They began a partnership with Moueix in 1982, acting on a recommendation by Robert Mondavi.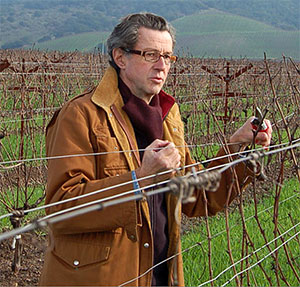 Moueix applied what he had learned both in France and California to the project. His focus has been on dry-farming techniques to sustain a sound ecology, as well as a means to produce grapes of the finest quality. Dry farming relies on a deep root system to take advantage of natural water sources from rain and underground supplies. Electric golf carts are used extensively on the property to conserve gasoline, minimize dust, and reduce soil compaction. Owl boxes and bluebird houses provide homes to natural predators of vine pests and rodents.
Eventually, in 1995, Moueix became the estate's sole owner, renaming it 'Dominus' (Lord of the Estate in Latin) to underscore his longstanding commitment to stewardship of the land.  He expanded Dominus in 2008 with the addition of a 40-acre vineyard in Oakville.
The Winery

The first thirteen vintages of Dominus were crushed and aged at the nearby Rombauer Winery.  However, in 1995 Moueix commissioned the design of a new $5 million, 50,000 sq ft facility by Swiss architects Jacques Herzog and Pierre de Meuron,  Completed in 1997 , the Dominus Estate winery is dramatically low-slung, integrated into its landscape and offering panoramic views of the surrounding vineyard and hillsides.
The winery was Herzog and de Meuron's first project outside of Europe. The architects have since designed numerous renowned buildings, including the Tate Modern in London, the Allianz Stadium in Munich, the Prada boutique in Tokyo, the de Young Museum in San Francisco, and the "Bird's Nest" stadium in Beijing. In 2001, they were awarded the Pritzker Prize, contemporary architecture's highest award.
The Winemaking
Separate fermentation is done on a lot-by-lot basis. Berry clusters are hand-sorted, complemented by an optical berry-sorting system. Gentle pumping-over is done to extract as much aroma, color, and tannins as desired. Racking is barrel-to-barrel in 100% French oak to remove sediment and assure clarification of the wine during aging, and egg-white fining eliminates impurities.
Dominus 2014
2014 in Napa Valley was characterized by a very dry early winter, with heavy rains in February and continued rainfall in March and April.  Average temperatures were higher than historical averages, with minor heat spikes in June and in July. No heat spikes were recorded in August or September.
This wine is a blend of Cabernet Sauvignon: 86%, Petit Verdot: 7%, and Cabernet Franc: 7%.  It is an inky deep red/purple, with  cardamom and forest floor aromas.  There are booming flavors of blackberry and cocoa on the tongue., offset by very dry tannins.  Dominus is very much in the European style (predictably, considering Moueix's experience on both sides of the Atlantic.)  The finish is long and silky.
This Dominus was aged in French oak, 40% new, and 4300 cases were produced.
Top of page: https://winervana.com/blog/