Duckhorn Vineyards was co-founded by Dan and Margaret Duckhorn in 1976. On their first vintage, 1978, they released 800 cases of Cabernet Sauvignon and 800 cases of Merlot. Partly due to a wonderful growing season that year, 1978 turned out to be an excellent first vintage, one that buttressed Duckhorn's belief that great wines begin in the vineyard, "It was a great year," he reminisced. "We could have made wine out of walnuts." Sauvignon Blanc was added to the list in 1982. In 2005, the San Francisco Chronicle proclaimed Dan Duckhorn its "Winemaker of the Year" and named four of his wines to its list of "Top 100 Wines of 2005."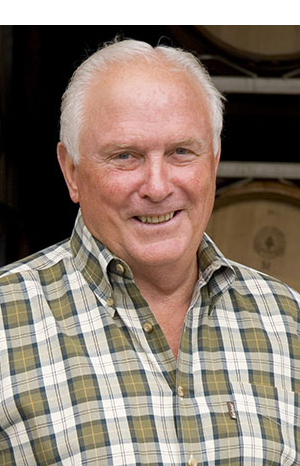 Dan Duckhorn
Early on, the Duckhorns decided to focus on the production of Merlot. At the time, few Napa Valley producers were exploring the potential of this varietal as a standalone wine. But, Dan Duckhorn became a great fan of Merlot during his travels in the mid-'70s to St. Emilion and Pomerol. He felt that this varietal was underappreciated in North America. "I liked the softness, the seductiveness, the color," says Dan, "the fact that it went with a lot of different foods; it wasn't so bold, didn't need to age so long, and it had this velvety texture to it. It seemed to me to be a wonderful wine to just enjoy. I became enchanted with Merlot."
Soon after establishing his winery, Duckhorn met up with Ric Forman. He was the winemaker at Sterling Vineyards at the time, and when he heard that Duckhorn was looking for some Merlot, he gave him a call, "I've got a vineyard you have to see." Forman took Duckhorn up to the Three Palms Vineyard in Calistoga. Forman also recommended a winemaker by the name of Tom Rinaldi. When Rinaldi rolled up to the winery on a motorcycle looking like "a flower child," as Margaret Duckhorn called him, they had no idea what they were in for. But, it worked out because Rinaldi ended up as the Duckhorn winemaker for the next 20 years.
Margaret Duckhorn
From the first vintage, Margaret took an active role in the day-to-day operations of the winery, hand-sorting the fruit and working alongside Rinaldi during blending. Later, she began focusing on marketing and international public relations to promote Duckhorn Vineyards. Over the years, she also helped to articulate Duckhorn Vineyards' philosophy and core values. "We recognize the importance of taking care of this remarkable place, and of giving back to the community that has given us so much. In addition, we make certain that our practices at the winery and in our vineyards are sustainable."  After the Duckhorns divorced in 2000, Margaret pivoted to advocating for the Napa Valley wine industry, working both locally and globally to protect and promote the region.
The first few years were simple, with only three stainless steel tanks under a big oak tree and hand-cranked basket presses. For the first vintage in 1978, they only harvested 28 tons of grapes into apple lug boxes, half Cabernet Sauvignon and half Merlot. Everything was hand-picked and sorted extensively. Duckhorn's trip to France had also introduced him to the Nadalie family who were barrel builders, and he decided that brand new French oak was the way to go. Those first few vintages were cellared exclusively in Nadalie coopered barrels.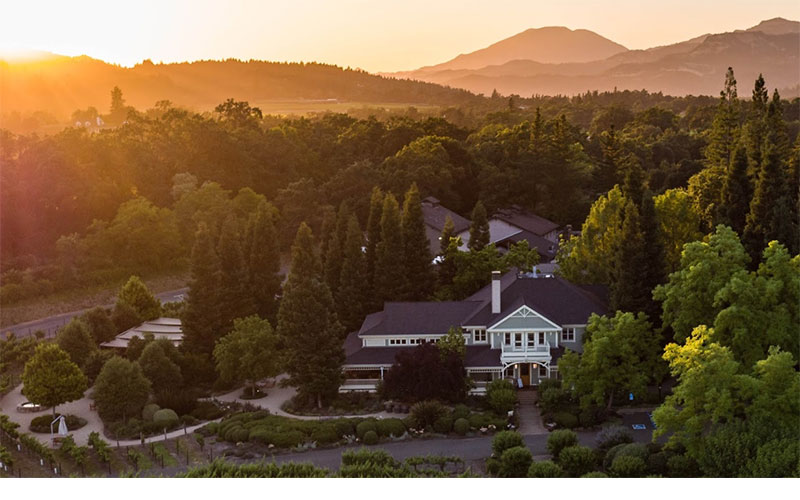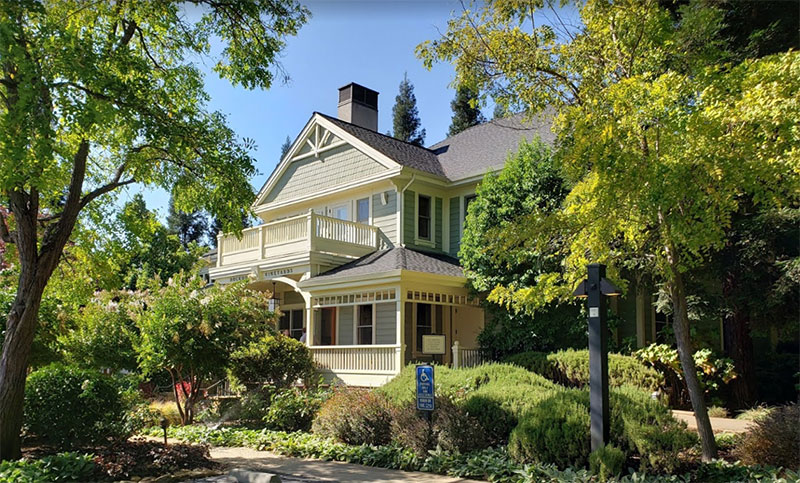 The Duckhorn Visitor Center (bottom photo: Zaiya Mikhael)
In 1982, Duckhorn made its first white varietal wine, Sauvignon Blanc. With the expansion of the winemaking program came a need for more fruit; this is when Duckhorn began acquiring some of the properties that are still important today. Two of the first vineyards purchased were Patzimaro Vineyard in 1989 and Monitor Ledge Vineyard in 1992. Today, the winery's seven estate vineyards are located on 168 acres (68 ha) in alluvial fans of the Napa Valley and on the slopes of Howell Mountain. There are an additional 153 acres (62 ha) of four estate vineyards in the Anderson Valley in Mendocino County.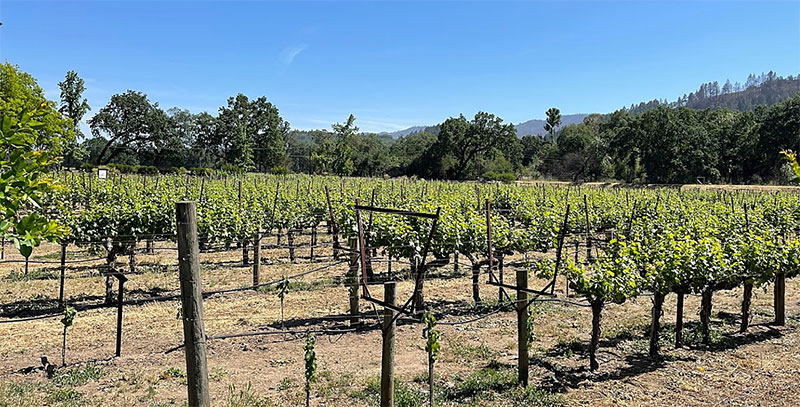 Two of the valley vineyards (bottom photo: Phil Guertin)
The mountain has distinctly different grape-growing conditions than the valley floor. Often during summer months, the maritime fog seeping into the Napa Valley below will not reach the mountaintop, giving Howell Mountain more sunlight and moderate temperatures.  The shallow and rocky soil drains easily, forcing the vines to send roots deep in search of water. And, the rocks retain the day's heat, protecting the vines during cold spring mornings and foggy summer nights.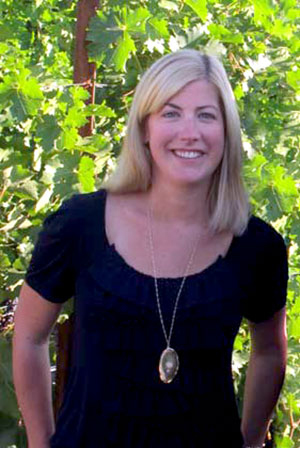 Duckhorn's current winemaker, Renee Ary, has numerous vineyard blocks to choose from, each offering markedly different flavor profiles. She strives to understand the needs and opportunities presented by each specific terroir and microclimate. By approaching each vineyard block individually, Ary's goal is to harvest when the flavors have reached their peak and the tannins are at their softest. Grapes are hand-picked and hand-sorted prior to crushing, as they have been since the beginning. In addition, some vineyard sites are even harvested several times, selecting only the ripe fruit with each pass through the vineyard.
In the winery, Ary blends from almost 200 distinctive lots using taste and instinct, not formula. Wines are barrel-aged separately by vineyard lot, utilizing an extensive barrel program that sources 25 different types of oak from 13 separate cooperages. The majority of the barrels are made from French oak in the Bordeaux Chateau style. These barrels breathe easier, encouraging the wines to develop. Duckhorn also employs many water-bent barrels, a process which removes harsh tannins from the wood, bringing about toasty, caramelized flavors.
In July 2007, a controlling interest in the company was sold to GI Partners, a private equity firm, at a price believed to be over $250 million. The company was sold to another private equity firm, TSG Consumer Partners, in 2016. The operation continues to expand under this ownership. In addition to Duckhorn Vineyards, Duckhorn Wine Company also operates Goldeneye [1996], a maker of Pinot noir in Anderson Valley, and Paraduxx, a blend of Zinfandel and Cabernet Sauvignon made at a winery on the Silverado Trail between Yountville and Oakville, California. The company also produces second wines under the names Decoy [1985], made from Alexander Valley fruit not included in Duckhorn, Migration [2001], made with grapes from Anderson Valley and the Sonoma coast, and Canvasback [2012] a maker of Cabernet Sauvignon in Washington state's Red Mountain appellation.
Duckhorn also controls Greenwing, which makes Cabernet Sauvignon in Washington's Columbia Valley, and Postmark, a maker of Cabernet Sauvignon sourced from the increasingly reliable Paso Robles region.
Finally, two formerly independent wineries are now also under Duckhorn's wing. Calera, founded in 1975 by Josh Jensen, is known for their Central Coast Pinot Noirs. Kosta Brown, dating back to 1997, is one of Sonoma's premier producers of Pinot Noir and Chardonnay.
Duckhorn Vineyards Napa Valley Cabernet Sauvignon 2017
A blend of 87% Cabernet Sauvignon, 12% Merlot, 0.5% Cabernet Franc, and 0.5% Petit Verdot, from Duckhorn's estate vineyards and top Napa Valley growers, this wine was aged for 16 months in French oak barrels, half of them used, that restrained the oakiness.  This dark purple selection begins with moderate aromas, primarily vanilla and rich dark fruit, especially berries.  These continue in the mouth, backed up by black currant, tart cherry, and an earthy finish that has a hint of bitterness.  1,600 cases were produced, and the ABV is 14.5%.