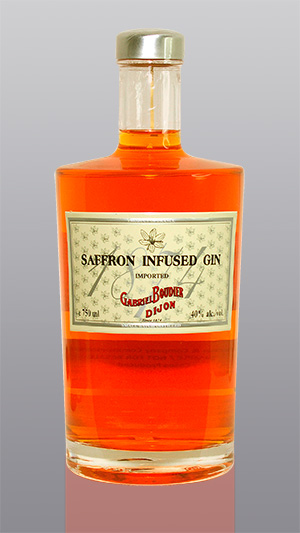 In 1909, Gabriel Boudier took over the house of Fontbonne, founded in 1874, and renamed it after himself. He established the business at Boulevard de Strasbourg in Dijon, France, where it continued to thrive until his death in 1918.
In 1936, his widow sold the house to Marcel Battault, who decided not to change the trading name because of its high-quality reputation, He, in turn, handed the business to his nephew Pierre in 1941. In the years since, four more Battaults, Jean, Yves, Francois, and Claire have joined the firm and enjoyed the company's penchant for nepotism.
Boudier makes a comprehensive line of Crème de Cassis de Dijon, for which they are most famous, Crème de Fruits, eaux de vie (unaged brandy), liqueurs, and the saffron-infused gin which we're focusing on here.
Introduced in to the US market in 2008, Boudier Saffron Infused Gin is based on a artisanal colonial French recipe rediscovered in the Boudier archives. It is distilled in small batches using a traditional pot still.
The saffron in this dramatically golden-orange-hued gin is more subtle than its appearance suggests (it is artificially colored). The saffron adds a nuanced spiciness and slightly-honeyed balance to the traditional gin botanicals of juniper, coriander, lemon, orange peel, and fennel.
What to do with this unusual spirit?  Here's one idea:
Saffron Peach Cocktail
3 oz. GB Saffron gin
1 oz. peach syrup
1/2 oz. fresh lemon juice
1/4 oz. agave nectar
Shake and garnish with a fresh peach slice.
A few other ways to enjoy this unique gin are 'up' in a martini glass (skip the vermouth); on the rocks; mixed with tonic and garnished with an orange wedge; or to put a new twist on a Negroni. 80 proof.
www.boudier.com/en/produit/saffron-gin/
Top of page: https://winervana.com/blog/