My first career paths as a young man were art and architecture.  I have a Bachelor's degree in architecture, and got half way through a Master's in fine-art printmaking.  I ended up traveling neither of those avenues professionally, but have remained keenly interested in both ever since.  So, I was intrigued to learn of Imagery Estates' commitment to fine art.
In 1973, newlyweds Mike and Mary Benziger drove west and permanently settled in Northern California. Seven years later, Mike and and his brother Bruno Benziger purchased the historic Wegener Ranch on Sonoma Mountain in Glen Ellen, California. Hearing the Sirens' call of the Golden State, over the next six years the four remaining siblings — Bob, Joe, Jerry, and Patsy, with their spouses — made their way to California.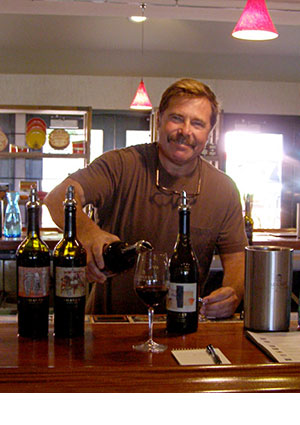 Joe Benziger
In 1986, winemaker Joe Benziger first partnered with artist Bob Nugent to launch the Imagery Series of wines in a converted brewery. This pairing of wine and art continues to this day, and permeates every aspect of Imagery Winery, including unique artwork replicated on every label.  The winery's dedicated on-site art gallery features 500 works from over 300 notable contemporary artists. Usually, between 60 and 150 pieces are on view in the gallery at any one time. Contributing artists have been selected from around the world, including: Sol LeWitt of Connecticut, Shoichi Ida of Japan, William Wiley of California, Goncalo Ivo of Brazil, David Nash of Wales, and Judy Pfaff, Pat Steir, and Terry Winters of New York. The artists are specially commissioned by Imagery to create a new and original piece; unsolicited submissions from others are not considered. At any given time, as many as 35 artists are working on pieces that will appear on future Imagery wine labels. Of the 200 or so artists reviewed each year, only five are actually offered a commission. The artists are not limited by size, medium, or content, except for one requirement.  It can be either representational or abstract, but every image must include the Benziger Estate's "Parthenon." it was on the property when the Benzigers first arrived and overlooks the rolling vineyards.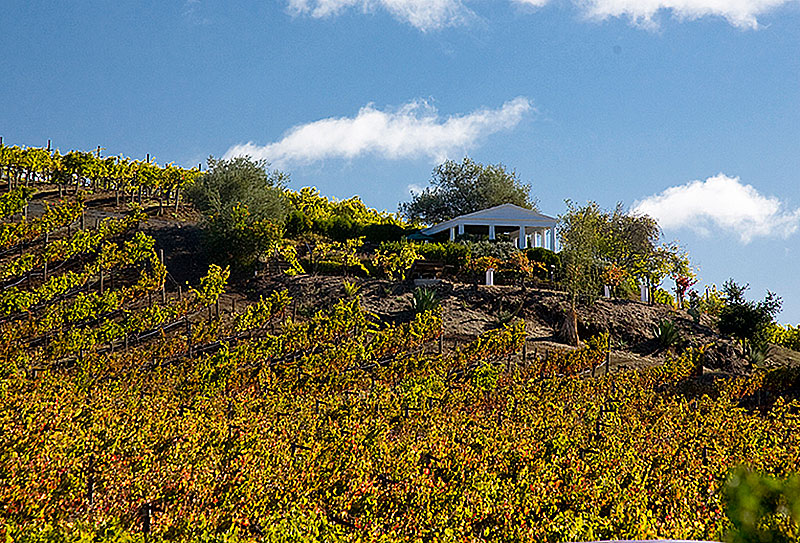 In December 2017, Joe Benziger retired, and his daughter Jamie took over as second-generation winemaker. She was named the 2019 Best Woman Winemaker in the International Women's Wine Competition, and was also included on Wine Enthusiast's list of 40 Under 40 Tastemakers.
Although she studied marketing at Loyola Marymount University, Jamie eventually came to realize she wanted the family wine business to be her future after all. Jamie transferred to Sonoma State University to complete her marketing degree, and added wine business to her studies. She interned in marketing with Gundlach Bundschu Winery during school, but while working her first harvest  at Benziger Jamie realized her heart was really in winemaking.
Since then, Jamie has aggressively pursued her knowledge of wine, working in the wine labs at St. Francis and Bogle, traveling to New Zealand to work harvest at Villa Maria, and getting her hands dirty in the field at Enterprise Vineyards. Mentored by her father and just as adventurous, Jamie says she is, "passionate about taking Imagery to a broader audience."
Imagery Petite Sirah 2016
The origins of Petite Sirah (aka Petite Syrah) have been shrouded in mystery and confusion.  It was originally thought to be related to the renowned Syrah of France's Rhône region. Then it was decided it was actually Durif, a minor Rhône varietal now nearly extinct. But then along came pesky science, and a DNA analysis in the late 1990s identified the grape as a cross between Syrah and Peloursin.  It is grown much more extensively in California than France, but can also be found in Argentina, Brazil, and Mexico. Somewhat disparaged at the turn of this century, it is now enjoying a renewed popularity.
Petit Sirah can make big, full-bodied wines, and this selection is an excellent example.  Imagery likes to call this a "toothbrush wine" because of its deep color and bold flavor (although dentists caution against brushing your teeth soon after drinking wine, as the lingering acidity can damage tooth enamel by doing so.)
Made by Joe Benziger not long before he turned the winemaking over to Jamie, the fruit for this wine was sourced from the
Shell Creek
vineyard in Paso Robles, one of Imagery's longest-standing grape suppliers. The wine itself is dark inky purple, with a nose of blackberries and plums.  These continue on the palate, with a plush, full body, and big but controlled
tannins
. This was accomplished by tasting the juice at every pump over, to assure that the tannins did not become excessive. Jammy concentrated fruit comes  through mid palate, with a lingering richness on the finish. The
ABV
is 14.6%, and 1074 cases were made.
The label artist is Robin Denevan of San Francisco, California.  The image is part of Denevan's River Series, and is an encaustic painting, a mixed media technique that involves using heated beeswax to which colored pigments have been added. The liquid/paste is then applied to a surface — usually prepared wood, although canvas and other materials are also used. The term is derived from Greek, meaning
a burning in
. A subtle reflection of the "Parthenon" is shown in the water in the bottom third of the picture.
https://robindenevan.com/
Imagery Gee eS eM 2017
This too-cutely named (for my taste anyway) blend is made from 35% Grenache, 35% Syrah, and 30% Mourvèdre sourced from a number of North Coast vineyards. GSM, as it's more commonly referred to, is a mix traditionally produced in the Côtes du Rhône region. It is also a favorite of the so-called "Rhône Rangers," a group of American winemakers who promote the production of wines containing at least 75% of the 22 Rhône grape varieties. This is Jamie Benziger's first solo effort.
Dark garnet in the glass, this wine starts with aromas of figs and roast plums and a bit of vanilla. These are followed by flavors of strawberries and tart cherries. There is just the right amount of acidity, and the soft tannins are restrained. The silky structure all wraps up in a nice long finish. The ABV is 14.9%, and 558 cases were produced.
The art adorning this bottle is by Santa Rosa artist Sami Lange. ​It is one of her paper collage "quilts" that are created by hand cutting, dying, and stitching thousands of circles to create intricate meditative patterns. The fuchsia "Parthenon" arises from a field of orange.
https://www.samilangeart.com/
Return to blog posts: https://winervana.com/blog/