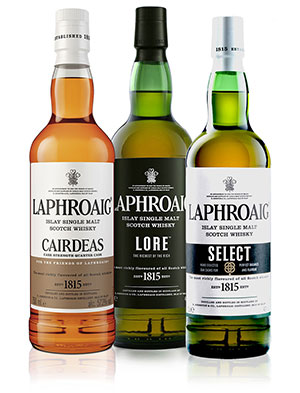 By Spirits Contributor
Neal Kotlarek
Laphroaig (La-'froyg) literally means "the beautiful hollow by the broad bay." The secret to Laphroaig is that it benefits from the happy circumstances of where it is produced—next to ocean water and on land that gives Laphroaig a unique peaty taste. It is one of only a few distilleries that still uses traditional malting floors, and dries and infuses its own malt with the thick smoke from old peat-fired kilns.
The History
Around 1810, two brothers, Donald and Alexander Johnston, leased 1000 acres from the laird of Islay for rearing cattle.  They require "feed" barley to sustain them during the long winter months, and often there is a surplus.  But, what do you do with it? For an Islay Scotsman there is only one thing to do: distill whisky.
Word soon spread around Islay that the whisky being produced at Laphroaig was particularly good, in part because of their water being very soft and lacking in minerals. In short order, it became  more profitable to distill whisky than raise cattle, and in 1815  Laphroaig whisky was "officially" born.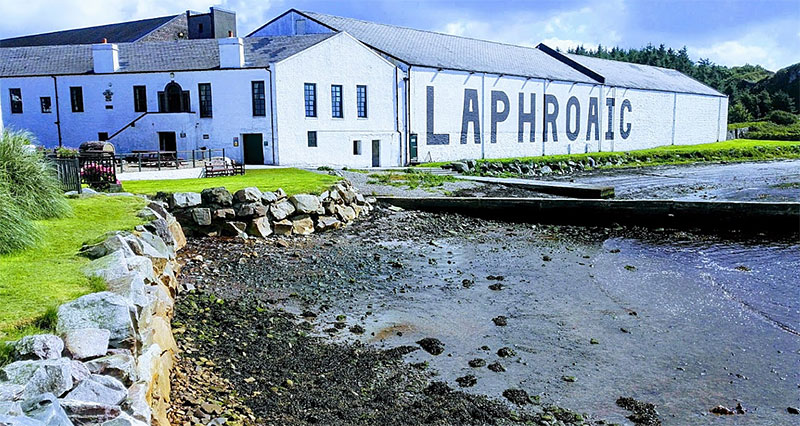 x
In 1836, Donald bought out his brother Alexander for £350.  He later emigrated to Australia, where he died in 1881. Unfortunately, Donald only lived until 1847. It is believed that he died after falling into a vat of partially-made whisky, a fitting end if true. Donald's only heir was his son, Dugald. At just 11 years old, he was too young to take over, obviously, so the distillery was looked after by his uncle, John Johnston, and a local farmer, Peter McIntyre.
By 1857, Dugald Johnston was old enough to take over the running of the distillery, assisted by his cousin, Alexander Johnston. Together they ran the operation until Dugald died in 1877.
Alexander died in 1887, and the distillery was inherited by his sisters, Mrs William Hunter and Katherine Johnston, and his nephew, J. Johnston-Hunter.  That same year, the leading whisky journalist of the time, Alfred Bernard, reported. "The whisky made at Laphroaig is of exceptional character. The distillery is greatly aided by circumstances that cannot be accounted for… largely influenced by the accidents of locality, water and position."
Ian Hunter took over the running of the distillery in 1921, and revitalized it after years of costly disagreements with nearby competitors.
By 1923 the Laphroaig capacity had doubled, and the malting floors (where the barley germinates into malt, prior to fermenttion) as they now stand, were completed. A new wash still and spirit still were erected.  Hunter, being a stickler for detail, insisted they be exact duplicates of the originals.
With the increased production, exports grew to Latin America, Europe, and Canada. Even Prohibition America was targeted.  Ian managed to persuade US customs and excise officials that the whisky's pungent seaweed or iodine-like nose was evidence of Laphroaig's medicinal properties. A skillful salesman, indeed.
Bessie Williamson left Glasgow University with an MA in 1932. In her search for regular employment during the ongoing Depression, she kept in close touch with her uncle Willie, who was accountant to none other than Ian Hunter. One summer, Hunter wrote to Willie asking if he knew of a reliable woman for a summer office job. Bessie jumped at the chance, and arrived unaware that it would be 40 summers before she left.
Hunter was the last of the family line. The firm's secrets had been carefully guarded by the family over the years, and Ian was incredibly protective with regards to the distillery, its setup, and the whisky's recipe. However, in Bessie he found a person that had passion, integrity, and the drive to maintain the traditions of Laphroaig. So, over the years, he passed on to her all the distillery knowledge he had acquired.
Hunter died in 1954, bequeathing the distillery to Williamson.  She took the reigns as one of the first female owners and distillers in the industry. She was a pragmatist, and knew that for Laphroaig to continue to grow, it needed the support of an international group, one that would continue the old traditions but had the financial muscle to carry the brand through to new global markets. So, between 1962 and 1967 she gradually sold the operation to Seager Evans & Co (a subsidiary of Schenley International).
Williamson retired in 1972, and died 10 years later. John McDougal, who succeeded her as distillery manager, reminisced, "It was an honour to work with Bessie Williamson, and I will never forget her words of wisdom. They have stood me in good stead the years since she left the office next to mine. So far as I am concerned, she has never left Laphroaig."
Over the course of the 1980s, Laphroaig's reputation grew under a succession of managers. McDougal was followed by Denis Nicol, who in turn was replaced by Murdo Reed.  Iain Henderson arrived in 1989.  His 14-year tenure marked the dawn of a new era, one that saw the distillery being granted a Royal Warrant by Prince Charles and the accumulation of a raft of top-class awards.
In 1990, the distillery was sold to Allied Spirits, a subsidiary of Allied Lyons, which in 1994 changed its name to Allied Domecq after acquiring the Spanish brandy and sherry giant Pedro Domecq. It was during this time that Laphroaig 10 Year Old became the world's fastest-selling single malt.
In 2005, Allied Domecq was acquired by Pernod Ricard, which immediately sold Laphroaig to Fortune Brands, rebranded as spirits specialist Beam, Inc. in 2011.
John Campbell was named distillery manager in 2006, fulfilling a 12-year-old ambition. He is the first Ileach (native of Islay) to run the distillery in its over 200-year history.
Three of the Whiskys
Laphroaig Cairdeas
Each year, Campbell crafts a limited-edition malt to celebrate friendship ("Cairdeas" in Gaelic).  (Visit the distillery's web site for information on the most recent selection.)  For 2017, Laphroaig Cairdeas Quarter Cask offered a doubling of flavor, due to maturation in pairs of American oak barrels. The 2017 Cairdeas featured different ages of Laphroaig matured for more than five years in first-fill bourbon casks, then laid to rest for a second time in smaller quarter casks. After six months of further maturation, the liquid from 177 of the casks was bottled at Cask Strength — no color added, no chilling, and a simple barrier filtration. The flavor features a sweet vanilla dryness that develops into a creamy, oily mouth-feel with bitter licorice root and a throat full of smoke. The finish is long, creamy, and (predictably) smoky.
Laphroaig Lore
This whisky is rich and deep with smoke, peat, and seaside minerality. The flavor is the result of liquid being drawn from a selection of casks, including first-fill ex-Bourbon barrels, virgin European oak, first-fill Oloroso Sherry butts, first-fill and refill quarter casks, and refill ex-Laphroaig stock. The taste is richly peaty with a spicy chili bite. The finish is short and dry, but with an unexpected long, sweet aftertaste.
Laphroaig Select
This expression brings selections of Quarter Cask, PX Cask, Triple Wood, and 10 Year Old together to create a subtle blending of peat, oak, and sweetness. The spirit sees a final maturation in new American Oak casks. For the last six months of aging, Select rests in the highest, warmest reaches of the Laphroaig warehouse during the Scottish summer. On the palate, this whisky is deep, complex, and smoky, with a bit of sweetness. The long finish features smoke and spice.
Top of page: https://winervana.com/blog/