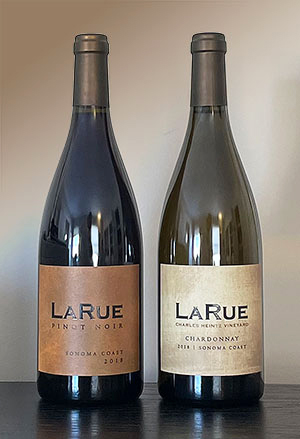 March is Women's History Month, and an apt time to feature  winemaker Katy Wilson, one of the few but growing number of women in the wine industry.
Wilson founded  LaRue Wines in 2009 when she was just 26, but already had years of experience.
For Wilson, there was never a "Plan B" career path.  She grew up on a walnut orchard in California's Central Valley and felt an affinity for the land from a young age.  True to the cliché, she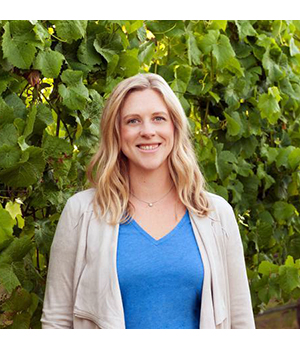 learned to drive a tractor before she could drive a car.  Following high school, she pursued her higher education in the Agricultural Business program at Cal Poly, San Luis Obispo.  During her first semester there, she was exposed to the possibility of a life in wine, and the die was cast.  After graduating with degrees in Wine and Viticulture and Agricultural Business, her odyssey began.
The first stop was Testarossa Winery in Los Gatos, California, where she scrubbed the facility and discovered the possibilities of Pinot Noir.  Next, a big move to Torbreck Vintners in Australia's Barossa Valley, where she was given the chance to work with some of the oldest vines in the world.  Then it was back to California, specifically Napa Valley, where she spent a year making Cabernet Sauvignon at the famous Joseph Phelps Vineyards.  The peripatetic Wilson then went half-way around the world once again, to work  at Craggy Range in Hawkes Bay, New  Zealand.
Finally, she landed on the Sonoma Coast at Flowers Vineyards & Winery, famous for their Pinot Noir and Chardonnay.  While there, Wilson worked her way up from harvest enologist to assistant winemaker, and realized the Sonoma Coast would be where her wandering would end, but not before a stint at Kamen Estate Wines in 2009 as the associate winemaker, making big, bold Cabernet Sauvignons and Syrahs there for five years.
That same year, 2009,
Wilson launched her own winery, LaRue Wines, as well.   It  is named in honor of her great-grandmother, Veona LaRue Newell, who Wilson has described as inspirational and unique; others have used the adjectives bold, independent, and feisty.  Regardless, there was a strong bond between the two.  The winery is very much a boutique operation, focusing on small lots of Pinot Noir and Chardonnay, with total production limited to just 500 cases.   Drawing on the cool conditions and remote coastal vineyards of the Sonoma Coast, Wilson strives for wines that are complex and vibrant with elegant acidity, and that drink well when young but also age gracefully.  She is guided by a steadfast, non-interventionist winemaking philosophy that champions the land from which the grapes come.
Still young and with energy to spare, Wilson also works as a consulting winemaker, partnering with Banshee Wines from 2012 to 2018, Claypool Cellars from 2012 to 2020, Anaba Wines since 2014, Reeve Wines, and Smith Story Wine Cellars all, predictably, in the Sonoma region.  "There are so many different types of consultants and reasons why you would hire a consultant, from winemaking knowledge to vineyard connections to marketing," says Wilson. "Some wineries already have a full-time winemaker but are in need of advice or guidance in a particular area or to address an issue. Others hire a consultant to work as the winery's sole winemaker."
Wilson operates in both capacities. "My path to where I am today has been almost like a 'choose your own adventure book!' " exclaims Wilson.  "As I worked my way up in the winemaking world, I learned very quickly that in addition to maintaining a 'never-stop-learning' work ethic, relationships are everything in this surprisingly small industry."
Wilson has her signature style for LaRue (which she calls "very hands-off"), but she tailors her approach to fit the  the vision of the other winery owners she works with through lots of conversation, side-by-side work, and tasting. "As a consultant, I look at what I do as a collaboration. The wines that I make for my own winery, LaRue, are different than any wines that I am making for my clients," says Wilson.
She was touted as a "Winemaker to Watch" by the San Francisco Chronicle in 2013.
The Vineyards from which these wines were drawn
"For more than a decade, I have been devoted to showcasing small lot Pinot Noir and Chardonnay exclusively from a particular sliver of the Sonoma Coast that lies 7 to 10 miles from the Pacific Ocean and is heavily influenced by the coastal marine weather.  Each site has a special fingerprint that I try to capture and express," shared Wilson.
Charles Heintz Vineyard

Since 1912, the Heintz family has owned and operated this site just east of the town of Occidental. It is a highly sought-after vineyard for premium wine producers for its quintessential expression of Sonoma Coast Chardonnay.  Wilson has been producing a Chardonnay from this property since 2014.  Her 2018 product is reviewed below.
Thorn Ridge Vineyard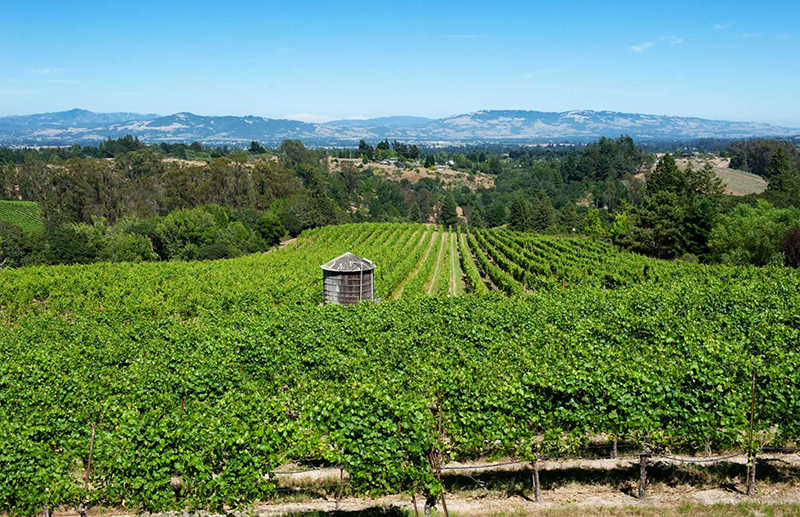 Ted Klopp and his daughter, Lauren Klopp-Williams, farm Thorn Ridge Vineyard. Wilson started working with this vineyard in 2014.  The east-facing orientation of Thorn Ridge enjoys ample morning sun, resulting in fruit that is more rustic and has a darker character than that of the other Pinot Noir vineyards LaRue sources from.  It is planted on Goldridge sandy loam soils. Thorn Ridge is located just west of the town of Sebastopol, which features a heavy marine influence.
Rice-Spivak Vineyard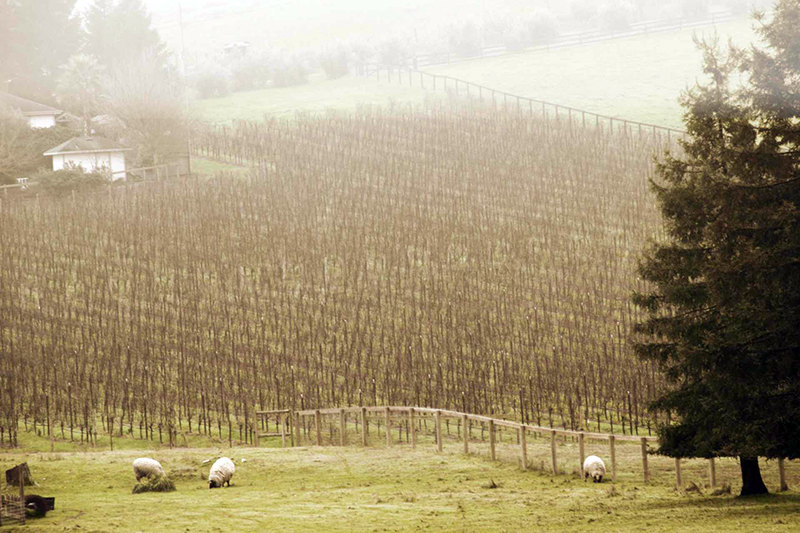 Planted in 1999 and owned by Russell Rice and Helene Spivak, Wilson has been working with this vineyard since LaRue was founded. Wilson first met Russell and Helene in 2007 during her time as the assistant winemaker at Flowers Winery.   This six-acre, cool, north-facing site lies south of the town of Sebastopol.  Its Goldridge sandy loam soils are, unusually for this area, mixed with volcanic ash.
Emmaline Ann Vineyard
Emmaline Ann is a three-acre vineyard planted in 2001 by owners Wayne and Nancy Hunnicutt, and is named after Nancy's grandmother. Like the Spivaks, Wilson first met the Hunnicutts in 2007 during her time at Flowers Winery.  All of LaRue's tastings are staged here, as well as the annual LaRue Wines Summer BBQ.  This small  vineyard faces southwest toward the Pacific Ocean and is frequently enveloped in fog.
LaRue Wines Charles Heintz Vineyard Chardonnay 2018
The fruit for this Chard was sourced entirely from the Charles Heintz Vineyard and then aged for 17 months in once-used French oak.  It pours a clear bright yellow, and the nose offers up aromas of mango and grapefruit,  with a touch of lemon meringue. The palate features a full, smooth mouthfeel and flavors of lemon and creme brûlée, all supported with mouthwatering acidity and a hint of vanilla. Production was 75 cases.  ABV is  13.1%.
LaRue Wines Sonoma Coast Pinot Noir 2018
Wilson drew on three vineyards for this selection:  46% from the Thorn Ridge Vineyard, 38% from the Rice-Spivak Vineyard, and 16% from the Emmaline Ann Vineyard.  The wine saw 20 months in French oak barrels, 20% of which were new.  It is a quite pale cherry red, but looks can be deceiving.  It starts with aromas of dark stone fruit, particularly plum, followed by predominantly strawberry on the palate, with some cranberry.  Hints of violets and vanilla lead to a medium finish. It all wraps up with zippy acidity and delicate tannins.  Wilson made 125 cases.  ABV is 13.3%.
Photography by Courtney Dawn Photography
Top of page: https://winervana.com/blog/