Le Creuset Wine Opener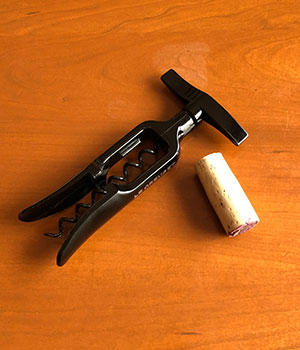 Is this really the best corkscrew?  With hundreds of devices on amazon alone for opening wine bottles, some costing hundreds of dollars, I realize this is a bold claim.  But yes.  For the money, the Le Creuset Wine Opener simply can't be beat.  It's dead-simple to use, and works correctly every time.  The Teflon-coated worm pierces the cork with ease, and simply continuing to turn the handle then extracts it smoothly.

This corkscrew was originated by Hallen International Inc., and sold for years under the Screwpull trademark.  In 1991, Le Creuset acquired the Screwpull line, but didn't rebrand it until the early 'teens.  Le Creuset makes a number of other corkscrews, including a cheaper model that resembles this one.  Although it operates on the same principle, it is flimsier, prone to breakage, and gets mixed reviews on Amazon. 
Although nothing lasts forever, in 30 years I've only owned three copies of this Le Creuset Wine Opener, one of which was broken by a rowdy party guest.
Top of page: https://winervana.com/blog/