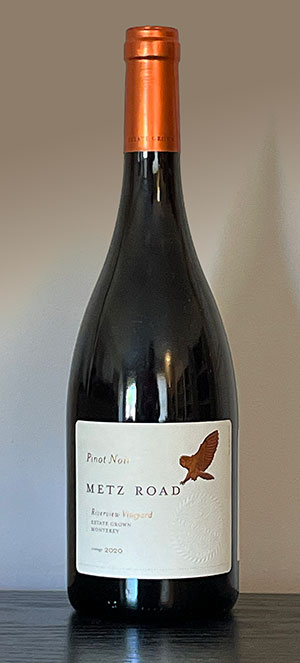 Scheid Family Wines got their start in 1972 when Al Scheid first purchased property in Monterey County and wine grape growing there was in its infancy. Scheid was drawn to the region for what he considered its untapped potential, for making money as well as farming.  Scheid was running his own investment company at the time.  A graduate of Harvard Business School and an investment banker, he realized that vineyards could make an excellent tax shelter, with their usual heavy investment on the front end and no income until at least five years later.  Originally named Monterey Farming Corporation, the enterprise he founded was a limited partnership; the tax laws at that time allowed investors to offset losses in one business against regular income from another one elsewhere.  And even before one acre was planted, Scheid, shrewd operator that he was, had found a customer for 100% of the grape production he anticipated (although, I'm guessing, not allowing revenue to outpace expenses, for a few years at least).
A hard-nosed origin story, for sure.  But Scheid was a firm believer in Mark Twain's quote: "If you tell the truth, you don't have to remember anything." So the truth is what it is.
Scheid brought his eldest son, Scott, who had been working on Wall Street as an options trader, into the expanding business in 1986.  (He is now CEO.)  In 1988, Kurt Gollnick, an admired viticulturist who had previously farmed for Bien Nacido Vineyards, was brought on as General Manager of Vineyard Operations.  A few years later, Scheid's daughter Heidi, who had been working as a business valuation consultant after earning her MBA, also joined the operation.
Initial plantings were heavy on Colombard, Chenin Blanc, and Ruby Cabernet, but by the early '90s the market was calling for Chardonnay, Cabernet Sauvignon, and, due to the 60 Minutes broadcast of The French Paradox, Merlot.  In addition, during these first 20 years or so, quite a bit of knowledge about farming wine grapes in Monterey County had been accumulated. Countering these positive developments, the vineyard scourge called phylloxera was killing vines in a large portion of the Scheid vineyards.  Other challenges, such as improvements to the irrigation system, were also involved.
A businessman first and foremost, Scheid bought out all of the initial outside investors so that operations could be streamlined and decisions made more expeditiously.  In short order, almost every single vineyard acre was redeveloped;  a new vineyard was acquired and planted to Pinot Noir; the number of customers was expanded from two to 20; and the company was rechristened Scheid Family Wines.
The operation now includes eight brands: Scheid Vineyards, Sunny with a Chance of Flowers, Ryder Estate, District 7, Ranch 32, Metz Road, VDR, and Stokes' Ghost. Scheid Family Wines also produces many regionally distributed brands for individual clients and distributors.
Sustainability
100% drip irrigation is used in the vineyards, with technology that senses soil moisture and monitors plant stress to minimize water usage. A variety of cover crops between vineyard rows improves soil health , prevents erosion, controls vine vigor, discourages weeds, and promotes the sustainable health of the vineyard.  Beneficial insects control pests whenever possible.   Herbal-based preparations are applied to the soil to promote soil vitality through increased microbiologic activity and diversity. Over 250 owl boxes among the vineyards host barn owls to control rodents that prey on grapevines, such as gophers and field mice.  1500 acres of the estate vineyards are currently being farmed organically, with a goal of 100% organic practices in all of the vineyards by 2025.
Certifications
Certified California Sustainable Winegrowing (CCSW) is a statewide certification program that provides third-party verification of a winery's commitment to continuous improvement in the adoption and implementation of sustainable winegrowing practices. Scheid achieved certification of their estate vineyards in 2014.
Sustainability in Practice (SIP) Certified helps farmers and winemakers demonstrate their dedication to preserving and protecting natural and human resources.  Scheid Family Wines began working with SIP in 2017 and now has five certified vineyards.
The Vineyards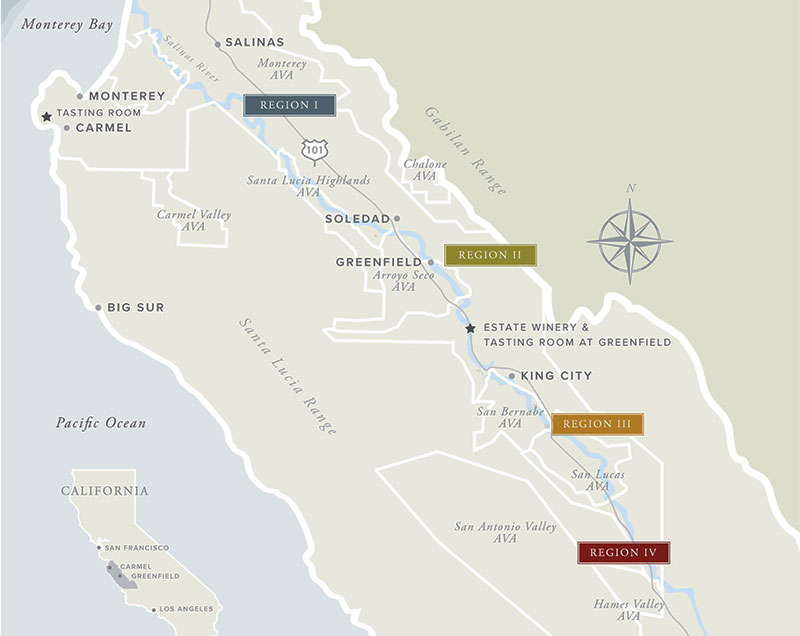 Nestled between the Gabilan mountain range to the east and the Santa Lucia Mountains to the west, the Salinas Valley enjoys a cool coastal climate due to the influence of Monterey Bay.  Here, grapes can ripen more slowly and evenly, resulting in a growing season which can be up to two months longer than other wine growing regions in California.  Scheid currently farms about 4,000 acres spread over 12 estate vineyards located along a 70-mile stretch of the Salinas Valley.
The first property Scheid acquired was a 10-acre parcel located on the edge of the town of Greenfield.  He was guided by Professor A.J. Winkler, a viticultural authority at the University of California at Davis, who had published a report in 1960 classifying grape growing regions by climate. He equated Monterey County to Napa, Sonoma, Burgundy, and Bordeaux, with the potential to be one of the most climatically suitable regions in the state for growing high-quality wine grapes.
He soon bought other unplanted parcels in the area – land that turned into the present-day Elm, Hacienda, Viento, and Baja Viento Vineyards.  These were followed by other estate properties, all in the Monterey AVA, culminating in the current 12.
Metz Road Riverview Vineyard Pinot Noir 2020
The Riverview Vineyard is a 340 acre, sustainably-farmed, benchland site that overlooks the Salinas River. It is situated on the east side of the Salinas Valley just below the Pinnacles National Park. This property features granitic soils planted to an assortment of varieties, clones, and rootstocks specifically matched to the various micro-climates, soils, and aspects of the terrain. The namesake Metz Road runs alongside the property.
Winemaker Casey Di Cesare allowed wild and native yeasts in the air to naturally ferment the wine on-site. After fermentation, the must was pressed into a stainless steel tank for settling, then racked to 100% French oak barrels (30% new) for 14 months before bottling. The wine is a nice transparent garnet, very typically Pinot Noir.  The moderate aromas are dominated by ripe red fruits, including raspberry and pomegranate.  On tasting, these express as recessive red cherry.  The medium, smooth body is supported by good acidity and understated tannins.  There is a hint of bitter almonds on the relatively short finish.  1,575 cases were made, and the ABV is 14.5%.
Top of page: https://winervana.com/blog/