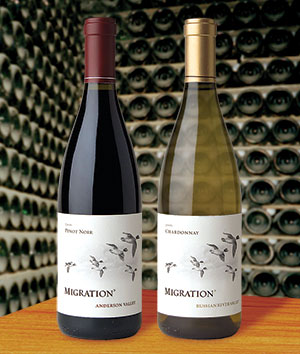 Duckhorn Portfolio is the umbrella corporation of an expanding wine mini-empire. First came the flagship Duckhorn Vineyards, established in 1976 by Dan and Margaret Duckhorn to pioneer and feature premium Napa Merlot. (Duckhorn has a "second growth" label named Decoy, as well.) Next came Paraduxx in 1994, specializing in Zinfandel-based blends. This was followed by Goldeneye, which began making Pinot Noir in 1996.  Migration was established in 2001 to focus first on Pinot Noir and Chardonnay.
Unlike the estate-centered efforts of the other labels, Migration is dedicated to going beyond its Anderson Valley origins and exploring Pinot Noir and Chardonnay from many of California's cool-climate appellations, including the Russian River Valley.
Migration was initially guided by young rising-star winemaker Neil Bernardi. A native of northern California, Bernardi studied at the University of California, Davis, the academic epicenter of California viticulture.
After taking degrees in Italian and enology, Bernardi set off for New Zealand and found work with three famous wineries there, including Kim Crawford. Once back in the States, he became assistant cellarmaster at Quintessa, and then joined the Duckhorn family as enologist at Goldeneye. Bernardi became Migration's winemaker in 2009. He has stated, "Traditionally the character of a particular wine is connected to a specific place. Migration offers a different paradigm. We are starting with a clearly defined style and exploring how that style can be expressed in different regions." Following his success at Migration, Neil is now Vice President & General Manager – Kosta Browne, Canvasback.
in 2017, following her tenure as the winemaker for Decoy, Dana Epperson became  the winemaker for Migration, where she has established a reputation for a style of winemaking that seamlessly balances vibrancy and finesse.
Russian River Valley Chardonnay 2008
This first-ever Migration Chardonnay is 100% Chardonnay, sourced from Green Valley, an especially cool region of the Russian River Valley, and three other vineyards. It matured for 10 months in 100% French oak barrels.
The wine introduces itself with a light gold color and lemony nose. The palate features citrus, stone fruit, custard, and a hint of licorice, supported by good acidity and subtle oak. This unique and harmonious combination is both zippy and mellow.
Anderson Valley Pinot Noir 2007
The dry winter and cool summer of 2007 in Anderson Valley was particularly suited to Pinot Noir, allowing the grapes to ripen super-slowly and evenly.
This Pinot Noir is 100% varietal, and matured for 16 months in 100% French oak. This deep-garnet, medium-bodied wine opens on the nose with blackberry and strawberry notes. The palate is dry, silky, and dominated by tart dark cherry, and supported by a backbone of oak, blackberry, and well-balanced tannins. It ends with a medium-length finish.
https://www.migrationwines.com/
Top of page: https://winervana.com/blog/