In 1887, master winemaker Francesco Mionetto opened his own winery in Valdobbiadene, in the heart of the Prosecco area, just north of Venice.
In Mionetto's vineyards, some slopes roll gently towards the valley, others are much steeper. For protection from the prevailing cold alpine winds and icy rains from the north, vines are on southeastern slopes. They face the morning sun, benefiting from the early sunlight and a morning jolt of carbon dioxide, needed for sugar production. The soil characteristics are mainly alluvial, calcareous, and marly (a crumbly mixture of clays, calcium, magnesium carbonates, and remnants of shells).
The climate is generally temperate here. The area is protected by the Alps to the north and warmed by the winds of the Adriatic Sea to the east, mitigating temperatures in summer and producing rainfall that favors the proper growth of vines. In late summer, the area is characterized by great temperature variations between day and night, enabling the growth of aromatic substances in the grapes as they mature.
The Prosecco DOCG (Controlled and Guaranteed Denomination of Origin) area was established in 2009. The DOCG area is located in northeastern Italy and comprises five provinces of the Veneto region and four in the Friuli region. Grapes are grown between 50 and 500 meters (165 to 1650 feet) above sea level. The highest-quality DOCG production is in the historic "Superiore di Cartizze" micro-area, which is only 107 hectares (264 acres) in size.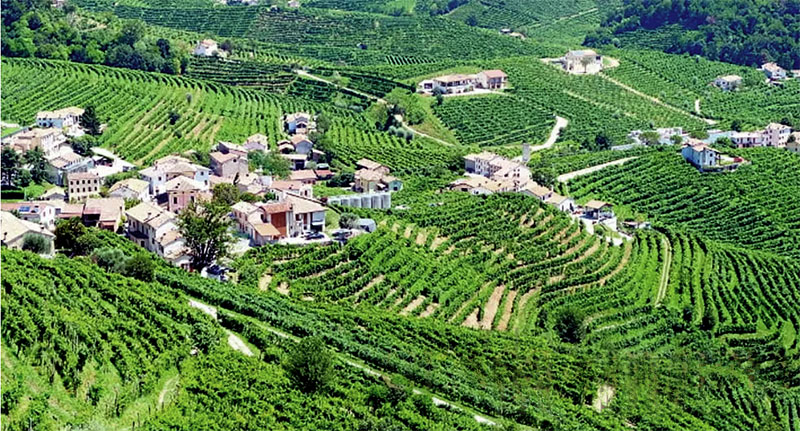 Mionetto has always prided themselves on innovation, and in 1982 they introduced autoclave fermentation (also known as the Charmat Process). There is a temperature-controlled first fermentation that takes place at the facilities of their producers to create the still wine. Then the second fermentation takes place in autoclaves (large sealed tanks) instead of individual bottles. This additional temperature-controlled fermentation creates Prosecco's characteristic bubbles, and is intended to help maintain the freshness and aroma of the grape in the bottling phase.
Mionetto Cartizze DOCG Prosecco
This Mionetto Cartizze DOCG Prosecco is bright gold in the flute, with a nose reminiscent of apple and pear, plus hints of citrus. It is soft and creamy on the palate, with an aftertaste of sugared almonds. It also features fine bubbles and a lively floral aroma,
This wine would make an excellent accompaniment to desserts, cakes, pastries, fruit salads, and tarts.
usa.mionetto.com/us/products/luxury-collection
Top of page: https://winervana.com/blog/