Until Yellow Tail precipitated the boom in "critter wines" in 2000, it can be argued that Penfolds was just about synonymous with Australian wine in the U.S.  The label is ubiquitous here, in both grocery stores and fine wine shops. Prices range from about $12 per bottle for the Koonunga Hill Shiraz-Cabernet, to $850 for the legendary Grange, and everything in between.  (That $850 is doubly amazing, because just five or six years ago Grange was "only" about $200.) The selections are mostly reds plus a few whites and even a tawny Port.
Founders Dr Christopher and Mary Penfold immigrated to Australia from England in 1844, bringing their own French vine cuttings. Not long after, their fledgling vineyard was officially established as the Penfolds wine company at the 500-acre Magill Estate in Adelaide.
The Penfolds were believers in the medicinal benefits of wine, and they planned to concoct a wine tonic for the treatment of anemia.  Initially, they produced fortified wines in the style of Sherry and Port for Dr Penfold's patients. The operation enjoyed early growth, and since Dr Penfold was focused on his medical practice, much of the running of the winery was delegated to Mary Penfold, including the cultivation of the vines and wine blending. On Christopher's death in 1870, Mary assumed total responsibility for the winery. According to one historical account, by that time the business had "grown to over 60 acres with several different grape varieties including Grenache, Vverdelho, Mataro (aka Mourvedre), Frontignac and Pedro Ximenez," and the estate was "producing both sweet and dry red and white table wines with a growing market in the eastern Australian colonies of Victoria and New South Wales." Clarets and Rieslings were especially popular.
During her tenure, Mary engaged in experimentation, explored new methods of wine production, looked into ways of combating diseases like phylloxera, and engaged a cellar master by the name of Joseph Gillard.
Penfolds was producing a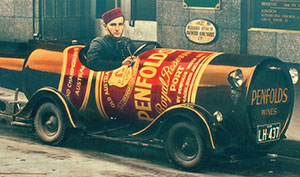 third of all South Australia's wine by the time Mary Penfold retired in 1884, when the company passed to her daughter Georgina and son-in-law Thomas Hyland.   By 1907, Penfolds had become South Australia's largest winery (It is still big, but it no longer holds that position. That distinction now goes to Casella winery in Yenda, NSW of YellowTail fame. ) Eventually, the business was passed onto their two sons and two daughters. The company became public in 1962, and  the Penfold family retained a controlling interest until 1976.
In 1948, Max Schubert

became the company's first Chief Winemaker. A loyal company man and true innovator, Schubert would propel Penfolds onto the global stage with his creation of Penfolds Grange.  (That's a story for another time, if I can ever get my hands on a bottle.  Hey, Penfolds!  A little help here?)
In 1959, while Schubert was perfecting his Grange experiment in secret, Penfolds' tradition of 'bin wines' began. The first, a Shiraz with grapes from the company's own Barossa Valley vineyards, was simply named after the storage area of the cellars where it was aged.
In 1988, after three decades of Grange's  success and growth into a wine world icon, Schubert was named Decanter magazine's Man of the Year, and on the 50th anniversary of its creation, Penfolds Grange was given a heritage listing in South Australia.
In 1976, control of Penfolds was acquired by Tooth and Co., a brewer based in New South Wales, which in 1982 became part of the Adelaide Steamship Company Group. In 1990, SA Brewing purchased Adelaide Steamship's wineries. Later, SA Brewing was divided into three separate entities: the wine assets were named Southcorp Wine.
Southcorp Wines became a part of the Foster's Group in 2005. In 2011, Fosters was historically much more involved in beer than wine, and the wine operation faltered over those six years.  When Fosters decided it was time to divest its wine holdings, they were sold to Treasury Wine Estates, headquartered in Melbourne, and Penfolds current owner. The chief winemaker since 2002 has been Peter Gago.
Penfolds Bin 600 Cabernet Shiraz 2018
In 1998, Penfolds imported a selection of vine cuttings from South Australia's esteemed Kalimna and Magill Estate vineyards, and planted them in California's Paso Robles AVA. The original name of what is now referred to the Camatta Hills vineyard was Creston "600" Ranch, reflected in this wine's name, Bin 600.  It is one of four wines in Penfold's inaugural California Collection.
For 20 years, Penfolds efforts in California remained experimental, and no wines were released.  However, in 2017, TWE bought up the US holdings of fellow giant Diageo. Suddenly, Gago had access to the prized vineyards of Chateau St Jean, Acacia, Beringer, Beaulieu Vineyard, Stags' Leap Winery, Sterling, and Etude. The new California Collection wines are a blend of the different AVAs from which these wineries draw their fruit.  Despite the location, Gago has made clear that the brand trumps everything. There's California sun and California soil, "but everything in between is Penfolds," he said.
This blend of 78% Cabernet Sauvignon and 22% Shiraz includes some fruit from the original Camatta Hills plantings.  It is a dark opaque purple, with moderate aromas of dark stone fruit, vanilla, and a bit of floral undertones.  On the palate there is earth, cocoa, and grippy tannins.  The fruit was more recessive than I usually like, but this wine is well-balanced enough that I quite enjoyed it nonetheless. ABV is 14.5%
Top of page: https://winervana.com/blog/