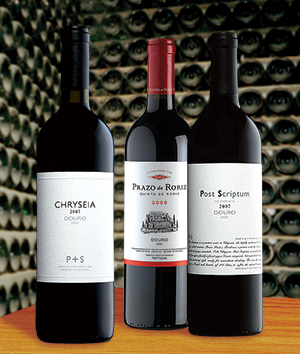 In the 1970s, Portugese rosés such as Lancers and Mateus were the height of sophistication to many young wine drinkers: "It's imported, and comes in a fun bottle!" With age comes wisdom, and these wines were eventually abandoned for the justifiably famous fortified wines of Portugal, Port and Madeira, produced by many ancient and famous houses.
Much less well-known is Portugal's status as a producer of both red and white table wine, ranking in the world's top ten in production.  With a population of just 10 million, but top five in per capita consumption, much of that wine is sipped by the thirsty Portuguese.
Winemaking in Portugal has a long and storied history. It was the first country to implement an appellation system, the Denominação de Origem Controlada, in 1756, almost 180 years before the French established their own similar system. The DOC established early quality-control standards, but because it has been in place for over 350 years much Portuguese winemaking is tightly bound by tradition; even calcified, some would say. However, this has been steadily changing, and many producers are updating their winemaking equipment and methods and are producing good high-quality wines.
The wines of this post come from the Douro [DOO-roh], a wild mountainous region located along the Douro river starting at the Spanish border and extending west into northern Portugal. The grapes for many Ports originate here also, but the vineyards for the table wines are at higher altitudes, where the grapes don't ripen as fully or produce the higher sugar levels desirable for fortified wines.
All three wines are also the result of a collaboration that began in 1998, a joint project between Bruno Prats, former owner of the famed Château Cos d'Estournel, and the Symington family, world-renowned fourth generation Port producers. A dedicated facility with an underground barrel cellar was built specifically for this partnership. Vinification and élévage (i.e. racking) closely follow the Bordeaux method.
Each of these wines is composed of Touriga Nacional, Tinta Roriz, Touriga Franca, Tinta Francisca, and/or Tinta Barroca, so right there you can tell these ain't your everyday quaffs.
Chryseia Douro DOC 2007
The flagship of the Prats and Symington combine, Chryseia (Greek for 'golden,' as 'douro' is in Portuguese), was first launched in 2001. The fruit is Toriga Nacional [50%] and Touriga Franca [50%]. After fermentation, only 30% of the juice was deemed worthy of Chryseia.
On the nose, the wine opens with aromas of coconut macaroons. The coconut is also evident on the palate, in pleasant concert with black currants and black cherries. There's even a hint of bacon on the back palate. The wine displays characteristic Douro minerality (wet rocks), here well-balanced by the firm tannins and supporting acidity.
If you're like me and hate to wait, give Chryseia two hours to breathe in the decanter and serve it with Pork Chops with Apple Filling, Roast Duck with Cherries, or Cholula Spicy Chicken Pizza.
Post Scriptum de Chryseia Douro DOC 2007
Many European houses have a tradition of a 'second label,' a wine made from the 'not quite good enough for prime time' grapes featured in their most premium wines. Post Scriptum de Chryseia fills that role, and is therefore the little brother to Chryseia. (And, the Post Scriptum name mimics the initials of Prats and Symington. A little wine humor.)
The Post Scriptum is made up of Tinta Roriz [40 %], Touriga Franca [35 %], and Tinta Barocca [20 %]. It spent nine months in French oak, but the influence is subtle. Again, the wine displays characteristic minerality, balanced by dark fruit, leather, and smoke. The understated fruit is complemented by soft tannins and some acidity for structure. The medium finish has a hint of bitterness.
Enjoy this wine with a top-quality Reuben Sandwich, Filets with Mushroom and Madeira Sauce, or Lamb Brochettes.
Prazo de Roriz Douro DOC 2008
The grapes for this Douro were sourced exclusively from Quinta de Roriz, making it comparable to a French estate-grown wine. Quinta [KEEN-tah] is Portugese for "farm," so this wine literally comes from "Roriz's Farm." It is a blend of Touriga Nacional [35%], Tinta Roriz [35%], Touriga Franca [28%], and Tinta Francisca [2%]. The wine was aged in French oak barrels and subsequently in bottle, prior to release.
In the glass, the wine is dark red, a misdirection from its surprisingly light body. There is a slight tartness on entry. The palate displays flavors of mulberries, cedar, unsweetened cocoa, and minerals, which add to the dustiness on the rather short finish. Allow this wine to breath for an hour or so.
Pair it up with Barbequed Salmon, Flank Steak Filled with Spinach and Pistachios, or Roast Chicken with Port, Cream, and Mushrooms.
https://www.chryseia.com/wines
Top of page: https://winervana.com/blog/