History
The Raymond name has been associated with Napa valley since the year Prohibition ended.  The Raymond family arrived in Napa Valley in 1933. Roy Raymond married into the Beringer family in 1936. He worked as winemaker for Beringer from 1933 to 1970. The following year, he and his two sons Walter and Roy Jr set out on their own with a 90-acre estate property in Rutherford. They released their first commercial wine under the Raymond Vineyards label in 1974.  The estate now comprises 300 acres in Rutherford, St. Helena, and Jameson Canyon. All are are certified organic and biodynamic. The winery is also operated on 100% solar power.
In 1989, Kirin Holdings purchased the winery, with the Raymond family still managing the property and production.
In 2009, Raymond was acquired by  Boisset Family Estates, a major French wine company, with operations in Burgundy, Beaujolais, the Rhone Valley, the South of France, and expertise in French sparkling wines. Boisset had already purchased properties in California's Russian River Valley, making it one of the top twenty-five producers in the U.S.
Under Boisset's ownership, Raymond has become a biodynamic producer. There is a two-acre exhibition on the property about biodynamic farming, called the Theater of Nature. The self-guided exhibit is the largest exhibit showcasing biodynamic practices in the region. It aims to teach guests about how biodynamic farming impacts wines via a five-act presentation.
In 2012, Wine Enthusiast named Raymond "American Winery of the Year."  Two years later, the winery was cited by Great Wine Capitals as the Regional Winner for "Innovative Wine Tourism Experiences." Raymond Vineyards was named "Best Unique Tasting Experience" by CellarPass in 2014 as well.  The North Bay Bohemian named Raymond Vineyards the "Best Winetasting Room" in Napa Valley in 2015 and 2016 and for having the best Cabernet Sauvignon.
The Winemakers
Northern California native Stephanie Putnam is a 
graduate of UC Davis with a B.S. in Fermentation Science. As Director of Winemaking, she oversees all aspects of wine production for Raymond.
Previously, Putnam had spent eight years as winemaker at Far Niente Winery, Prior to that, she was part of the team at Hess Collection, where she began as a cellar worker and progressed to winemaker. She also worked with the winery's South American partners.
Winegrower and Vineyard Manager Sophie Drucker
did her undergraduate studies at UC Davis in viticulture and enology, and then did cellar and vineyard work in Napa Valley, Portugal, and New Zealand. She returned to UC Davis for a master's degree in horticulture and agronomy.
Assistant Winemaker Kathy George is involved with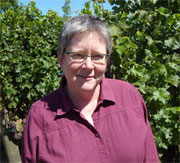 tasting evaluation, blending, quality control, supervising the bottling, and providing lab analysis.
George began her wine industry career at Beringer Winery. Following that, she worked at William Hill Winery, where she was involved in winemaking at every stage.
Thane Knutson is the Associate Winemaker. He
graduated with a degree in International Business from the University of Oklahoma, where he made wine in his dorm room closet and worked in the cellar of a local winery.
After spending a couple of harvests making wine, he interned at Cakebread Cellars, where he decided winemaking was his calling. Knutson spent two years at Hess Collection as the laboratory technician before joining Raymond Vineyards.
Raymond Yountville Cabernet Sauvignon 2016
The fruit for this wine was harvested from a single, but unnamed and non-estate, vineyard in the warmer northern reaches of Yountville, The wine is 100% Cabernet Sauvignon, and was part of Raymond's District Collection series, which now seems to have been discontinued.  It is the typical deep, dark garnet of Cabernet Sauvignon in the glass, with a nose of blueberries and cassis.  These are echoed on the silky, medium palate, but the fruit is somewhat recessive.  There are also some black cherry notes and a hint of dust, and the entire production is backed up by medium acidity and some nice black-tea tannins.  ABV is 15%.
Top of page: https://winervana.com/blog/