Ridge Vineyards is actually two distinct wineries, the original and more prestigious one is south of San Francisco and east of San Jose, and the other in Sonoma county is just north of Healdsburg.
Since this wine is from Sonoma, here's just a brief history of the older San Francisco operation.  In 1885, Osea Perrone, a prominent doctor in San Francisco, bought 180 acres near the top of Monte Bello ridge.  He built a winery and released his first vintage in 1892.  At some point the winery was abandoned (my guess is that Prohibition caused its demise, along with almost every other US winery).
In the 1940s, theologian William Short bought the property, and extensively planted Cabernet Sauvignon.  In 1959, Short sold to three Stanford Research Institute engineers.  They were joined in 1969 by the iconic Paul Draper, a philosophy graduate turned winemaker.  Under his guidance and "hands off" approach, the quality and reputation of Ridge wines was established.  Draper made the wine until 2016.
The Lytton Springs property was acquired in 1991, although Ridge had been sourcing fruit from there as far back as 1972.  Where the southern operation focuses on Cabernet Sauvignon, in Lytton Springs Zinfandel holds court.  Some of the ancient vines date as far back as 1901.  The grapes from the vineyard are a true field blend; the vines are mixed varietals, planted right next to each other.  Some of the vines were only recently correctly identified after DNA testing.
sustainability
In keeping with their sustainability philosophy, Ridge embraces single-vineyard winemaking because they believe not only in terroir but in the idea that well cared for earth and vines will result in a wine that basically makes itself.  (Wineries often have this aspiration.  As important as caring for the land is, it seems to me that the winemaker's choices determine the quality of the product.)  The winery and tasting room at Lytton Springs was constructed using hay bales and vineyard clay. Solar panels supply the majority of energy used.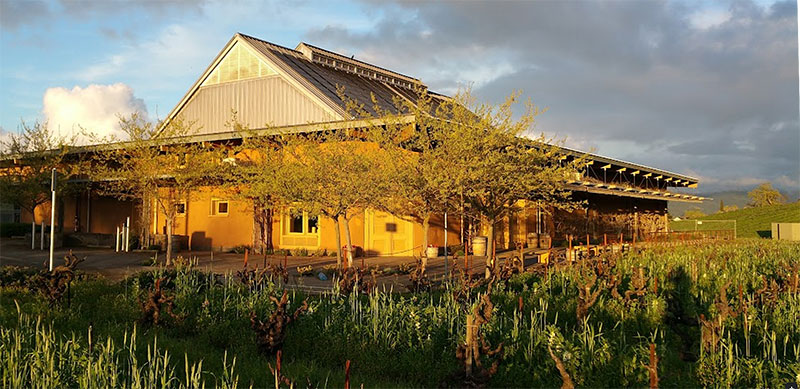 In 2008, Ridge began the process of becoming organically certified in all of their vineyards.  Since that time, all of the vineyards at Lytton Springs have been certified organic.  Organic vineyard management includes everything from compost to organic pheromones and essential oils like clove and cinnamon. Varying cover crops are planted during the winter to attract beneficial insects, as well as provide nitrogen for the vines.  Ridge is the largest organic grape grower in both Sonoma County and the Santa Cruz Mountains.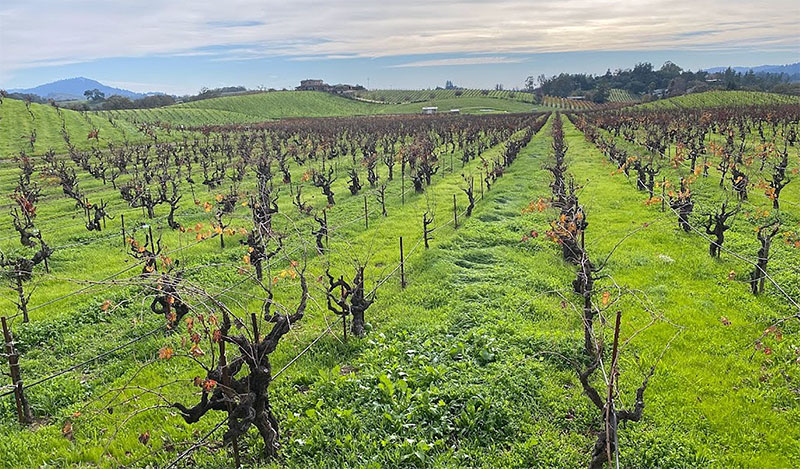 Ridge Lytton Springs Red Blend 2019
This wine is a blend of 73% Zinfandel, 16% Petite Syrah, 9% Carignane, and 2% Mataro.  That is all of the information on the contents you are likely to get on most wine labels.  Ridge (rare, or perhaps even unique among producers) further lists the specific ingredients in the bottle: hand-harvested grapes, indigenous yeast, tartaric acid, naturally occurring malolactic bacteria, oak from barrel aging, and sulfuric dioxide.
I used to avoid Zinfandels because I found them to be too "peppery."  I don't know what changed, but I haven't really encountered a peppery Zin in the last 15 years or so, including this one.  Sourced from the Dry Creek Valley, this blend underwent full malolactic fermentation, followed by 14 months in 100% American oak barrels (15% new, 15% one year-old, 20% two year-old, 20% three year-old, 15% four year-old and 15% five year-old).  Medium dark red, it is very aromatic, virtually jumping out of the glass.  It opens with mouthwatering aromas of ripe red fruit.  On the palate, these manifest as raspberry and cherry, with some citrus zip from the acidity.  The delicate tannins are well-integrated.  ABV is 14.6%.
Top of page: https://winervana.com/blog/