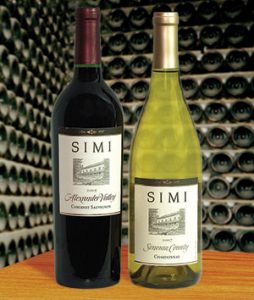 Although Napa Valley is considered by many to be California's preeminent winemaking region, Sonoma County just to the north offers many pleasures as well, particularly the wines from Alexander Valley, which is one of my personal favorites.
The Simi brothers immigrated from Tuscany, Italy, to California during the Gold Rush of 1876. They soon discovered the rolling hills of Sonoma County near San Francisco, which reminded them of home. In 1881 they established their winemaking operations in Healdsburg, where they completed construction of Simi's first stone cellar in 1890. The winery has been in continuous operation ever since, giving it the distinction as California's oldest.
Early success led to doubling the size of the winery by 1904, and it continued to grow until the disaster of Prohibition in 1920. Forbidden to sell their wine, Simi continued to make and store wine for the 15 years that Prohibition lasted. (They were able to sell "sacramental" wine during this time, which provided a much-needed income to barely keep the winery in operation.)
With Repeal in 1933, Simi was ready with a large supply of perfectly cellared wine to sell, and with their survival we are able to enjoy their products today.
Simi Alexander Valley Cabernet Sauvignon 2005
If you are a fan of Cabernet Sauvignon, the Simi Alexander Valley is an excellent choice for everyday drinking (the $26 list price is often discounted).
Simi sources the grapes for this wine from the nearly 600 acres they own devoted to red wine production. The diverse soils of these vineyards are a result of eons of geologic activity, including a catastrophic landslide which changed the course of the Russian River.
The color is the usual dense, dark red purple. The nose offers blackberry, cassis, and plum. It serves up ripe black cherry and blackberry on the tongue. This Cabernet is medium-bodied, with moderate tannins and a touch of vanilla and oak for structure. The wine shows good legs, and the 13.5% alcohol level is right in line with current winemaking style.
Enjoy this Cabernet Sauvignon with grilled skirt steak sandwiches on rye with horseradish mayonnaise, roast prime rib au poivre, and grilled Tuscan pork rib roast with rosemary coating and red bell pepper relish.
Simi Sonoma County Chardonnay 2007
This very pale gold Chardonnay features nicely balanced notes of lemon and citrus paired with a crisp, lively acidity. The nose is ripe melon and slight white peach. The fruit flavors are supported by an unassuming oak floor.
Pair this creamy smooth wine with richer foods such as baked salmon filled with mascarpone spinach, baked cod with tarragon butter, or pork sauté with caramelized pears.
https://www.simiwinery.com/wines#
Top of page: https://winervana.com/blog/