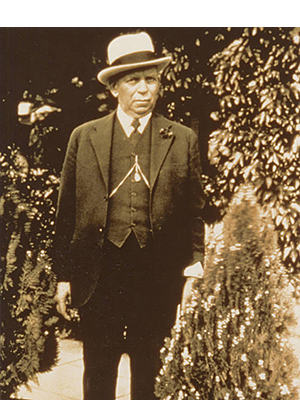 In 1895, Samuele Sebastiani left his native Tuscany for America. Eventually arriving in Sonoma, California, he worked hauling paving stones for a local quarry that were used to build the streets of San Francisco. Perhaps looking for less demanding work, in 1904 he purchased winemaking equipment and made his first 500 gallons of wine. Just five years later, he had enough financial success to purchase the Sonoma Mission vineyard (planted in 1825 for sacramental wines), the site the Sebastiani winery occupies to this day.
Sebastiani was the only winery in Sonoma County to continue operations during Prohibition by making a small amount of sacramental and medicinal wines. This and fruit growing were the only ways wineries were able to survive. Nearly ten years after Prohibition was enacted, the Great Depression added to the struggle. Sebastiani initiated major projects at the winery to help keep people employed by canning peaches, nectarines, and pears. When there weren't enough jobs at the winery, he built a skating rink, theater, motel, and meeting hall at the Catholic Church.
Samuele Sebastiani
Following the repeal of the scourge of Prohibition, Samuele's youngest son, August, joined the family business as winemaker. August purchased the winery from his late father's estate in 1944. He expanded the business and began to sell name-branded wines.
In 1980, with August's death the winery was passed down to his three children. The oldest, Sam, became CEO and President, and began to shift production from lower-cost products to upscale varietals. He left the company in 1986 to start his own business, and August's youngest son, Don, ascended to control. During his first ten years, he increased production by 300%. In 2001 he established Don Sebastiani & Sons, a beverage holding company that includes wine, spirits, and water. Ironically, the portfolio does not include the original business, Sebastiani Vineyards, which was sold to the Foley Wine Group in 2008, which also owns Firestone Vineyards in Santa Barbara, Merus in Napa, and Three Rivers Winery in Washington state.
Smoking Loon Steelbird Rosé 2018
Smoking Loon, however, is one of the Don Sebastiani & Sons brands.  The blend is 60% Barbera, 27% Syrah, and 13% Grenache, with an ABV of 12%.  It is a petal pink color in the glass, and opens with fragrant aromas of strawberry, plum and cantaloupe.  The palate features a lovely watermelon flavor, followed by tart rhubarb and finally juicy, fruit flavors of apricot, and strawberry. This well-balanced wine has good acidity and a fresh, crisp finish.
Smoking Loon claims "the label activates PINK when [the] wine is a perfectly chilled 50ºF." but I didn't see it.
Top of page: https://winervana.com/blog/