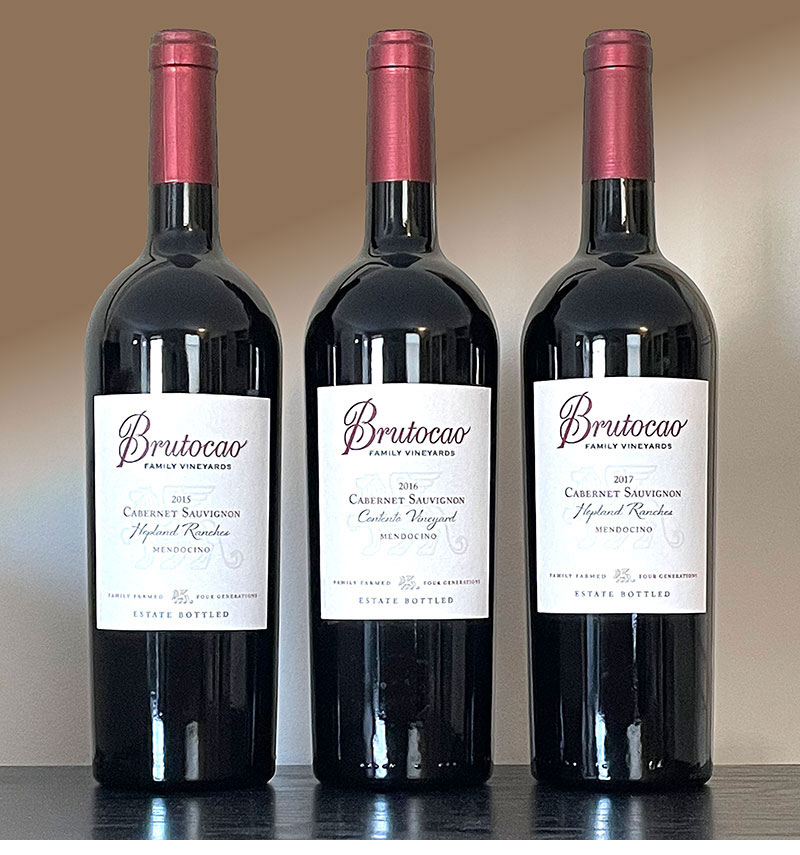 Here at Winervana, I use this disclaimer, "Although you will see vintage dates throughout Winervana, I don't put too much importance on them. Major producers these days strive for a consistent style, year after year, and largely succeed. For instance, when shopping for a particular wine, if you have a choice between a current release and one that's a few years old, there will certainly be differences in price and the character of the wine. But upon release, those two examples of the same wine are likely to be quite similar."
To test that position, I acquired a "vertical" of three Brutocao Cabernet Sauvignons.  A vertical tasting is simply the same wine from different vintages.  These three selections were indeed quite similar.  Sourced from Brutocoa's estate vineyards in Mendocino county, they all were aged 18 months in oak, 50% French and 50% American, and all have an ABV of 14.5% and .69% acidity.
These wines are a deep garnet in the glass.  Surprising for Cabernet Sauvignon, they are semi-transparent rather than opaque.  They start, predictably, with aromas of dark fruit, particularly blackberry, with hints of cedar.  Those dark fruits continue on the palate, but these wines are restrained instead of fruit-forward, perhaps to be expected from a producer with a strong Italian heritage.  They have a medium-long finish that features black-tea tannins.
There were subtle differences, however.  Nothing that you would notice tasting the wines weeks or even days apart, but they were there.  The 2015 had the highest levels of perceived acidity (all three were bottled at .69%) and tannins.  Very unforeseen, because the common wisdom is that as a wine ages in the bottle both acidity and tannins become softer, rounder, and more balanced.  Go figure.  The 2016 was the most integrated of these selections, with well-balanced acidity and tannins, both less demanding of attention than in the 2015.  Finally, the 2017 fell between the other two, with slightly more acidity but softer tannins than the 2016.
You can read more about Brutocao here: https://winervana.com/brutocao-cellars/
Top of page: https://winervana.com/blog/